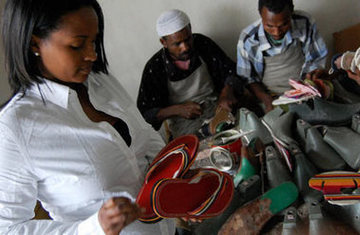 Above: Ethiopian entrepreneur Bethlehem Tilahun Alemu
checks a pair of sandals at her workshop in Addis Ababa.
Photograph: Aaron Maasho/AFP/Getty Images
Guardian
Xan Rice in Addis Ababa
Sunday 3 January
Old truck tyres never die, they just turn into sandals. For decades that has been the tradition in Ethiopia, where everyone from farmers to guerrilla fighters has fashioned worn-out road rubber into cheap, long-lasting footwear. But now, thanks to a young woman entrepreneur who has combined the internet's selling power with nimble business practices more often associated with Asian countries, the idea has been turned into an unlikely international hit. By adding funky cotton and leather uppers to recycled tyre soles, Bethlehem Tilahun Alemu has sold many thousands of pairs of handmade flip-flops, boat shoes, loafers and Converse-style trainers to foreign customers. Read more.
Related from Tadias
SoleRebels: Eco Ethical Fashion From Ethiopia
By Tseday Alehegn



Last year we received a note from one of our readers in Ethiopia. "I'm thinking you might enjoy hearing a grassroots perspective on eco ethical fashion from Ethiopia's 1st IFAT certified fair trade company" it stated. "it is my great pleasure to introduce our firm, SoleRebels to you." We've heard of fair trade Ethiopian coffee and clothing. And now Bethlehem Tilahun Alemu, Co-Founder and Managing Director of SoleRebels is successfully running Ethiopia's first fair trade footwear company. Click here to read our interview with Bethlehem Alemu. And few months after our interview, AFP followed up with the following headline: SoleRebels, Ethiopian answer to Nike.