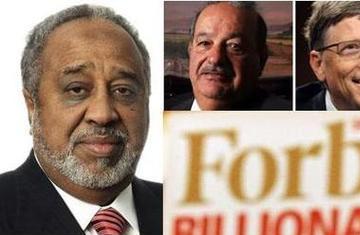 Above: In Forbes annual list of the world's richest people, Al
Amoudi this year ranks 64th – down from his 43 place listing
last year – but his net worth increased by one billion dollars
in 12 months.
Tadias Magazine
By Tadias Staff
Updated: Friday, March 12, 2010
New York (Tadias) – Ethiopian-born tycoon Mohammed Al Amoudi ranks 64th in Forbes magazine's new annual list of the World's wealthiest people.
He is tied with five other billionaires with an estimated net worth of 10 billion dollars, up from his $9 billion and 43rd place in the 2009 ranking.
Al Amoudi, who amassed his wealth in construction and real estate in Saudi Arabia before investing on energy, now counts half of his money from his oil investments in Sweden with ownership of Svenska Petroleum and Swedish refinery Preem, according to Forbes.
"Started investing in Sweden in 1974; stakes there now comprise half his fortune: Preem operates two refineries; Svenska Petroleum produces crude oil in the North Sea and west Africa," the magazine reports. "Construction company Midroc operates in Europe, Africa and Middle East. In recent years completed estimated $30 billion contract with Saudi Arabia to build vast underground oil storage caverns."
The publication also notes that the self-made businessman has a small fortune invested in his birth country: "Born in Ethiopia to Saudi father and Ethiopian mother, Al-Amoudi claims to be investing more than $3 billion into Ethiopian agriculture and industry with the aim of modernizing farming and eventually exporting much of the output to Saudi Arabia. Also owns mine in Ethiopia that puts out 5 tons of gold a year."
—-
For more on the 2010 Forbes list of the World's Billionaires, watch the following video:
Video: Mexican billionaire tops world rich list

Related Links from Forbes.com:
In Pictures: The Richest People In The World
In Pictures: Cost Of Living Large
In Pictures: World's Richest Women
In Pictures: Youngest Billionaires