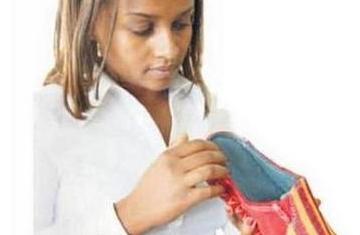 Above: Bethlehem Tilahun Alemu, one of the invited speakers
at the 2010 Clinton Global Initiative meeting on 22 September.
Tadias Magazine
By Tadias Staff
Published: Thursday, September 9, 2010
New York (Tadias) – Former President Bill Clinton has invited Bethlehem Tilahun Alemu, founder of Ethiopia's environmentally-sensible footwear brand, to participate as a panelist at the upcoming Clinton Global Initiative meeting scheduled to open in New York City on September 20th, 2010.
According to the company, Bethlehem becomes the first African entrepreneur to be invited as a speaker at the annual event, which brings together global leaders from various industries to address the world's pressing social issues.
This year's meeting will be attended by First Lady Michelle Obama, Secretary of State Hilary Clinton, and Sinn Féin President Gerry Adams among others.
Sole Rebels footwear, Ethiopia's first fair trade fashion product and winner of the 2010 Eco-Bold Green Award, is produced using indigenous practices such as hand-spun organic cotton and artisan hand-loomed fabric. Tires are also recycled and used for soles. The end result is environmental friendly, vegan footwear.
Bethlehem says she is looking forward to her presentation. "I hope to offer new insights like how we have constructed our supply chain for our business, with a focus on indigenous production techniques, and local and recycled materials," she told WFTO. "I also want to emphasize that a company like ours can build scaleable community based businesses that allow people to have well paid jobs, while creating market-leading products and preserving the environment."
–
Cover Image: Bethlehem Tilahun Alemu (Courtesy photo)
Related story:
CNN's African Voices features Bethlehem Tilahun Alemu

Watch: Turning old tires into shoes (7:10)

Video: Young SoleRebel (8:07)

Video: Creating window to world market (7:24)