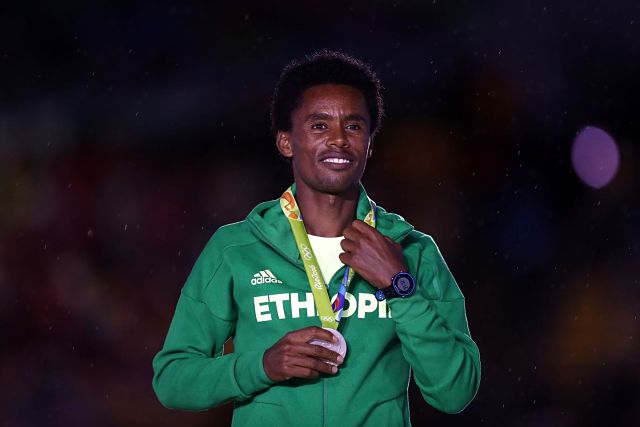 The Ethiopian Olympic medallist who publicly protested against the country's government has arrived in the United States, where he reportedly hopes to claim asylum.
Feyisa Lilesa, who won the silver medal in the men's marathon at the Rio 2016 Olympics, crossed his arms over his head as he finished the race. The gesture has become common among protesters in Oromia, a region of Ethiopia where hundreds of Oromo activists have been killed in recent months during clashes with security forces.
Lilesa repeated the gesture at a later press conference and during his medal ceremony, adding that he would likely be killed or imprisoned if he returned to the Horn of Africa country. Ethiopia's information minister Getachew Reda told the BBC at the time that Lilesa would have nothing to fear if he returned home.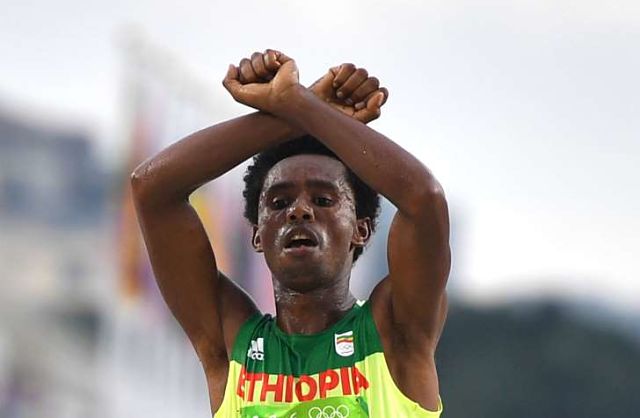 Feyisa Lilesa made the gesture as he crossed the line at the 2016 Rio Olympics in Rio de Janeiro, Brazil, on August 21st. (Getty Images)
The runner has now reportedly arrived in the U.S. after previously stating that he would seek asylum in the country, the BBC reported on Friday. A crowdfunding campaign set up to fund Lilesa's legal fees and support his family in Ethiopia has raised more than $160,000 in under three weeks after it was set up on August 21.
—-
Related:
Washington Post Interview With Ethiopia's Olympic Hero Feyisa Lilesa
From Rio to America: Olympian Feyisa Lilesa's Washington Post Op-Ed
In Seattle, African Athletics Org Renames 5k Race 'Feyisa Lilesa Heroic Run'
In Pictures: Feyisa Lilesa's Daring Protest Reminiscent of 1968 Olympics
Over $100000 Raised For Ethiopian Olympian Runner
Medallist Feyisa Lilesa fails to return to Ethiopia after Olympics protest
Olympian Feyisa Lilesa Shows Solidarity With Protesters in Ethiopia at Rio Games
Ethiopia Says Protesting Marathoner to Be Welcomed as Hero, But Does He Want to Go?
Ethiopia 'hero' runner gets asylum donations after Oromo protest sign
Olympian Feyisa Lilesa Shows Solidarity With Protesters in Ethiopia at Rio Games »
Ethiopia Olympian Feyisa Lilesa Protests Government With Marathon Medal
Ethiopian Marathoner's Protest Puts Him at Odds With His Government
Ethiopian runner makes protest sign as he crosses line in Rio
Rio 2016 Olympics: Genzebe Dibaba Takes Silver Medal in the Women's 1,500 Meters
Rio 2016 Olympics: Etenesh Diro Advances to 3,000-Meter Steeplechase With 1 Shoe
Ethiopia's First Gold at Rio Olympics: Almaz Ayana Smashes 10,000m Record
Ethiopia's Olympic Swimmer Robel Kiros: Body Shaming & Questions of Nepotism
All Eyes on Brazil as 2016 Olympics Starts
Join the conversation on Twitter and Facebook.