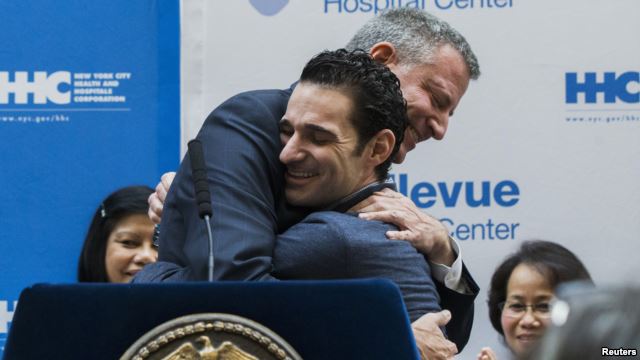 November 11, 2014
A New York doctor who is the last known Ebola victim in the United States has been cured of the deadly disease and left a hospital on Tuesday.
Officials at a New York hospital say that "after a rigorous course of treatment and testing," 33-year-old Craig Spencer has been declared free of the Ebola virus. They said he "poses no public health risk."
Spencer, working for Doctors Without Borders, contracted Ebola while treating patients in Guinea and was hospitalized after returning to the U.S. last month. He was experiencing fever, nausea, pain and fatigue and the fact that he went bowling and traveled on New York's vast subway system sparked fears that Ebola could spread in the country's largest city. He has been in isolation at New York's Bellevue Hospital while undergoing treatment.
As he left the hospital, he told a news conference that his recovery shows the need for early detection and treatment of the disease. Now, he says the focus ought to shift back to West Africa, the center of the Ebola outbreak, and pleaded for public support for foreign medical workers treating Ebola victims.
"Please join me in turning our attention back to West Africa and ensuring that medical volunteers and other aid workers do not face stigma and threats upon their return home," said Spencer. "Volunteers need to be supported to help fight this outbreak at its source."
In a separate Ebola scare in the U.S., the 21-day Ebola incubation period has ended for a nurse, Kaci Hickox, who treated patients in Sierra Leone, although she never tested positive for Ebola. She fought strict quarantine demands in two states, but eventually agreed to medical monitoring, which ended at midnight Monday.
Only one Ebola patient has died in the United States, but underfunded health facilities in West Africa have been overwhelmed by the disease. Ebola has infected 13,000 people, killing nearly 5,000.
Video: Retracing steps of N.Y. Ebola patient (CNN)

—
Related:
At a Pledging Meeting in Ethiopia, Africa Sets Up $28.5m Ebola Crisis Fund
Don't Let Ebola Dehumanize Africa
5,000 Ebola Health Care Workers Needed In West Africa: WHO
Ethiopia to Deploy 210 Health Workers in Ebola-Hit West Africa
In first case, Doctor in New York City is Diagnosed With Ebola
Cuba's Impressive Role on Ebola
Ebola: Africa's Image Takes a Hit
U.S. Embassy: No Confirmed or Suspected Cases of Ebola in Ethiopia
Ethiopia Launches Ebola Testing Lab to Combat Epidemic
Join the conversation on Twitter and Facebook.