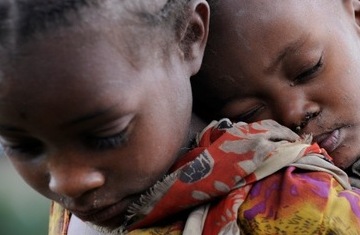 Above: Per the UN, nearly 6.2 million people in Ethiopia are in
need of immediate food aid.
Source: IRIN
Tuesday 24 November 2009
ADDIS ABABA (IRIN) – The Ethiopian government has vehemently rejected accusations that it has excluded some opposition supporters from a food-for-work programme, charges that are the focus of growing international concern in the run-up to elections in 2010. "Such complaints are totally baseless! Totally baseless," said State Minister for Disaster Management and Food Security Mitiku Kasa, adding that he had investigated the matter. "Government has no intention to discriminate [against] the poor based on such grounds. After all, it is the community [that] is mandated to select who should be involved in the [productive safety net, or food-for-work] programme," he said. Read more.
Related:
Concern Over Aid To Ethiopia
VOA Editorial
18 November 2009
The Following Is An Editorial Reflecting the Views of the United States Government
The United States is committed to helping people in need all over the world, and it takes this mission very seriously. With billions of dollars spent on humanitarian, economic and other forms of assistance every year, the U.S. wants to be sure that the aid is properly and effectively distributed. So it is that U.S. officials are concerned about recent reports that the Ethiopian government may be politicizing humanitarian assistance ahead of next year's national elections. Read more.