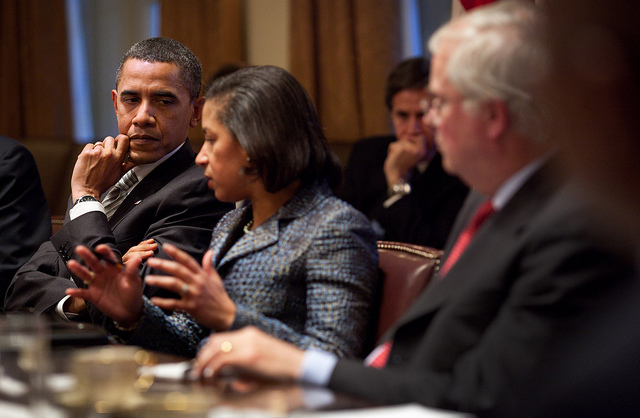 Tadias Magazine
News Update
Monday, December 17, 2012
New York (TADIAS) – U.N. envoy Susan Rice withdrew from consideration for Secretary of State last week amid intense criticism from Senate Republicans over the Benghazi controversy.
In a letter published in The Washington Post on December 13 Ambassador Rice explained why she pulled out of the promotion process: (Why I made the right call).
Foreign Policy magazine featured a paper jointly written by former Secretary of State Madeleine K. Albright and former National Security Advisor Samuel R. Berger entitled "Setting the record straight on the U.N. ambassador and colleague we know."
Rice's possible nomination for Secretary of State had also generated strong opposition from the East African Diaspora. Eritrean-American journalist Salem Solomon who runs Africa Talks, a news and opinion website covering Africa and the global African Diaspora, highlighted Rice's cozy relationships with some of the continent's notorious 'dictators' in articles that appeared last week in The New York Times: (Susan Rice and Africa's Despots) and Reuters (Rice: Hitting 'reset' on Africa talks). And Ethiopia's ambassador to the United Nations, Tekeda Alemu, responded to the NYT OP-Ed in a letter to the editor: (Sanctions on Eritrea). Likewise, Eritrea's Ambassador to the UN Araya Desta answered in a reply letter: (Eritrea and Ethiopia). Within the Ethiopian Diaspora articles criticizing Rice included posts by Professor Alemayehu G. Mariam: (Susan Rice and Africa's Unholy Trinity) as well as (The Tall Tale of Susan Rice), an essay from an individual who claims to be an opposition activist (Susan Rice, Spokeswoman for Tyranny in Ethiopia), and the latest by Yilma Bekele (Watching Susan twist in the wind or don't mess with Ethiopia).
The following video is Susan Rice's interview with NBC's Brian Williams.
EXCLUSIVE: Rice withdrew from Sec. of State consideration

Visit NBCNews.com for breaking news, world news, and news about the economy
—
Join the conversation on Twitter and Facebook.