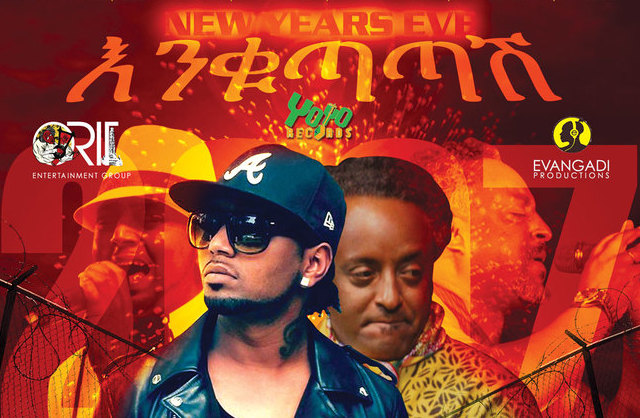 Tadias Magazine
By Tadias Staff
Published: Thursday, August 28th, 2014
New York (TADIAS) – Jacky Gosee and Teddy Taddesse are scheduled to perform at this year's Ethiopian New Year's Eve celebration at Millenium Hall in Addis Ababa. The show is being organized by some of the best Ethiopian promoters in the business: Mickey Dread (Michael Gizaw), DJ Mengie NYC (Mengistu Melesse) and Delish Lemma who recently launched an international concert promotion and artist management company, Orit Entertainment Group, based in New York. The long-time friends and business partners have been behind almost all of the biggest Ethiopian concerts in the United States for the past two decades.
"Orit Entertainment Group, as the name suggests, is a pioneer company, a trend-setter bringing new experiences to its clients and audiences alike," says the company statement. "While Orit Entertainment Group is headquartered in New York it serves a vast clientele list globally operating out of its offices in Europe, Addis Ababa, Ethiopia, and UAE."
Mickey Dread, a resident of New York City, has worked as an events manager and concert promoter as well as producer and nightclub manager for over 20 years. He is also the proprietor of successful high-end entertainment venues in NYC frequented by celebrities such as Jay Z, P Diddy, Akon, Snoop Dog, Rev Run of Run DMC, and Paris Hilton. Mickey's club and lounge is home not only to celebrities but industry locals and underground followers as well. "Mickey's passion in the industry and his approachable demeanor has led him to produce some larger-than-life collaborations with entities such as MTV, VH1, Entertainment TV, Motorola, Sony, EA Sport, Sport Illustrated, NBA, NFL, GQ Magazine, NY Times, Google, Bravo TV, The 2008 Obama Campaign, and Mayor Bloomberg's Office," notes a statement from Orit Entertainment. "Mickey's experience and knowledge of the entertainment industry is vast." The statement adds: "His exciting endeavors include working with the world-renowned Reggae star Alpha Blondie as his stage manager, producing a series of concerts for Reggae icon Israel Vibration, and his long-standing involvement with the record label Tuff Gong (founded by Jamaican Superstar Bob Marley) in various capacities."
DJ Mengie, founder of Massinko Entertainment, who is also a New Yorker has likewise been an organizer in the North American music and entertainment scene for over 20 years. From the annual North America Ethiopian Soccer Tournament to the most prestigious concert venues in America, if an Ethiopian star is performing (legend or up-and-coming), chances are DJ Mengie is involved. "While you often find him behind the turntables at many of the large concerts showcasing well-known Ethiopian artists from across the globe, his promotion skills and talent as a producer are evident by the scale of the events," the statement from Orit noted. DJ Mengie was the lead promoter of the historic Howard Theater concert in Washington, D.C. showcasing Mahmoud Ahmed and Gosaye, as well as Central Park's SummerStage in New York presenting Aster Aweke and Teddy Afro. But what is less known is his impressive resume as a music producer that includes four successful remix albums through his label Masenko Remix. His latest project is an upcoming album called Reggaetopia featuring remixes of traditional Ethiopian sounds with Dub Reggae and Dancehall beats all performed with traditional Ethiopian musical instruments. "The ideology behind Masenko Remix is to combine the deep soul of Ethiopia's traditional music with the more contemporary Dub Reggae sound," DJ Mengie says.
Orit's third partner, Delish Lemma, similarly has an extensive promotion experience that started during his college years at Virginia Tech where he led monthly dance parties highlighting celebrity DJs such as DJ Supreme who tours with Lauryn Hill, DJ LS1 who works with Hip Hop Artist DMX, and DJ Trini of Washington DC area Radio Station 93.9, DJ 6 Senses. Orit Entertainment's bio of Delish notes that "While at Virginia Tech, Delish was successful in organizing post-concert events for many live acts such as Busta Rhymes and Outkast, and joined the promotional team for the 'Hard Knock Life' Tour, on the Washington DC and Charlotte N.C. leg, which consisted of concerts by Eve, Jay-Z, Method Man, & Redman." For several years Delish was a key promoter of 'All Star Weekend' events in several cities including Las Vegas, Los Angeles, Atlanta, and Philadelphia. Delish, who is the founder of Delish Massinko Ent., has also worked with notable Ethiopian singers including Teddy Afro, Evangadi, Gosaye, Mahmoud Ahmed, and Aster Aweke. In addition he is credited for introducing the Ethiopian born singer Abby Lakew, who resides in the United States, and organized her concert at the Tropical Gardens in Addis Ababa. Delish also spent a few years in Ethiopia "shaping the entertainment industry." His latest endeavor is "the production of the talented Jacky Gosee."
—
If You Go:
New Year's Eve: Jacky Gosee & Teddy Taddesse
Wednesday, September 10th, 2014
Millennium Hall
Addis Ababa, Ethiopia
Info: +251-911 031875
Presented by Orit Entertainment & Evangadi Production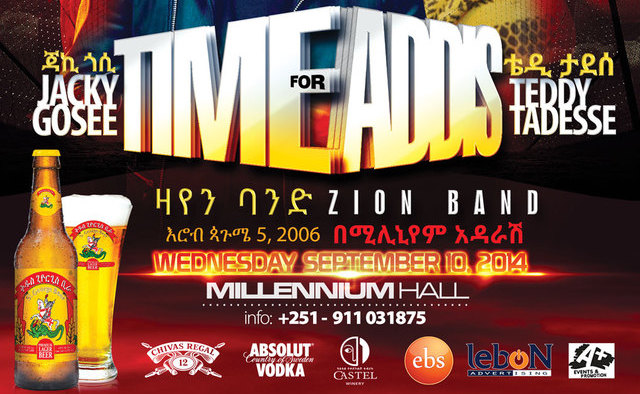 Join the conversation on Twitter and Facebook.