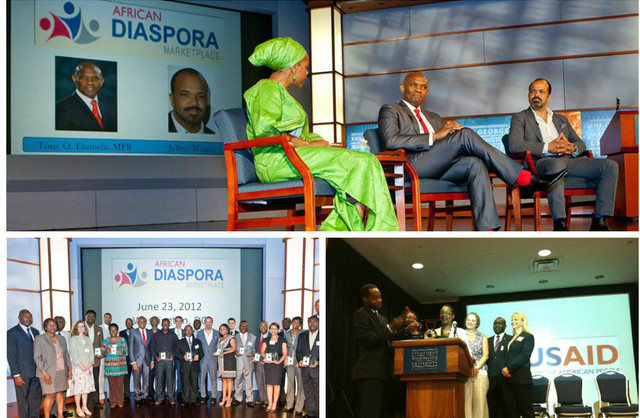 Tadias Magazine
By Tadias Staff
Published: Saturday, January 31st, 2015
New York (TADIAS) – The Washington, D.C. Mayor's Office on African Affairs (OAA) in partnership with the U. S. Agency for International Development and Western Union is hosting an informational workshop on the 2015 African Diaspora Marketplace Business Plan Competition next week. "This workshop is part of OAA's Business Development Program which connects businesses to one another, and to technical assistance, capital, and new opportunities for local and international business," the D.C. Mayor's Office announced in a press release. "The African Diaspora Marketplace (ADM) aims to encourage sustainable economic growth and employment by supporting African diaspora entrepreneurs. ADM entrepreneurs are individuals with demonstrable connections to or experience in Africa, and who have innovative and high impact start-ups or established businesses on the continent."
The workshop follows an eight-city tour promoting the African Diaspora Marketplace in Boston, New York, Philadelphia, Chicago, Los Angeles, Houston and Atlanta.
Launched in 2009 by USAID and Western Union the African Diaspora Marketplace is also supported by The George Washington University Center for International Business Education and Research (GW-CIBER), which provides support and expertise to the program. On its website ADM notes that "This third round of the initiative will introduce three new resource partners: the Minority Business Development Agency (MBDA) will provide business training and support for potential applicants; Homestrings LLC will provide a platform for awardees to raise follow-on capital; and as an ADM Partner, Deloitte intends to provide up to a maximum of USD 1,000,000 (one million) of in-kind professional technical assistance to either ADM grantees or qualified AWEP members to support the development of the grantees business."
Information about ADM and past winners can be found at: www.diasporamarketplace.org.
—
If You Go:
When: Monday, February 9, 2015
Where: Franklin D. Reeves Center Municipal Building
2000 14th Street, NW | 2nd Floor Edna Cromwell Community Room
Washington, DC 20009
RSVP here
Please note that government issued ID is required to enter the Franklin D. Reeves Center. For more information, please email: oaa@dc.gov or call 202-727-5635.
www.diasporamarketplace.org
Join the conversation on Twitter and Facebook.