From Tesfa To Tikva: Photography By Irene Fertik
Since the early nineties Irene Fertik, Los Angeles Photographer and Freelancer, has been documenting the lives of Ethiopian Jews in Israel. She is currently working on a unique book project entitled "From Tesfa to Tikva" - meaning from hope (Amharic) to hope (Hebrew). Tadias staff had an opportunity to meet with Irene as she travelled in the Bay Area to display her photo exhibition.
"Today, Israel's nearly 85,000 Ethiopians are still in a transition period, where the old ways are continuing to be practiced, but are making way for the new. Both in photos and text, I am telling the story of these early years of change and transition," Irene says describing her more than a decade long dedication to this project.
Her talented work provides us with a myriad of images, capturing the business and personal successes as well as the hardship and poverty faced by young and old Ethiopians who emigrated to Israel. We share with you snippets of her incredible labor of love and urge all to attend her current and future exhibitions. To learn more about Irene's work or her project on Ethiopian Jews in Israel visit www.irenefertik.com

Irene Fertik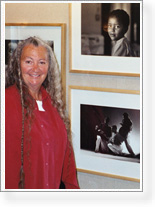 More links on Ethiopian-Israelis: