Second Annual Wedding Expo In Washington D.C.
Organized by Pupa and hosted by Danny Davis Photography By Four Star Productions
The 2nd Annual Ethiopian Wedding Expo held at the Marriott Hotel on April 12th, was a total bridal extravaganza, featuring the most prominent wedding professionals in the business showcasing a complete selection of products and services to compliment all tastes and budgets. Elegant fashion shows, live bands, breathtaking displays, mouthwatering samples of fine foods and confections, and the convenience of finding it all in one place makes The Ethiopian Wedding Expo is a must for busy, discerning brides-to-be!

2nd Annual Wedding Expo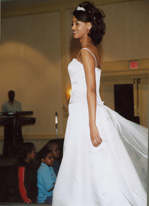 Contact Information

The Ethiopian Wedding
Expo participants were:

Bridal Gown by Manale,
260 West 36th St. # 1101,
New York, NY 10018
Tel: 212-944-6939
Jeanette's Bride N Tux
Boutique, 10386 Festival
Lane, Manassas, VA 20109
Tel:703-368-1998
Ethiopian Traditional
Dress Design by (Gigi-
Ethiopian Contemporary
MODE), Addis Ababa
Blen's Collection