Fashion Talk
by Mahlet Teklemariam
Dinkenesh Designs Makes its Debut
Sahlem Belai, aka Lucy, was born in Addis Ababa, Ethiopia, and came to the United States when she was 10. She is an up-and-coming designer based in the Washington, D.C. area. Her interest in sewing and her love of fabric began at around age 7 when her mother took her to Merkato. She was fascinated by all the beautiful tilet, dresses, and shemanes at work. It was one of the most memorable times with her mother in Ethiopia.
Several years later, when she was 14 and attending boarding school in the Midwest, she used the little money she had saved to buy a secondhand sewing machine and she taught herself how to sew. She has been creating clothes for herself and others ever since. She is dedicated to her dream of someday opening a boutique with her own artistic theme and style.
Sahlem enjoys working and experimenting with all kinds of fabrics from European to Oriental and Indian, but her passion is Ethiopian fabric. By combining different designs and shades of tilet, she makes simple bags, skirts, tops, and dresses, not only for special occasions but also for everyday use. The latest addition to her designs is shirts for men, which will be featured in the next issue.
Sahlem refers to her designs as "art ware" or "comfort ware" to feel closer to home, Ethiopia. Also an abstract artist and poet, Sahlem infuses art into her designs. She believes that art and fashion go hand in hand, and she is able to demonstrate this by organizing fashion shows. Since the early nineties she has been promoting fashion shows mostly in the Washington, D.C. area, but in recent years she has been traveling as far as Dallas, LA, and Ohio, in collaboration with promoters who recognize her work, to proudly show the beauty of modern Ethiopian fashion.
Her label "Dinkinesh designs" is dedicated to her late mother Dinkinesh Yohannes, who she refers to as "my inspiration". Sahlem believes in following dreams and that achievement in the fashion and art world is not acquired by the highest level of education but by the highest level of intuition, long hours of hard work, and a natural sense of one's worth and fashion. "I am grateful and thankful to God for giving me an outlet to create, design, and paint. Creating is a crucial way to express who we are as Ethiopians and to always remember that we all are blessed with a God- given gift. But it's up to us to search within us, find it, and use it to weather the storms of life, and to be resilient in whatever circumstance."
For more information on up-coming fashion shows and to order items, please visit www.sahlem.com or contact Sahlem at Dinkineshdesigns@sahlem.com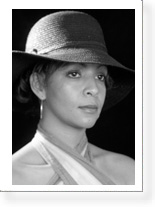 Sahlem Belai: Fashion Designer
Internet Links :
Sahlem.com
Make-up by Beniam B bbeniam@aol.com
202 255 7904
Photography by Gedion Kifle
Jewelry by Sara B. Design (sarabdesign@aol.com)
Special thanks to Hotel Rouge (www.rougehotel.com)