Abaynesh Asrat:
The Coalition of Ethiopian Women for Mutual Support
by Tseday Alehegn
On December 20th, 2003, the New York City-based Coalition of Ethiopian Women for Mutual Support (CEWMS) held its 10th anniversary dinner. The CEWMS serves as a resource center for Ethiopian refugee and immigrant women residing in the United States. Founded in 1993 by Ms. Abaynesh Asrat, CEWMS was designed to specifically address the need for developing the socio-economic status of refugee and immigrant female Ethiopian residents. CEWMS is a valuable source of legal, social, and cultural information for Ethiopian women in the United States.
In her presentation at the Centennial Celebration of U.S.-Ethiopia Relations Conference that took place last December at Stanford University, Ms. Asrat described CEWMS as an organization that "assists us in navigating our experiences and in developing our wellbeing." For the past several years Ms. Asrat has been serving as a senior consultant for a major health care facility in New York City. Using her background in social work, Ms. Asrat works alongside educators, doctors, and psychologists to break down cultural barriers that may exist within multi-ethnic communities. CEWMS uses various social outlets such as theater tickets donated by UNICEF to expose community members to places and circumstances beyond their enclave. Other social activities have included art exhibitions, poetry readings, and food festivals.
Ms. Asrat points out that the language barrier is one of the key problems many new immigrants face. Another issue she addresses is access to health insurance: "There is a need to provide information to immigrants in a way they can understand it, thus allowing them to retain their dignity and pride." Still other women need direction in identifying educational opportunities and the financial assistance necessary to matriculate in schools. One of the most urgent issues that CEWMS focuses on is that of domestic violence and the need to educate both women and men about how to eliminate it. One of the main purposes and objectives of CEWMS is to enable Ethiopian women to comfortably discuss home-related issues in a supportive environment. Ms. Asrat states that the CEWMS "acts as an advocacy group to promote Ethiopian women's rights in the U.S. and, as such, convenes forums to consider community opinion on relevant issues that affect the social and economic conditions of Ethiopian women." To this end, last year CEWMS hosted the first community program on domestic violence and invited both men and women to the educational program. The event was very successful and has encouraged CEWMS members to continue to provide the same services on a larger scale.
. Membership in the Coalition of Ethiopian Women for Mutual Support is open to all Ethiopian women, 18 years of age and over residing in the United States. Associate membership is also open to any Ethiopian male residents.
To join or to become involved in CEWMS activities please write to:The Coalition of Ethiopian Women for Mutual Support, 17 Battery Place, Suite 966N, New York, NY, 1004-1102, or call (212) 968-0749.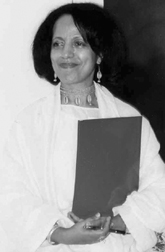 Abaynesh Asrat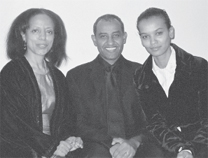 Ms. Asrat with supermodel Liya Kebede and her husband at 10th Anniversary celebration of CEWMS
More Diaspora Articles



Dr. Lemma Senbet: Leader in Finance Studies