Professor Lemma Senbet:
An Internationally Recognized Leader in Finance Studies
by Tseday Alehegn
Giving up aspirations of becoming an engineer, after hearing news of the opening of a new business school at Haile Selassie I University (now known as Addis Ababa University), Dr. Lemma Senbet enrolled at the business school and graduated with top honors. He went on to acquire a Masters in Business Administration from University of California, Los Angeles, and a PhD in International Finance from State University of New York in Buffalo. A native of Ethiopia, Dr. Senbet is an internationally respected leader in the field of finance and currently serves as the William E. Mayer Professor of Finance as well as Chair of Finance Department at the Robert H. Smith School of Business at the University of Maryland.
Prior to his arrival at the University of Maryland, he held a professorship at University of Wisconsin, Madison, and taught as a visiting professor at Northwestern University, University of California, Berkeley, and New York University. He was also a distinguished research visitor at the London School of Economics. Dr. Senbet has been a consultant in fields relating to corporate finance, capital market development, financial sector reforms, banking regulation, globalization, and institutional design for international organizations such as the World Bank, the International Monetary Fund, the United Nations, and several governmental agencies in North America and Africa.
One of Dr. Lemma Senbet's earliest and highlighted accomplishments stems out of a finance paper he co-wrote in 1978 challenging a long-standing economic theory. His work led to advances in the field of finance. Since then Dr. Senbet has served as a twiceelected member on the Board of Directors of the American Finance Association as well as President of the Western Finance Association. As a researcher and author, Dr. Senbet was ranked among the top three contributing authors worldwide to the prestigious Journal of Finance from 1976 through 1985. Other journals where Dr. Senbet has served on the editorial board include the Journal of Financial and Quantitative Analysis (6 years), the Journal of Banking and Finance (5 years), and Financial Management (20 years). He was recently selected as Executive Editor of Financial Management.
Dr. Senbet's notable achievements do not end here. In 2000 he was inducted into the Financial Economists Roundtable (FER), an official forum for senior financial economists who have made significant contributions to finance and who seek to apply their knowledge to current policy debates. As chair of several programs and as much sought-after keynote speaker, Dr. Senbet has participated on panels and in forums including the Third African/African-American Summit (Dakar, 1995), the Conference of Council of African Ministers of Finance (Addis Ababa, 1997), and the UNDP / NYSE preparatory forum on the development of African capital markets. He has also served as a resource person for the African Economic Research Consortium (1994-03) and for the Governors' Forum (a forum of governors of central banks from East and Southern Africa, London, 1995 and 1997).
"Dr. Lemma Senbet continues to excel in the field of finance studies and blazes the trail for others aspiring to follow in his footsteps. Numerous doctoral students have studied under him and now occupy faculty positions at such major research universities as Carnegie Mellon, Dartmouth, Vanderbilt, Rutgers, and Florida. At the University of Maryland where he now works, he is the recipient of the 1994 Allen Krowe Award for Teaching Excellence. Tadias Magazine honors his work and his achievements!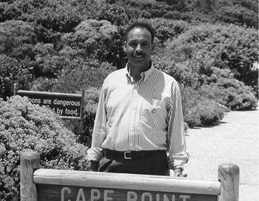 Dr. Lemma Senbet in South Africa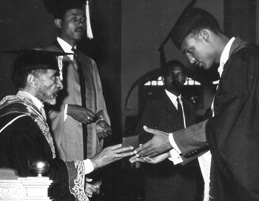 Receiving Chancellor Gold Medal
More Diaspora Articles

Abaynesh Asrat: The Coalition of Ethiopian Women for Mutual Support