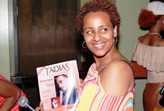 Dear readers,
Welcome to the 4th issue of Tadias Magazine. We are delighted by the encouraging responses we have been receiving from you in support of our publication. Eight months ago, in our premiere issue, we declared that Tadias was envisioned in a spirit of collaboration and with the hope of creating a truly close relationship with our readers. Many of you have requested that we help promote the emerging talent in the Ethiopian-American fashion industry. As a reflection of this growing bond with our valued readers, we are pleased to introduce a new section called "Fashion Talk". The section showcases an impressive array of up-and-coming fashion designers in the diaspora. In her debut article, our Fashion Editor, Mahlet Tekelemariam, presents Bilen Estephanos and her company B'Ware in a special gloss-page dedicated to this new section. Bilen, a self-taught Ethiopian-American designer, has made her mark by mixing Ethiopian culture and urban American style to produce stunning collections of elegant clothing and trendy furniture. We hope you enjoy perusing her work as we have.
This is indeed an exciting time for Tadias. Last month we held a magazine launch party on the East Coast. The event held at an exclusive Washington D.C. location (Club 1223), had high attendance and is further indication that our vision of fostering a strong link with our community is bearing fruit. We extend our warm thanks to everyone who joined us in our celebration and our deep gratitude goes to our sponsors who made the event possible.
In addition, we are happy to announce that Tadias was recently selected to be profiled in New California Media's national directory. NCM is a consortium of over 600 ethnic media organizations. This selection affirms the value of our target market. Since our inaugural issue in January of this year, our subscription base has quadrupled and we continue to receive new subscription requests on a daily basis. Our readers, ranging in age from 18-55, subscribe from Europe, Africa, Australia, and over 25 states in the U.S. The rapid growth of our magazine is great news to our advertisers, who receive unique access to the nationís largest, most educated and affluent immigrant population. We encourage business owners to contact our marketing department to discuss advertising opportunities. Our friendly customer-service agents are ready to assist you 24-hours a day, 7-days a week at (800) 209-1928.
In this issue, as always, our team has worked diligently to bring you a variety of articles, which we hope you will find to your liking. In our Speak Out section, Aman Paulos, a longtime student of martial arts, shares a remarkable story of his training in Aikido. We expect his story will encourage young people to take up martial arts not only as a self-defense training, but also as way to lead a self-disciplined life.
In her Opinion piece, Phiven Mekuria Saifu, a 21-year-old journalism student in Los Angeles, tells her struggle to claim her Ethiopian identity while continually living under conflicting cultural pressures from her parents on one hand and her peers on the other. She asks, "Why do Ethiopians have children in America, raise them here, and then criticize them for not being Ethiopian enough or being too American?" We hope her view will spark a healthy debate on the subject. We look forward to receiving your letters.
The Team
Dr. Bogaletch Gebre: Fulbright Scholar & Community Activist Uplifting Women

"What is good for women is good for the community," Dr. Gebre declares as she promotes her non-profit organization, KMG (The Kembatti Mentti Gezzima ' Tope). Literally translated it means "Women of Kembatta pooling their efforts to work together." Located on a lush 7.4 acre land donated by the township of Durame in southern Ethiopia, close to where she grew up as a child, the Kembatta women's self-help center stands complete with an Administrative Center,Cafeteria, Skills Training Center, Women's Dialogue House, Library Resource Center, Heritage Center, and a Round House. Her dream realized, Dr. Bogaletch Gebre could now focus on hot issues affecting women's health, livelihood, education and environment. continued...
Introducing Our New Section: Fashion Talk
Bilen Estephanos, a self-taught Ethiopian-American designer, has made her mark by mixing Ethiopian culture and urban American style.

Bilen is a designer residing in Washington D.C. area. She has been sewing and designing clothes since her early childhood. Bilen was born and raised in Ethiopia and draws her inspiration from the diverse cultural heritage found in her homeland.
ESAi: part II A Conversation w/ New Generation of Student Leaders


First Ethiopian Delegation in the U.S. in 1919 Made Headlines

Chachi Tadesse: Philanthropy and Music

---


Tadias pays tribute to Dr. Dawit (David) Fassil, whose life was much shorter than most but who shared his passion for life and his commitment to improving his community and the world. He is dearly missed.

Beware The Know-It-All Interpreter

by Dr. Alice Chen

Editor's Note: Ethiopian-Americans who are not proficient in English have the right to access interpreter services in hospitals, clinics and other health care settings. The following article discusses problems that arise when one is faced with a bad interpreter. Although Dr. Alice narrates her experience with a Korean patient, the problem is common among all immigrant communities, including ours.

When Mrs. Chon went to the doctor for the first time, she was exhausted and her whole body felt swollen. She had no insurance and had run out of her thyroid and blood pressure medications. But her biggest problem was that she didn't speak English and the doctor didn't speak Korean. Mrs. Chon talked to an interpreter. Instead of relating what she was saying to the doctor, the interpreter told her to stop complaining. "Everyone feels tired," the interpreter said. Mrs. Chon left her doctor's visit feeling discouraged, with no diagnosis or treatment. continued...

Keeping my Ethiopian Culture While Growing Up in America

Why do Ethiopians have children in America, raise them here, and then criticize them for not being Ethiopian enough or being too American? I find it difficult to figure out why I get condemned for not speaking fluent Amharic. I had no say as a child as to where I wanted to be raised.continued...

The God Who Begat a Jackal By Nega Mezlekia

Deep within the conquering blue sky, far beyond the feathered patrols and their scouts, lives the all-seeing Mawu-Lisa, God of my people. With two faces on one head, Mawu-Lisa is both man and woman. Mawu, the woman, is in charge of the night; Lisa, the male, directs the day. continued...
Third Issue:

Dear Tadias Editors,
I read your May/June 2003 issue and I loved it. Also I enjoyed the cover story on Yonie. I actually manage an Ethiopian artist (Gabriele) led neo-soul/rock-soul fusion band based in Philly, Tangible Truth. Your readers can learn about this phenomenal group who have had Abegaz Shiota and Thomas Gobena and other African artist perform with them in the East Coast and are due to perform in Santa Barbara August 2003 at our web site: www.tangibletruth.net

Sosinna Tesfa
Via the Internet

Tena Yestelegn, "TADIAS"
I was very impressed with your web site presentation and your magazine. Keep up the good work. I am a businessman based in Washington D.C. and after I reviewed your material online, I came to a decision to work with you and I will be in touch soon. Again, congratulations on your contribution to our community. My best wishes from Dukem Restaurant, in D.C.

Tefera Zewdie
Washington D.C.

Hello,

I find your magazine very interesting. I am married to an Ethiopian Physician. He graduated from Jimma Health Science Institute. We have one son. My view on the culture is much different than the articles you print. My husband and I split up, when my son was 3 months old. In three and a half years, he has seen my son only a total of eight months. He abandoned his son physically and financially. He is not available to complete the divorce papers. It has now been 3 years. I made several attempts to talk to him. Once, when I took his son to his apartment, he shut the door on his sonís face. Is this Ethiopian Culture?

Jessica Teshome
Seattle, Washington

Cover: Up Close and Personal with Yonie
By Tseday Alehegn

Wow, what a cutie, very smart too. I am 17 and a senior in High School. I will be entering college next year and I plan to major in business. My dream is to run my own company one day. Believe it or not, Yonie has just become my role model, even though he is only few years older than me.

Misrak Hailu
Dallas, Texas

continued...