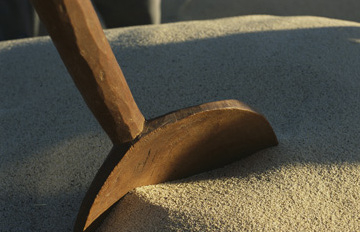 Above: An undated photo shows teff grain being processed
near Adis Abeba (Addis Ababa), Ethiopia. Rising food prices
around the world combined with drought have caused Ethiopia
to clamp down on teff exports, forcing many expatriate Jews now
living in Israel to go without the injera bread that traditionally
accompanies their meals. Photograph by Michael S. Lewis/NGS
Israel's Ethiopians Forced to Give Up Traditional Bread (National Geographic News)
Mati Milstein in Bat Yam, Israel
for National Geographic News
June 5, 2008
Part seven of a special series that explores the local faces of the world's worst food crisis in decades.
The crisis that has sent food costs spiraling upward around the globe is causing Ethiopian Jews now living in Israel to give up something priceless: a piece of their culture.
Tens of thousands of the expatriates are being forced to abandon their traditional diets because of the skyrocketing cost of teff grain.
Teff, a nutritious and hardy cereal domesticated in Ethiopia thousands of years ago, is the primary ingredient in injera, a round flatbread that accompanies most Ethiopian meals.
A drastic shortage has caused the price of teff to jump by some 300 percent over the past year.
A 110-pound (50-kilogram) sack now runs at least 600 New Israeli shekels (about U.S. $179).
The price increases hit Israel's Ethiopian community particularly hard, as it is a struggling group with about three-quarters living below the poverty line, according to official figures. Read More.