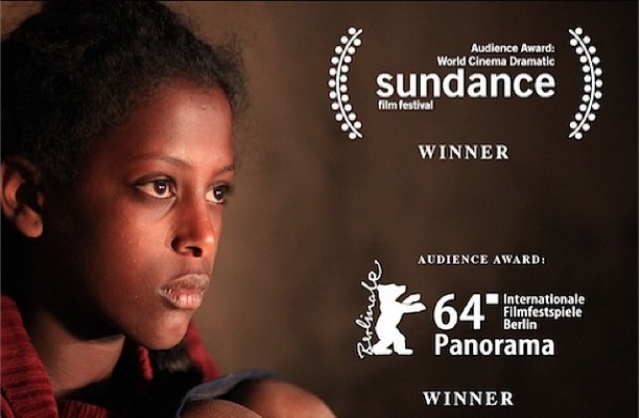 Tadias Magazine
By Tadias Staff
Published: Monday, September 22nd, 2014
New York (TADIAS) — The producers of the award-wining Ethiopian film Difret have told Tadias Magazine that they have amicably resolved the claim that halted the premiere screening in Addis Ababa earlier this month and its subsequent release in theaters there. The filmmakers told Tadias that they expect Difret to premiere in Ethiopia shortly, although they did not give exact dates for the screenings.
Meanwhile, the film's Director and Writer Zeresenay Berhane Mehari has been Nominated for the Best Directorial Debut Award at the upcoming London Film Festival that will be held from October 8-19, 2014. "I am thrilled that Zeresenay has been nominated for the First Feature award," Co-producer and Academy Award Nominee Leelai Demoz said in an email to Tadias. "Zeresenay Berhane Mehari is a great new talent. He asked me to produce his film and as soon as I read the first 10 pages of his script I called him and said yes." Leelai added: "I had been looking for something to produce in Ethiopia for many years and I knew that this was the project."
Difret, which won the World Cinema Dramatic Audience Award at the 2014 Sundance Film Festival and the Audience Award at the Berlin International Film Festival, is currently showing at the San Sebastian Film Festival in Spain and at the Trinidad and Tobago Film Festival in Port of Spain, Trinidad. It was also featured at the recently concluded Urbanworld Film Festival in New York.
The feature drama recounts the true story of Aberash Bekele's traumatic experience as a teenager in the late 1990s when she was arrested and charged for the murder of a 29-year-old farmer who had kidnapped her with the intention to marry her. At the time, the man was engaged in a widespread cultural practice in rural Ethiopia known as Telefa. The victim was successfully defended by attorney Meaza Ashenafi, who made international headlines when her client was acquitted on the grounds of self defense, heralding a historic legal achievement for women and girls' rights in Ethiopia.
Difret has since been screened in various U.S. cities including New York and Silver Spring as well as worldwide including at Locarno Film Festival in Switzerland; Durban International Film Festival in South Africa; Jerusalem International Film Festival in Israel, and Sydney International Film Festival in Australia.
A Huffington Post article entitled "Difret: Building a Culture of Courage" was published on September 4th by producer Dr. Mehret Mandefro stating "Difret can be more than a film: we hope it will stimulate a global social action campaign that empowers people to build a culture of courage that supports and protects women and girls."
The film's other producers include Executive Producers Angelina Jolie, Julie Mehretu, Jessica Rankin, Francesca Zampi and Lacey Schwartz.
—
Related:
Tadias Interview with Zeresenay Mehari & Mehret Mandefro
'Difret' Wins Panorama at Berlin Film Festival
Ethiopian film confronts marriage by abduction (BBC)
'Difret' Wins World Cinema Dramatic Audience Award at Sundance Festival
Tadias Interview with Filmmaker Yidnekachew Shumete
Video: 'Difret': Audience Reaction at 2014 New African Films Festival in Silver Spring, Maryland

Join the conversation on Twitter and Facebook.