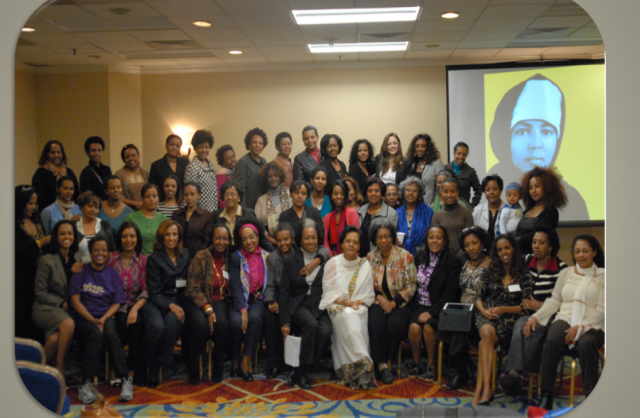 Tadias Magazine
Events News
Updated: Wednesday, March 12th, 2014
New York (TADIAS) — The month of March is dedicated to Women's History Month worldwide and since 1975 the UN has marked International Women's Day on March 8th; this year the theme was "Equality for Women is Progress for All."
In honor of the global celebration the Third International Conference of Ethiopian Women in the Diaspora will be held in Silver Spring, Maryland on Saturday, March 22, 2014. The conference, which is hosted by the Center for the Rights of Ethiopian Women (CREW), will provide a forum for participants to freely and openly discuss issues affecting Ethiopian women in the Diaspora and in Ethiopia.
The focus is "Migration of Ethiopian Women: Contemporary Issues," CREW announced in statement. "Root causes for migration of Ethiopians will be discussed. The gendered nature of migration will be analyzed. Current situation of Ethiopian migrant workers in the Middle Eastern countries will be addressed." The statement added: "The [gathering] will also discuss how immigrant Ethiopians can transform conflicts that they face during their transition time [and] provide suggestions on the protection of the rights of Ethiopian migrant workers."
In her message posted on organization's website, Dr. Maigenet Shifferraw, President of CREW, notes: "Since its establishment on March 25th, 2012, CREW has addressed a number of critical issues that pertain to the rights of Ethiopian women worldwide. Soon after it was created, the organization focused on the plight of Ethiopian female domestic workers in Middle Eastern countries."  CREW has launched a campaign to create awareness about the plight of Ethiopian domestic workers and encourage the international community to get involved in amelioration efforts.  Dr. Maigenet also shares that CREW members are committed to develop a credible and strong "independent women's organization that will stand firmly for the respect of the rights of Ethiopian women worldwide."
–
If You Go:
SAVE THE DATE
The Third International Conference of Ethiopian Women in the Diaspora
Saturday, March 22, 2014
8am-5pm
Sheraton Silver Spring
8777 Georgia Ave,
Silver Spring, MD 20910
More info at centerforethiopianwomen.org.
Video: UN commemorates International Women's Day 2014 (Webcast)

Join the conversation on Twitter and Facebook.