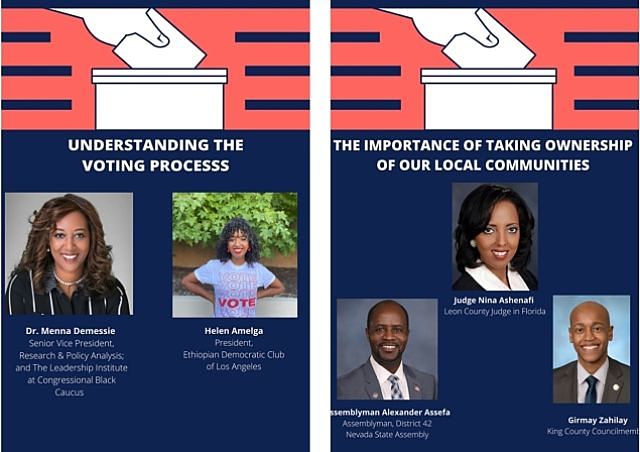 Tadias Magazine
By Tadias Staff
Updated: September 23rd, 2020
Los Angeles (TADIAS) — Ethiopian Americans are holding a virtual town hall this week ahead of the November 3rd U.S. election.
The nationwide event, which will be held on Thursday, September 24th, will emphasize the importance of exercising our citizenship right to vote and to participate in the U.S. democratic process.
According to organizers the town hall — put together by the 'Habeshas Vote' initiative and the non-profit organization Habesha Networks — will feature various panel discussions, public service announcements and cultural engagements.
"We intend on discussing various subject matters related to civic engagement issues affecting our community at the moment," the announcement notes, highlighting that by the end of the conference "participants will be able to understand the importance of taking ownership of our local communities, learn more about the voting process and gain a better [appreciation] of why we should all care about voting."
Speakers include Helen Amelga, President of the Ethiopian Democratic Club of Los Angeles; Dr. Menna Demissie, Senior Vice President of Policy Analysis & Research at the Congressional Black Caucus Foundation; Assemblyman Alexander Assefa, the first Ethiopian American to be elected into office in the Nevada Legislature and the first Ethiopian American ever elected in the U.S. to a state-wide governing body; Judge Nina Ashenafi Richardson of Florida, who is the first Ethiopian-American judge in the United States who was re-elected to a third term this year; and Girmay Zahilay, Councilman in King County, Washington.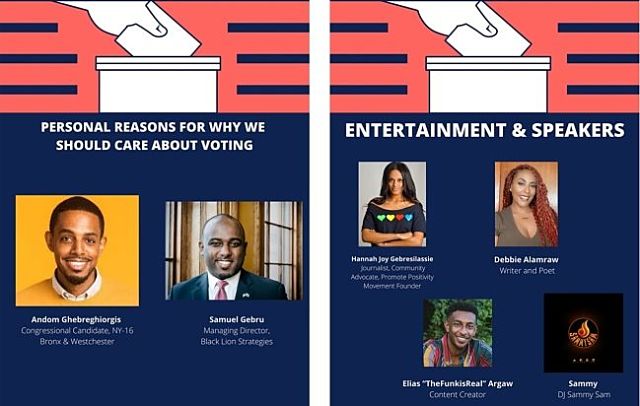 (Courtesy photos)
Additional presenters include: Andom Ghebreghiorgis. former Congressional candidate from New York; Samuel Gebru, former candidate for City Council in Cambridge, Massachusetts, and current managing director of Black Lion Strategies; as well as Hannah Joy Gebresilassie, journalist and community advocate; and Debbie Almraw, writer and poet.
Entertainment will be provided by Elias Aragaw, the artist behind @TheFunkIsReal, and DJ Sammy Sam.
The announcement notes that "voting is a core principle of being American, but to exercise this basic right we must be registered to vote! That's why Habesha Networks and Habeshas Vote are proud partners of When We All Vote and supporters of National Voter Registration Day."
—
If You Attend:
Click here to learn more and register for the Virtual Town Hall .
Related:
Ethiopian Americans: Election is Approaching, Let's Make Sure our Voices are Heard
Interview With Addisu Demissie: Senior Adviser to Joe Biden
Interview: Helen Amelga, Founder of Ethiopian Democratic Club of LA
Biden Selects Yohannes Abraham as Member of Transition Team
Join the conversation on Twitter and Facebook.