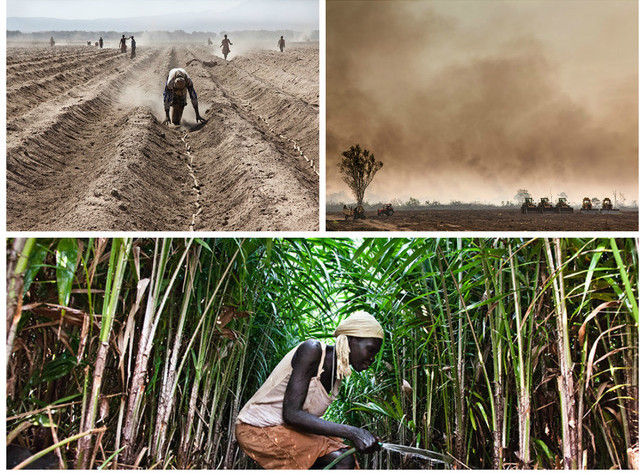 Tadias Magazine
Events News
Published: Wednesday, September 10th, 2014
New York (TADIAS) – An upcoming panel discussion at Photoville in Brooklyn hopes to raise awareness about "land grabbing" as a complex international and environmental phenomenon. According to organizers the experts will address the subject "using land grabbing as a case study, photographer Alfredo Bini and media executive Greg Moyer meet with non-profit organizations and researchers to discuss the potential for issue-based multimedia storytelling."
Presented by Blue Chalk Media & The University of Virginia, with the participation of Human Rights Watch, Grassroots International, and Why Hunger, the panel discussion scheduled for Sunday, September 21st, also features Iain Levine, program director at Human Rights Watch, Paolo D'Odorico, Professor of Environmental Sciences at the University of Virginia, and Saulo Araujo, Director of the Global Movements Program at WhyHunger.
"Lately there have often been shortcomings in providing in depth coverage for stories like this because, due to space restrictions on the traditional media outlets, even more often the articles have focused only on specific aspects rather than the phenomenon as a whole," states the announcement. "In spite of these limits, how can photography and multimedia be used as a tool for raising awareness? Conveying in-depth information and analysis about controversial issues requires time and long-term research in an age when the public's attention level is dwindling and increasingly focused on breaking news and sound bytes."
This presentation will take place in the Photoville Talk Area – located at the storefront of One Brooklyn Bridge Park at corner of Joralemon Street & Furman Street.
—
If You Go:
Land Grabbing: Raising Awareness with Multimedia
When: Sunday, September 21, 2014
Time: 6:00 PM to 7:30 PM (EDT)
Where: Photoville
One Brooklyn Bridge Park
Pier 5, Brooklyn Bridge Park
www.eventbrite.com
Join the conversation on Twitter and Facebook.