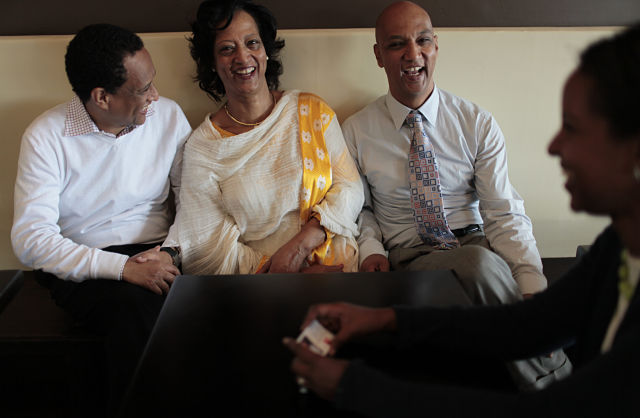 Tadias Magazine
By Tadias Staff
Published: Thursday, March 12th, 2015
New York (TADIAS) — In Ethiopia's Gurage language Merkamo is an all-encompassing word meaning beautiful, says Alex Habte Cherein, the founder of Merkamo Ethiopian Bistro in Springfield, Virginia. "But when literally translated, it's more than a physical beauty." He adds: "It depicts a wholesome being radiating purity of heart and 'joie de vivre' to all who come in contact with that beauty."
Next week, Merkamo is launching a monthly event called "Afro Diaspora Mixer" that will take place every third Friday from 5:30 – 8pm.
"The purpose of the Afro Diaspora Mixer is to bring together change agents and business people in the Afro Diaspora community in an informal but intimate environment," Alex tells us. "The Afro Diaspora community has achieved admirable progress in the U.S. and the community has significant high caliber individuals who are doing amazing things. Unfortunately, these individuals are not as connected as they should be."
"The idea," he notes, "is to create a space where Afro Diaspora business people and professionals connect and share their story and hopefully collaborate in mutually beneficial projects."
The mixer will be followed by an after-party "for those who want to stick around and dance the night away," says Alex.
The first mixer is scheduled for Friday, March 20th featuring DJ Quajah, as well as happy hour drink and food specials.
—
If You Go:
Address: 7020 Commerce St, Springfield, VA 22150
Phone:(703) 639-0144
Hours: Open today · 11:00 am – 10:00 pm
merkamo.com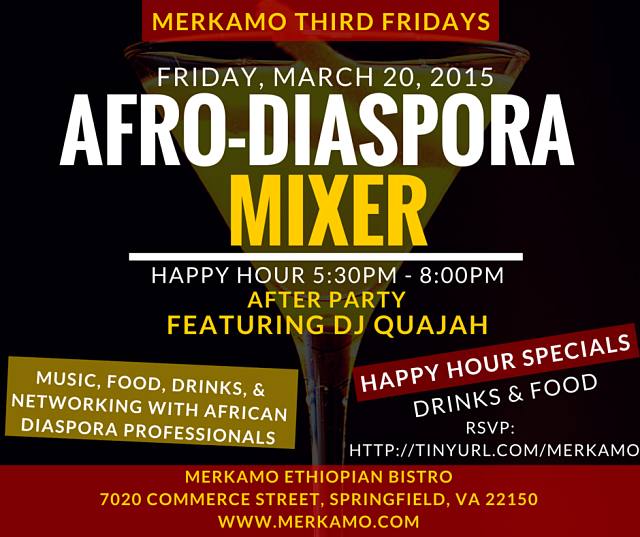 Join the conversation on Twitter and Facebook.