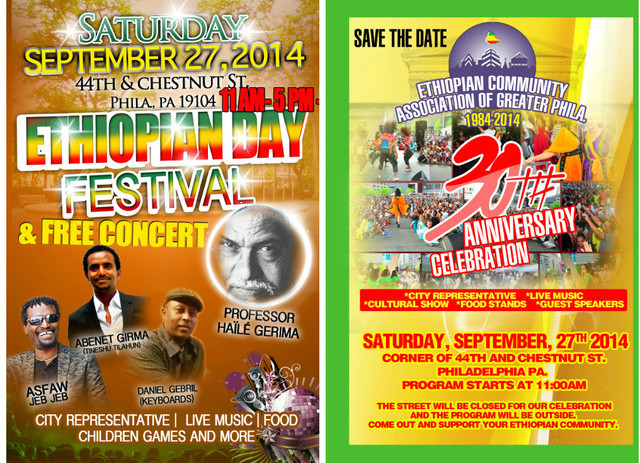 Tadias Magazine
Events News
Published: Monday, September 22nd, 2014
Philadelphia (TADIAS) – September 27th is officially designated as "Ethiopia Day" in Philadelphia by the city council. And this year the day also marks the 30th anniversary of the Ethiopian Community Association of Greater Philadelphia, which is the oldest African community organization in Pennsylvania. The association announced that the outdoor festivities this coming weekend will include a street fair, music, children's games and keynote addresses by Councilwoman Jannie Blackwell and Ethiopian filmmaker Professor Haile Gerima.
The event will take place on 44th and Chestnut Street, which organizers say will be blocked off for the occasion. The entertainment line-up features live performances by Asfaw Jeb Jeb, Abinet Girma (Tinishu Tilahun) and Daniel Gebril on keyboards.
—
If You Go:
Ethiopian Day in Philadelphia
When: September 27th, 2014
Time: 11 am – 5:00 pm
Where: 44th and Chestnut Streets
Ethiopian Community Assoc.
4400 Chestnut St. – 1st Floor
Philadelphia, PA 19105
TEL: 215.222.8917
www.ethiophilly.org
Join the conversation on Twitter and Facebook.