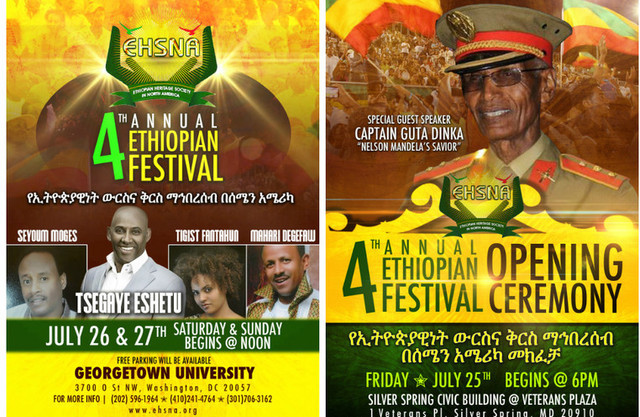 Tadias Magazine
By Tadias Staff
Published: Tuesday, July 22, 2014
Washington, D.C. (TADIAS) Ethiopia's Poet Laureate – the late Tsegaye Gebremedhin – and the Zone 9 bloggers are among those who will be recognized at the 4th Annual Ethiopian Heritage Festival, which kicks off this weekend in Silver Spring, Maryland and Washington, D.C.
The opening ceremonies are scheduled to commence on the evening of Friday, July 25th at Silver Spring Civic Building at Veterans Plaza and features speeches, poetry reading, art show and drama. The speakers list includes Captain Guta Dinka (The Man Who Saved Mandela), and MIT freshman Naome Marie of San Jose, California who was accepted to four Ivy League schools earlier this year before deciding to attend MIT. The keynote address will be delivered by human rights activists Obang Metho, the head the Solidarity Movement for a New Ethiopia.
Organizers note that the annual cultural celebration, hosted by the Ethiopian Heritage Society in North America (EHSNA), continues on Saturday and Sunday (July 26th and July 27th) at Georgetown University with various "family-friendly outdoor events and activities" including soccer, music, food and colorful displays highlighting several arts & crafts vendors.
Per EHSNA: "The aim of the heritage festival is to educate Ethiopian youngsters about Ethiopian history, culture, and traditions, as well as the contributions that Ethiopians have made in the United States."
—
If You Go:
Friday, July 25th, 2014 at 6:PM
1 Veterans Pl
Silver Spring, MD 20910
Phone: 202.596.1964, 410.241.4764, or 301.706.3162
More info at ehsna.org/heritage-festival.
Saturday, July 26th and Sunday, July 27th
Georgetown University
3700 O Street
Washington, D.C. 20057
Phone: 202.596.1964, 410.241.4764, or 301.706.3162
More info at ehsna.org/heritage-festival.
—
Join the conversation on Twitter and Facebook.