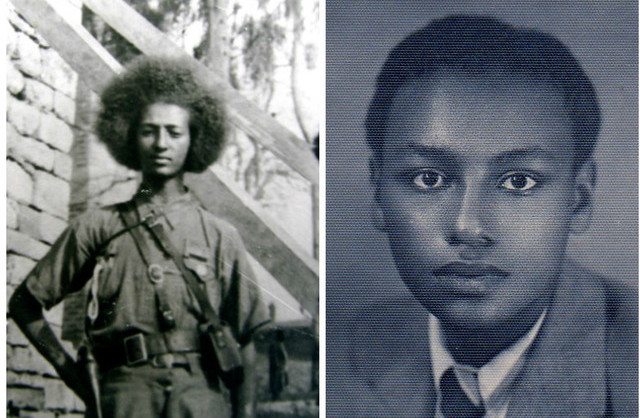 Tadias Magazine
By Tadias Staff
Published: Tuesday, November 18th, 2014
New York (TADIAS) – In a new book entitled Prevail: The Inspiring Story of Ethiopia's Victory over Mussolini's Invasion, Jeff Pearce, a journalist based in Toronto, focuses on rarely told and fascinating personal stories from the war, each of which is worthy of a big screen movie. Take, for starters, the account of Ambassador Imru Zelleke, 90, who now resides in the U.S. and whom the author interviews extensively about his experiences witnessing the first horrible incidents of Yekatit 12, the Graziani Massacre, and then was taken to an Italian concentration camp the next day. Imru's narrative is paralleled with other Ethiopian heroes including General Jagama Kello; Ethiopian activist Dr. Melaku Beyan who led and forged close relations between African Americans and Ethiopians as part of his awareness and fundraising campaign in the 1930′s in the United States; and African American fighter pilot Colonel John Robinson (the Brown Condor) from Chicago who volunteered his services and commandeered Ethiopia's only plane for the duration of the conflict. And, of course, the role of Emperor Haile Selassie, whom the author observes is held in high esteem today by foreigners, ironically, than his own people.
"This is no time to eat ice cream or peel bananas!" Pearce quotes a speaker shouting from a wooden platform in Harlem, New York, where it is said that over twenty thousand people had turned out for a rally in support of Ethiopia. Closer to home, in South Africa, Nelson Mandela recalled in his autobiography, Long Walk to Freedom: "I was seventeen when Mussolini attacked Ethiopia, an invasion that spurred not only my hatred of that despot but of fascism in general. Ethiopia has always held a special place in my own imagination and the prospect of visiting Ethiopia attracted me more strongly than a trip to France, England, and America combined."
As Pearce points out Mandela was hardly alone in his sentiments. Across the Atlantic in New York City "people were told to listen to the speeches and donate as much money as possible. Cheers went up as the Ethiopian tricolor of green, yellow, and red was waved in the crowd." Pearce explains that "For New York, Chicago, Pittsburgh, and Detroit — the capitals of black consciousness in 1935 — Ethiopia indeed mattered. It held a spiritual significance for black Americans as an African kingdom where Christianity had flourished since the fourth century. And it was defiantly independent, smack in the middle of the colonial map." Pearce notes in his introduction that "The Ethiopia crisis could be felt as far away as South America and even touched Asia. The news was everywhere, inescapable, and the word was going out that Haile Selassie's soldiers would not simply roll over and accept the inevitable."
Imru Zelleke was a teenager when the Italians tanks rolled into Ethiopia. "It was no longer a vintage scene of colonial warfare; it was a grotesque tableau of anachronism," Pearce says. "This was not a page out of the Book of Empire from the eighteenth or nineteenth centuries. This was December 1935. At first, the more ignorant warriors took these strange, lumbering metal things for monsters and ran. But one of them, fearless and proud, circled around and jumped onto a tank, pounding on its tin shell casing. Machine guns were blazing away and slicing men in half, and still the Ethiopians swarmed and flooded their numbers into the narrow gorge of what is called Dembeguina Pass, overwhelming the enemy. When it was finally dusk, the men and their brilliant commander, Imru, would slip away with fifty captured machine guns."
In an interview with Tadias Magazine Pearce said that his aim is to bring the story alive in a way that is understandable to ordinary readers. "All of the books previously were sort of really for academics and there weren't that many books geared towards ordinary readers," Pearce told Tadias. "It's an exciting story and it should not be left only to the academics, and the world should know how much this war mattered." He added: "The way we turn on the news and we focus say on Syria today or Ukraine, it's exactly what happened with Ethiopia and nobody learned their lessons. Look what Putin is doing in Ukraine. Well, we've seen that before with Mussolini and Ethiopia. It was exactly the same thing…Oh no I am not invading, oh no those are not my guys, I just want a little bit of it and we are only entitled to so much; well Ethiopians have seen that before."
Initially, Pearce tried to write the story like a novel because he had heard about John Robinson (The Brown Condor), and there was not that much information available on Robinson at the time. Since then, of course, Thomas Simmons has written two books on it, and Pearce decided to collect more personal accounts. "Quite frankly, it's safe to say that most Westerners are appallingly ignorant of Ethiopian culture and history. If you told them there were Ethiopian women who put their kids on their backs, picked up their stuff and went on to fight, they would not believe you. It's an amazing story."
Regarding the outpouring of international support from regular people particularly in black communities in the United States, Pearce emphasized: "The thing that people have to realize is that the civil rights struggle did not just happen overnight in the 60s. There was a strong movement aligning itself with Ethiopia in Harlem and other parts of America decades before that. People used to walk around Harlem in the 1930s saying "don't call me the 'N' word, I am Ethiopian."
As for Emperor Haile Selassie who was the globe's face of Ethiopia at the time, "That's a very difficult puzzle and tragic really," Pearce said. "The thing about Haile Selassie is that on one hand you have this stupid book by the Polish writer [Ryszard Kapuściński] called 'The Emperor,' which is from page one a bunch of lies and total fiction, and on the other you have the version of how he was portrayed by the Derg. In between there is also some controversial news reports going back to the 1970s famine. But he has more than one side. He was never going to share power, but at the same time as leader, both before and after the war, he recognized that surrounding himself with talented bureaucrats and technocrats was the key to help him advance the country. Unfortunately, as time went on, you have a man who increasingly did not recognize that he probably should have stepped aside. But you have to recognize he is the same person that showed such great courage on behalf of Ethiopia during the war. You can't take that away from him. One of the most astute observation that was made about Haile Selassie was by the prominent Ethiopian historian Bahru Zewde who said something to the effect that 'Haile Selassie's greatest fault was that he lived too long.'"
Pearce also relies on other noted scholars of Ethiopian history including Richard Pankhurst and William Scott who gave him access to their research. "This book is indebted to them and so many other historians," Pearce said.
Below is a video and photos from the book courtesy of the author:

—
You can purchase the book at Barnes & Noble or at Amazon.com.
Join the conversation on Twitter and Facebook.