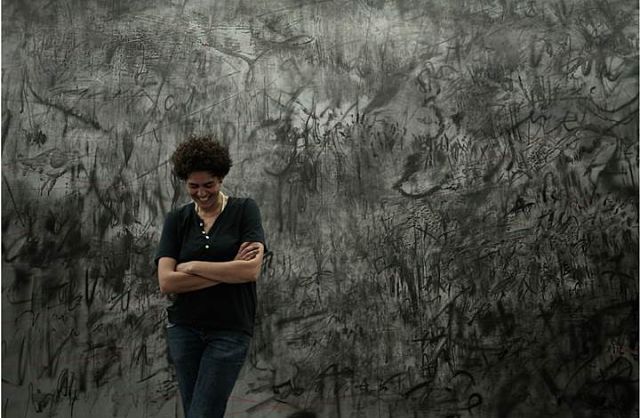 BY JULIE CERULLO
As a child, Julie Mehretu liked to make stuff.
"I was always…very interested in making, drawing and painting," she said, "constantly." But even as a young adult, she recalls, "I didn't necessarily maybe know that I could have a life as an artist."
In 2013 her painting "Retopistics: A Renegade Excavation" commanded $4.6 million at a Christie's auction, ranking her among the top ten most expensive living female artists, according to art and literature website, Culture Type.
The daughter of an American Montessori School teacher and an Ethiopian college professor, Mehretu embodies multiple identities. She's Ethiopian-American. She's half black. She's married to a woman. She's a mother. And she's a renowned artist. For Mehretu, making art, "is about trying to make sense of who you are," she said.
Mehretu spent her early childhood in Addis Ababa, Ethiopia. Her parents planned to raise her there. But by 1977, she said, "Ethiopia really became a casualty of the Cold War." So they left.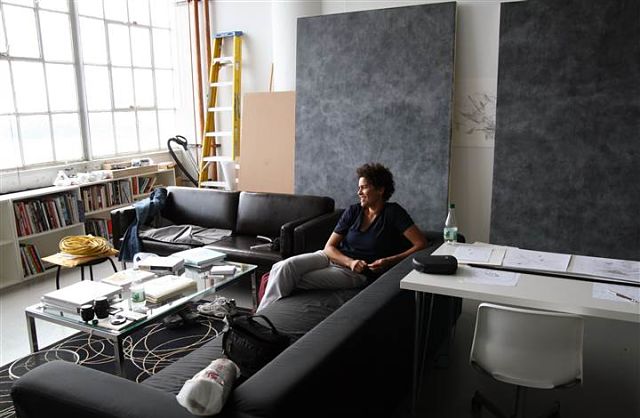 (Photo by Teju Cole)
They resettled in East Lansing, Michigan, where both her parents resumed teaching. Mehretu recalls that she was excited about coming to America, but she missed Addis Ababa, the place she knew as home. "I had this wonderful childhood there," she said.
Mehretu is still close to her roots there. She proudly shared that some of her work hangs at the U.S. Embassy in Addis Ababa.
Mehretu works primarily in abstraction. Her pieces are large scale as in 23 by 80 feet – about the size of a tennis court. They resemble networks of fast moving, interconnected and balanced galaxies. She lives and works in New York, along with her wife and two school age sons. She says, though, that New York is somewhat myopic.
Even at the forefront of contemporary art, Mehretu articulates a sense of challenge about being a black woman of African descent in the American art world. "I think it's difficult for black artists still," she says, "to work in languages where you're not really talking about blackness."
For Mehretu, the process of making art is one of self-discovery but she doesn't force that discovery back into her work. Rather, what she makes is much more reflective of the world around her than of herself. "In Europe," she says, "or in other places on the continent it's more about what the work is and what the work is doing than who the artist is. That's always, I think, where the conversation should be."
—
Related:
Julie Mehretu Awarded 2015 Medal of Arts by U.S. State Department
American Artist Lecture: Julie Mehretu at Tate Modern in London
Julie Mehretu on Africa's Emerging Presence in Contemporary Art
Join the conversation on Twitter and Facebook.