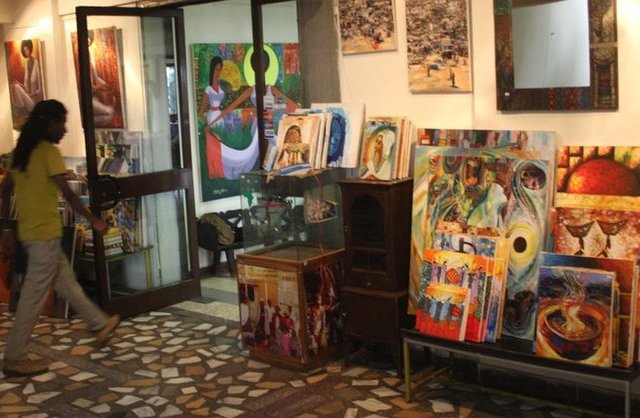 By James Jeffrey
Until recently the buying and selling of modern and contemporary art in Ethiopia was all but non-existent. The entrance to Makush Art Gallery & Restaurant in the Ethiopian capital, Addis Ababa, attests to how things have changed thanks to a burgeoning new art scene. Makush has about 70 artists on its books and a collection of more than 650 paintings from which customers can choose.
"Progress is just a miracle," says Makush owner Tesfaye Hiwet, who began visiting his homeland after the 1991 revolution that brought down the Derg, Ethiopia's communist-inspired military dictatorship. Mr Tesfaye remembers the sorry state of Ethiopia's economy following 17 years of botched socialist economic policies: "After the Derg fell, there was not even toilet paper." While living in the US, he opened a restaurant and nightclub in Washington DC, decorated with Ethiopian art sourced during his visits to Addis Ababa. After noticing the lack of galleries, he moved back 12 years ago.

Makush owner Tesfaye Hiwet. (BBC News)
Click here to see the rest of the photos at BBC.com »
—
Related:
Ethiopia's Emerging Art Scene Pits Creativity Against Profits
Join the conversation on Twitter and Facebook.