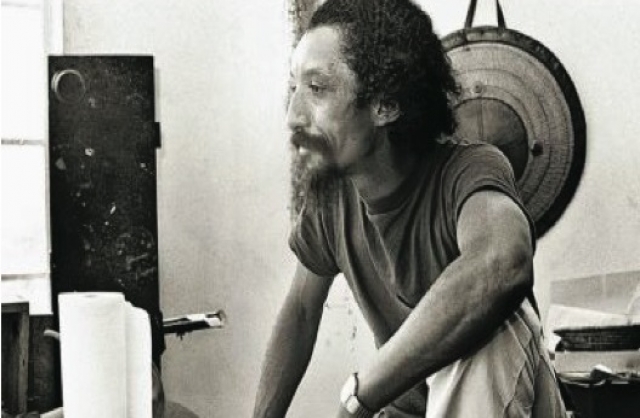 Tadias Magazine
By Tadias Staff
Updated: Monday, September 16th, 2013
New York (TADIAS) – A few years ago the Fine Arts School at Addis Ababa University, which consists of the School of Music, the School of Theater Arts and the School of Fine Arts & Design, was renamed the Skunder Boghossian College of Performing and Visual Arts in honor of the institution's most influential former professor of contemporary art and one of Ethiopia's renown artists.
Since 2003 photographer Gediyon Kifle has been documenting Skunder's paintings held in private collections around the world. Gediyon, who is scheduled to speak at a symposium in Washington, D.C. on September 22nd, 2013 marking the launch of the Skunder Boghossian Fellowship Award, said that he is also working on a documentary film and photo book highlighting the life and work of the legendary artist.
"I am probably the only person that has footage of a sit-down interview with Skunder done near the end his life," Gediyon said. "The movie will focus on his years in Ethiopia, France and America." He added: "I am lucky that I am collaborating with poet and screenwriter Solomon Deressa. There is no one in the world who knows Skunder as well as Solomon did from childhood onward."
Skunder, who lived most of his life in the United States, briefly taught at Addis Ababa University in the late sixties (1966 – 1969) after returning home from an 11-year stay in Europe. Sponsored by the Ethiopian government, Skunder had attended Saint Martin's School of Art in the U.K. in 1955 at the age of 18. He also studied at Slade School of Fine Art while in London. Two years later he moved to France continuing his studies for nine more years at Academie de la Grande Chaumiere in Paris.
He arrived in the U.S. in 1970 and accepted a teaching position at Howard University in 1972 that lasted until 2001, two years before he passed away at age 65.
Skunder became the first contemporary African artist to have his work acquired by the Museum of Modern Art in New York in 1966 when MOMA purchased his 1964 painting entitled Juju's Wedding. His last commissioned work was in 2001, a team project in collaboration with U.S.-based Ethiopian painter and art professor, Kebedech Tekleab, on the Nexus for the Wall of Representation at the Ethiopian Embassy in Washington, D.C.
According to the event announcement, the D.C. tribute attendees at the upcoming symposium will have the opportunity "to listen to speakers from the United States and abroad and ask questions following each panel, as well as view video clips of Skunder's works, listen to jazz compositions that inspired him, and have informal conversations with the guest scholars and artists during the reception."
Skunder's work has been represented by the Contemporary African Art Gallery in Manhattan, New York since the late 1990s. "I have a small room in the gallery that is completely dedicated to Skunder's painting where I keep a collection," said gallery owner Bill Karg, in a recent phone conversation. "He has done a total of three solo exhibition here," Bill recalled. "But his first show at the gallery was in 1997." Since then, Bill has kept the relationship through Skunder's daughter Aida Boghossian, and opens his collection for customers periodically and by appointment.
Regarding Skunder's collaborative art work featured at the Ethiopian Embassy in Washington D.C., the Smithsonian Institution's National Museum of African Art notes "this work highlights the intergenerational links among the diaspora community. The aluminum relief sculpture incorporates decorative motifs, patterns and symbols adapted from diverse Ethiopian religious traditions including Christianity, Judaism, Islam and other indigenous spiritual practices. The symbolic scrolls suggest major forms associated with the historic kingdoms of Axum, Gondar and Lalibela. Other forms represent musical instruments, utilitarian tools, and regional flora and fauna. Together, these designs compose a sense of Ethiopian identity and are intended as a balanced juxtaposition of traditional and contemporary Ethiopian aesthetics."
—
If You Go:
SKUNDER TRIBUTE — Celebration of Art & Culture
September 22, 2013
Symposium: 12-7pm | Reception: 7-10pm
Corcoran Gallery of Art
500 17th Street, NW
Washington, DC 20006
Entrance: $35 & $25
Tickets must be purchased in advance
skundertribute.eventbrite.com
Video: South African musician Hugh Masekela on Skunder Boghossian

Join the conversation on Twitter and Facebook.