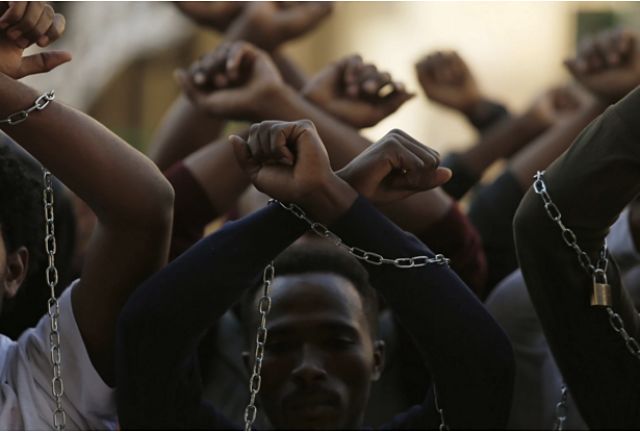 By Editorial Board
IN THE latest chapter of Ethiopia's escalating authoritarianism, young people, journalists and musicians have been the targets of the ruling regime's quest to silence political dissent. For several weeks, students from the Oromo majority ethnic group have been protesting the government's "master plan" to expand the capital territory of Addis Ababa into Oromo lands. Instead of addressing the concerns through dialogue, the Ethiopian People's Revolutionary Democratic Front (EPRDF) regime has responded with devastating violence. At least 140 people have been killed by police and security forces in the Oromia region, according to reports from Human Rights Watch. The government claims five have been killed and insists that protesters are trying to "destabilize the country" and that some have a "direct link with a group that has been collaborating with other proven terrorist parties." Last month, police arrested Bekele Gerba, deputy chairman of the Oromo Federalist Congress, Oromia's largest registered political party. The government also has arrested and allegedly beaten Hawi Tezera, an Oromo singer, in connection with her song about the protests.
Ethiopian authorities also have begun attempting to silence media covering the demonstrations. According to reports, the government has arrested and charged several journalists, including Getachew Shiferaw, editor in chief of the Negere Ethiopia news site, under the country's 2009 anti-terrorism legislation. Fikadu Mirkana, of Oromia Radio and TV, has also been arrested. The U.S.-based television channel ESAT, which has been covering the Oromo protests, claimed that the Ethiopian regime jammed one of its broadcasting satellites.
Read more at The Washington Post »
—
Related:
140 Dead In Ethiopia Land Dispute: The Problem With Government Ownership Of Land (Forbes)
Residents in Addis Ababa Worried at Ongoing Protests and Deadly Crackdown (RFI)
White House: US Wants Journalists Detained in Ethiopia Set Free (VOA)
US urges Ethiopia to free jailed journalists (Daily Mail)
White House says concerned by arrest of journalists in Ethiopia (Reuters)
In Ethiopia a Second Journalist is Arrested in a Week, Zone 9 Bloggers Summoned (BSN)
Professor Bekele Gerba Arrested Over Land Protests in Ethiopia
Ethiopian opposition figures arrested over land protests (Reuters)
Ethiopia Opposition: 80 Killed in Protests Against Land Plan (AP)
U.S. State Department, Human Rights Organizations Address Crackdown on Protestors in Ethiopia
Crackdown Turns Deadly In Ethiopia As Government Turns Against Protesters (NPR)
US Concerned About Protester Deaths in Ethiopia (VOA)
At least 75 killed in Ethiopia protests: HRW (AFP)
'Unprecedented' Protests in Ethiopia Against Capital Expansion Plan (VOA News)
Ethiopians on Edge as Infrastructure Plan Stirs Protests (The New York Times)
Opposition: More Than 40 Killed in Ethiopia Protests (VOA News)
Violent clashes in Ethiopia over 'master plan' to expand Addis (The Guardian)
Protests in Ethiopia leave at least five dead, possibly many more (Reuters)
Why Are Students in Ethiopia Protesting Against a Capital City Expansion Plan? (Global Voices)
Yet Again, a Bloody Crackdown on Protesters in Ethiopia (Human Rights Watch)
Anger Over 'Violent Crackdown' at Protest in Oromia, Ethiopia (BBC Video)
Ethiopian mother's anger at murdered son in student protests (BBC News)
Minnesota Senate Condemns Recent Violence in Ethiopia's Oromia State
The Brutal Crackdown on Ethiopia Protesters (Human Rights Watch)
Deadly Ethiopia Protest: At Least 17 Ambo Students Killed in Oromia State (VOA)
Ethiopia protest: Ambo students killed in Oromia state (BBC)
Students killed in violent confrontations with police in Ethiopia's largest state (AP)
Ethiopia: Oromia State Clashes Leave At Least 11 Students Dead (International Business Times)
Ethiopia: Discussing Ethnic Politics in Social Media (TADIAS)
Join the conversation on Twitter and Facebook.