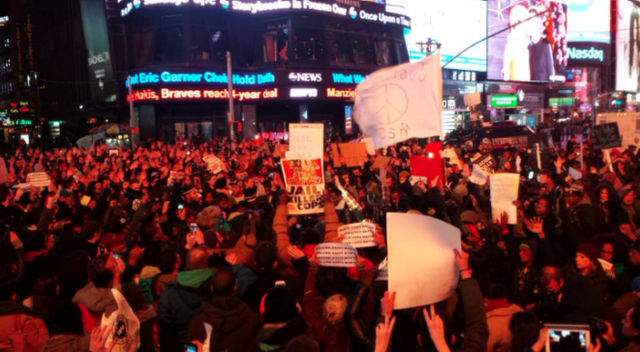 By THE EDITORIAL BOARD
DECEMBER 3, 2014
The Staten Island grand jury must have seen the same video everyone else did: the one showing a group of New York City police officers swarming and killing an unarmed black man, Eric Garner.

Yet they have declined to bring charges against the plainclothes officer, Daniel Pantaleo, who is seen on the video girdling Mr. Garner's neck in a chokehold, which the department bans, throwing him to the ground and pushing his head into the pavement.

The imbalance between Mr. Garner's fate, on a Staten Island sidewalk in July, and his supposed infraction, selling loose cigarettes, is grotesque and outrageous. Though Mr. Garner's death was officially ruled a homicide, it is not possible to pierce the secrecy of the grand jury, and thus to know why the jurors did not believe that criminal charges were appropriate.

What is clear is this was vicious policing and an innocent man is dead…Any police department that tolerates such conduct, and whose officers are unable or unwilling to defuse such confrontations without killing people, needs to be reformed…

Mayor Bill de Blasio and Police Commissioner William Bratton responded quickly to Wednesday's development, as they did in July, when anguish and anger flared. Mr. de Blasio went immediately to Staten Island to meet with elected officials, clergy members and other community leaders, and he issued a statement urging that New Yorkers outraged by the grand jury's failure express themselves in peaceful ways. Protests in New York City on Wednesday unavoidably echoed those in Ferguson, Mo., where an officer escaped indictment for fatally shooting Michael Brown, an unarmed black teenager. Protesters in both places have every right to deplore both outcomes, as well as the appalling frequency of fatal encounters between black men and the police.

New Yorkers, at least, have a mayor and Police Department that have not fully squandered their credibility with the public.
RT @KeeganNYC: Arrests have begun to the chant of 'I Cant Breathe!' #EricGarner https://t.co/h0VOcr3Y6x #NoJusticeNoTree

— Shadow And Act (@shadowandact) December 4, 2014
Join the conversation on Twitter and Facebook.