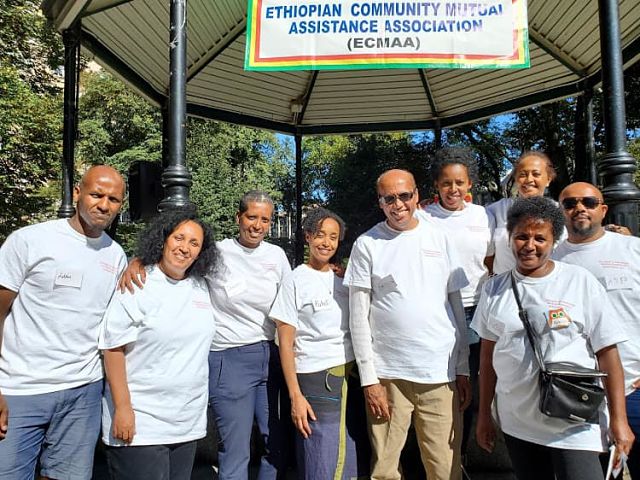 Tadias Magazine
By Tadias Staff
Published: March 31st, 2020
New York (TADIAS) — The Ethiopian Community Mutual Assistance Association (ECMAA) in the New York tri-state area has shared timely resources including COVID-19 safety information as well as national sources of financial support for families and small business owners.
In its message titled "Getting Through COVID 19 – While Helping Each Other" the ECMAA Board of Directors shared not only advise to adhere to the public health measures already being implemented across the United Sates but also some vital resources to the hardest hit segments of the Diaspora community including healthcare workers, business and other professionals.
"These are challenging times," the organization acknowledges. "It's also the time for us to practice how to be there for each other. It's where we thrive as a community."
The announcement added: "ECMAA is proud and thankful of the courageous Ethiopian and Ethiopian American health care workers in New York, New Jersey and Connecticut who are on the front line of the coronavirus fight. In addition to serving people in crisis, many are taking the time to provide professional guidance to the community online in English and Amharic. We appreciate you and we care about you. Please stay safe. As a show of gratitude, let each of us make sure we speak up at every opportunity to ensure they have the protective gear they need to stay safe. Let's also take personal responsibility to slow the spread of the virus. Thanks also go to essential workers who're getting out and ensuring our community keeps going. Many are sharing a tremendous amount of resources through social media, starting with our own Tezeta Roro, Hilina Nunu, Bethlehem Bekele, Tsion Firew, Mahedere Endale."
ECMAA also shares "lessons learned to our families and friends in Ethiopia," while planning on "how we can be more of a financial resource to Ethiopia in the coming days."
Below is the rest of the announcement and links to important resources courtesy of ECMAA Board:
Surviving during the Crisis:

If you are sick: Find out more about what to do. Whether or not you have insurance, it's important to get the assistance you need. The link above has details about where to to and what to do. Apple has created application to provide up to date information.

If you've Lost Income or Employment: On March 27, a new law (CARES Act) was passed to help those affected by COVID 19. One of its features is expanded unemployment benefits. You can apply based on where you live, New York, New Jersey or Connecticut. Under the law those who are part-time and self-employed are more likely to receive benefits. They may also receive $600 more weekly. Each website/state may have differences in how to complete the forms and when. You can email us if you need help navigating the website.

If you have small business: Abbreviated below from "What About the Little Guys? What Small-Businesses & Self-Employed Workers Need To Know About the Corona virus Aid, Relief, and Economic Security Act (CARES Act) & Other COVID-19 Stimulus Resources", by Helen Solomon

Paycheck Protection Program, for a small business You can apply for forgivable loans to keep your employees and maintain payroll. This is a loan of up to two and half times monthly payroll but no more than $10 Million to help retain employees, make mortgage payments, lease payments, and utility payments. The loans can be retroactive for expenses dating back to February 15, 2020. This is for businesses and non-profit organizations with fewer than 500 employees. You can get more information and apply through your bank.

Economic Injury Disaster Loans & Emergency EIDL Grants. If a small business applies for an EIDL Loan (up to $2 million) from the Small Business Administration (SBA), they can also ask for a more immediate Emergency EIDL Grant (up to $10,000 that you don't have to pay back). The emergency grant will be distributed within 3 days of applying for the loan.

1. The first part is a loan for up to $2 Million for a long-term, low-interest loan.

2. The second part is an emergency advance of up to $10,000 so they can get immediate funding while their larger EIDL Loan application is being processed. These grants should be distributed within 3 days of the SBA receiving the EIDL Loan application. Funds can be used for any of the above in addition to Providing paid sick leave to employees unable to work due to the direct effect of the COVID–19 Meeting increased costs to obtain materials unavailable from the applicant's original source due to interrupted supply chains. Repaying obligations that cannot be met due to revenue losses. The $10,000 may be forgiven and issued as a grant. You can find out how to apply https://www.sba.gov/disaster/apply-for-disaster-loan/index.html

If you own a home: you may be eligible for Mortgage Forbearance – If you have a mortgage and it's backed by the government (Fannie Mae, Freddie Mac, HUD, VA and USDA) you may be able to request up to a 360-day payment forbearance without proof of hardship. The law says that no additional fees, interest, or penalties can be assessed for the forbearance. Except for abandoned or vacant property, there may be no foreclosure actions for 60 days from 3/18/2020.

If you rent your home: You should be aware that there is a Moratorium on eviction filings, or fees or penalties for tenants for nonpayment of rent for 120 days on properties insured by the government.

If you have a student loan: federal loan forbearance, payments will be suspended for 6 months. During this time, interest will not be accrued and there will be no negative credit reporting or debt collection.

If you need help, please let us know how by completing the seeking assistance form or email us, particularly if you need basic supplies and need help getting them. If you're able to offer support, please sign up to help. Finally, please raise your voice and speak up or donate protective gear for our dedicated medical professionals.

Follow us on facebook (ECMAA) and to to our website (www.ecmaany.org) for more up-to-date and detailed information. Stay safe, take care of yourself, stay home and let's take care of each other.

Please let us know if you need help or want to talk we'll do our best to be a resource.
—
Related:
Webinar on COVID-19 and Mental Health: Interview with Dr. Seble Frehywot
COVID-19: Interview with Dr. Tsion Firew, Ethiopian Doctor on the Frontline in NYC
Ethiopia COVID-19 Response Team: Interview with Mike Endale
Ethio-American Tech Company PhantomALERT Offers Free App to Track & Map COVID-19 Outbreak
'Your Safety is Our Priority': How Ethiopian Airlines is Navigating the Global Virus Crisis
Inspiring Amharic Poetry: A Reflection by Shimelis Amare (YouTube)
Maryland Issues COVID-19 Fact Sheet in Amharic for Ethiopian Community
Art in the Time of Coronavirus: Guide to Virtual Exhibitions from Ethiopia to U.S.
We Need Seismic Change, Right Now: by Marcus Samuelsson
City Sleeps: A Look At The Empty NYC Streets Amid The Virus – In Pictures
Ethiopia enforces 14-day quarantine for all travelers
Diaspora-based Tech Professionals Launch Ethiopia COVID-19 Response Task Force
Amid COVID-19 Pandemic Hopeful & Inspiring Stories Shared by Obama
Pleas to Diaspora to Assist Coronavirus First Responders in Ethiopia
Coronavirus Sparks an Epidemic of People Helping People in Seattle
Join the conversation on Twitter and Facebook.