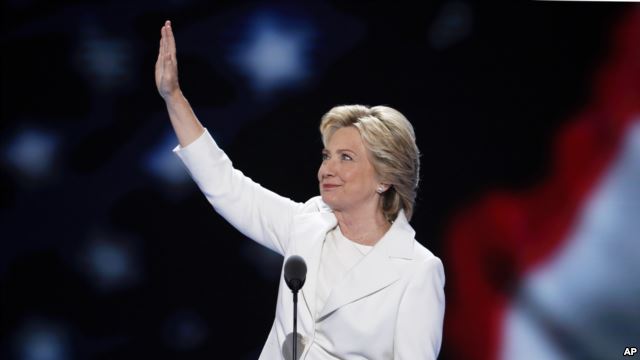 The Associated Press
Hillary Clinton accepts historic role as first woman nominated for president by a major U.S. party
PHILADELPHIA (AP) — Promising Americans a steady hand, Hillary Clinton cast herself Thursday night as a unifier for divided times, an experienced leader steeled for a volatile world. She aggressively challenged Republican Donald Trump's ability to do the same.
"Imagine him in the Oval Office facing a real crisis," Clinton said as she accepted the Democratic nomination for president. "A man you can bait with a tweet is not a man we can trust with nuclear weapons."
Clinton took the stage to roaring applause from flag-waving delegates on the final night of the Democratic convention, relishing her nomination as the first woman to lead a major U.S. political party. But her real audience was the millions of voters watching at home, many of whom may welcome her experience as secretary of state, senator and first lady, but question her character.
She acknowledged those concerns briefly, saying "I get it that some people just don't know what to make of me." But her primary focus was persuading Americans to not be seduced by Trump's vague promises to restore economic security and fend off threats from abroad.
Clinton's four-day convention began with efforts to shore up liberals who backed Bernie Sanders in the Democratic primary and it ended with an outstretched hand to Republicans and independents unnerved by Trump. A parade of military leaders, law enforcement officials and Republicans took the stage ahead of Clinton to endorse her in the general election contest with Trump….
The Democratic nomination now officially hers, Clinton has just over three months to persuade Americans that Trump is unfit for the Oval Office and overcome the visceral connection he has with some voters in a way the Democratic nominee does not.
She embraced her reputation as a studious wonk, a politician more comfortable with policy proposals than rhetorical flourishes. "I sweat the details of policy," she said.
Clinton's proposals are an extension of President Barack Obama's two terms in office: tackling climate change, overhauling the nation's fractured immigration laws, and restricting access to guns. She disputed Trump's assertion that she wants to repeal the Second Amendment, saying "I'm not here to take away your guns. I just don't want you to be shot by someone who shouldn't have a gun in the first place."
—
Related:
Clinton declares U.S. is at a 'moment of reckoning' (The New York Times)
President Obama's Full DNC Convention Speech: 'The America I Know' (Video)
Watch: Former NYC Mayor Bloomberg on Trump: 'I'm a New Yorker, And I know a Con When I See One'
Hillary Clinton Wins Historic Nomination
At Democrats' Convention in Philly Michelle Obama Brings Down the House
On Their Convention's Eve in Philly, Democrats Bedeviled Anew by Email Scandal (AP)
Bernie Sanders Backers March Against Hillary Clinton in Philadelphia (NY Times)
Discord, Email Scandal Taint Eve of Democrats' National Convention in Philly (VOA News)
Watch: Clinton Picks Virginia Sen. Tim Kaine for VP:
Join the conversation on Twitter and Facebook.