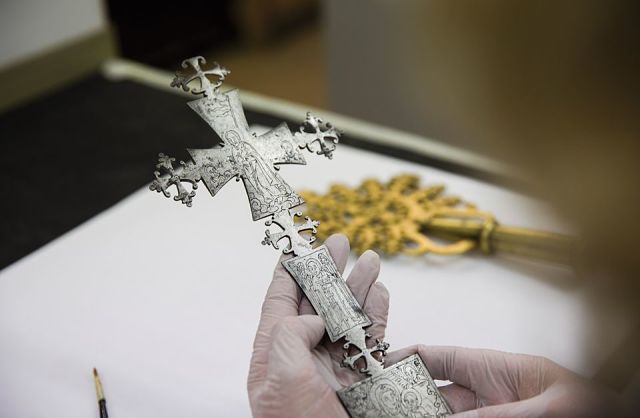 Tadias Magazine
By Tadias Staff
April 4th, 2018
New York (TADIAS) — The Victoria and Albert Museum (V&A) in the UK is offering to loan Ethiopia its own treasures that were looted by British troops at the battle of Meqdelā in 1868.
Ethiopia officially asked for restitution of the country's looted treasures that are being held at various locations in England more than ten years ago, but unfortunately the request was rejected.
It's also worth noting that the latest noncommittal gesture from V&A comes on the eve of the Museum's exhibition due to open on April 5th showcasing its Meqdelā collection on the 150th anniversary of the battle.
"On show will be 20 items, including a priestly gold crown, a gold chalice (both 1735-40), several processional crosses and imperial jewellery," The Art Newspaper noted. "The formal opening will be attended by Ethiopia's minister of culture and tourism, Hirut Woldemariam, and the ambassador to the UK, Hailemichael Aberra Afework."
"They would be sent to Ethiopia on long-term loan, so ownership would remain with the museum," the publication stated quoting V&A's director Tristram Hunt. "This offer is likely to put pressure on other UK institutions that hold seized Ethiopian material, including the British Museum and the British Library."
In a related story The Guardian argued: "The offer is significant given the pledge by the French president, Emmanuel Macron, that the return of African artefacts would be a "top priority" for his administration."
The Battle of Meqdelā took place in April 1868 between British soldiers led by Robert Napier and Ethiopians led by Emperor Tewodros II. Per Wiki: "In March 1866 a British envoy had been dispatched to secure the release of a group of missionaries who had first been seized when a letter Tewodros II had sent to Queen Victoria requesting munitions and military experts from the British, delivered by an envoy, Captain Cameron, had gone unanswered. They were released; however Tewodros II changed his mind and sent a force after them and they were returned to the fortress and imprisoned again, along with Captain Cameron." In the end, Tewodros took his own life in order to avoid being captured alive as the British closed in on him at his mountain fortress in Meḳdelā.
The Guardian added: "The loan proposal has been welcomed by the Ethiopian state and campaigners, but Hunt said it was a complex debate and it was important not to extrapolate a "blanket policy". He told the Guardian: "You have to take it item by item and you have to take it history by history. Once you unpick the histories of the collections it becomes a great deal more complicated and challenging."
We're not exactly sure why returning looted property to its rightful owners is complicated and challenging, but you can read both articles at the following links:
V&A opens dialogue on looted Ethiopian treasures (The Art Newspaper)
Looted Ethiopian treasures in UK could be returned on loan (The Guardian)
—
Related:
Ethiopians Urge Britain to Return Remains of Prince Alemayehu After 150 Years
150 Years After His Death Ethiopia Commemorates Life of Tewodros II
A Photo Journal Retracing the Last March of Emperor Tewodros to Meqdela
Join the conversation on Twitter and Facebook.