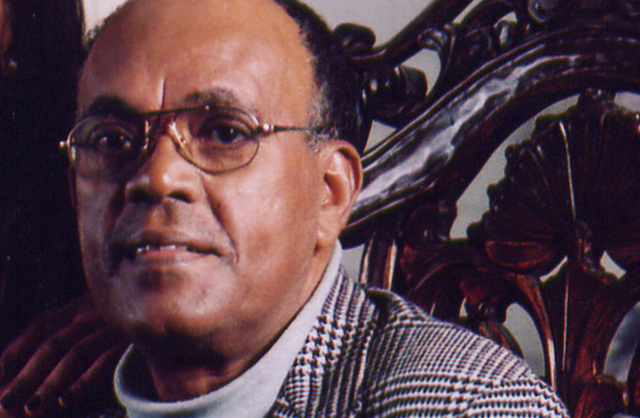 Tadias Magazine
By Tadias Staff
Published: Friday, May 25, 2012
New York (TADIAS) – Five decades ago, when the Italian owner of the only record store in Addis Ababa could not keep up with growing local demand for more music variety, an Ethiopian music enthusiast named Amha Eshete opened his own shop. "I ended up opening the first music shop owned by a native Ethiopian, diversified the import and started buying directly from New York, India, Kenya, and West Africa," Amha recalled in a recent interview with Tadias Magazine. "But there was one very important ingredient missing — I was selling foreign music labels, all kinds of music except Ethiopian records, which was absurd," he added.
Amha Eshete is the Founder of Amha Records – the pioneering record company whose work from the "golden era" of Ethiopian music is now enshrined in the world-famous éthiopiques CD series.
"There was a government decree that granted music publishing monopoly to the national association Hager Fikir Maheber, but they did not produce a single record of modern Ethiopian music." He continued: "After many sleepless nights I was determined to take a risk of probable imprisonment and decided to ignore the decree to start producing modern Ethiopian music."
Referring to his first client on the Amha Records label Amha said, "Alemayehu Eshete was willing to take that risk with me."
Amha describes the music scene in Ethiopia then as almost similar to that of today — buzzing with the mixture of international sounds, Ethio-jazz, and traditional music. "During the 1960s and '70s modern Ethiopian music was emerging at an incredible pace even though there was an extensive government control and censorship every step of the way," he said. "It was the first time that new and modern night clubs were being opened, records players were being installed in cars, and enjoying music was the spirit of the time."
Professionally, Amha said he had no role models and that he learned through trial and error, often making business decisions based on "just gut feeling."
"I had no experience, for example, on how to negotiate with the artists," he said. "I did what I thought was right and fair to me and all the others involved at the time." He added: "It was a lifetime experience and believe you me it worked because I was able to produce one hundred and three 45s and a dozen LPs in a few years."
Amha leased the distribution rights of his originals to the French label Buda Musique in the '90s. "My work is not owned by Buda Musique but it is definitely pressed and distributed under an exclusive license by them," he noted. "The main credit should be given to Mr. Francis Falceto to bring about this re-birth of the golden age of Ethiopian music into reality in the form of the éthiopiques series." He continued: "Mr. Francis was the one who was adamantly determined to reproduce this music and introduce it to the outside world. He should get all the credit because this music would have been buried and stayed buried somewhere in the suburbs of Athens, Greece where all the masters were stored until then."
For Amha, the most dramatic recent change in the Ethiopian music industry has been the size of compensation packages for singers. "The Ethiopian superstar Tilahun Gessesse used to be paid about 200 birr per month," he said. "I paid Alemayehu Eshete and Mahmoud Ahmed 2,000 birr for a single recording of an album." He added: "This was all unheard of at the time, and in fact I can say it was the talk of the town."
"Things have very much changed now," Amha noted. "Payment of one million birr is no more a topic of conversation. The recent sales and revenue from Teddy Afro's recording might gross millions of dollars." he added: "This is definitely progress in the right direction and it is the beginning of good things to come."
—
Related:
How Ethiopian Music Went Global: Interview with Francis Falceto
Join the conversation on Twitter and Facebook.