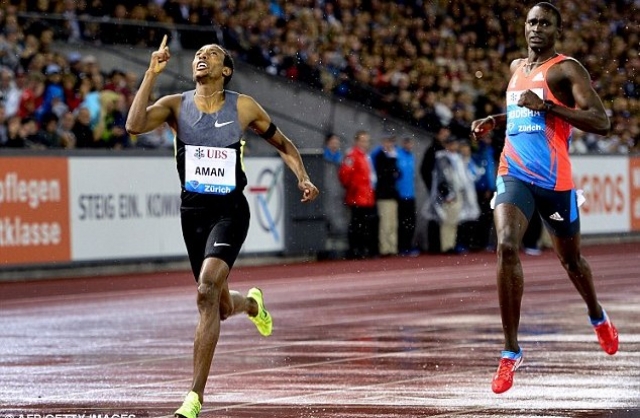 Tadias Magazine
By Sabrina Yohannes | Running News
Published: Sunday, September 2, 2012
New York (TADIAS) World indoor champion Mohammed Aman ended an impressive 2012 season by winning the Berlin 800 meters on Sunday, three days after beating Olympic champion David Rudisha and setting an Ethiopian national record that ties the mark of the tenth-fastest 800m runner in history.
On Sunday, Aman ran one minute, 43.62 seconds to take the ISTAF Berlin 800 ahead of Kenya's world junior silver medalist Edwin Kiplagat Melly, who finished in 1:44.36, and European championships silver medalist Andreas Bube of Denmark, who ran 1:45.12. Kenyan 2011 world youth champion Leonard Kosencha was fourth.
"This was a good race but I am not satisfied with the time," said Aman, "I wanted to run a 1:42 time but the pacemaker was too slow. With this 400m time, I could not achieve a 1:42 time."
On Thursday, Aman ran a personal best 1:42.53 in Zurich to defeat the world champion Rudisha of Kenya and improve the 1:43.20 Ethiopian record he had clocked at the London Olympics in sixth place. Aman also gathered the most points in the season-long IAAF Diamond League to lift the series title in the 800m in the Swiss city.
"It was the final Diamond League race and it featured the world record holder Rudisha, so it was a tough race," Aman, who was well behind the tall Kenyan at the bell in Zurich but overtook him on the final straight, said in a telephone interview. "The pace was high so I was hanging back. My plan was to try to pull level with him with 100m remaining. I was feeling very good at that point, and the weather felt comfortable, even though it was raining."
It was in similar rainy conditions in Milan that Aman became the only man to defeat Rudisha in the two-lap race last year, after becoming Ethiopia's first ever 800m finalist at the world championships in Daegu. Aman also chased Rudisha hard in the last lap of the London Olympic final, running out of steam as the Kenyan went on to break his own world record and clock 1:40.91, with almost the entire field running personal bests in his wake.
Aman first broke the Ethiopian national record (Berhanu Alemu's 2004 1:45.28) when he clocked 1:44.68 to take silver at the July 2011 world youth championships. He gradually lowered the mark to 1:43.37 by year's end before improving it in 2012 in London and Zurich.
"This year, I was hoping to maybe break into the 1:41 range," said Aman after the Swiss race. "My coach told me he thinks I can run a 1:41 or 1:42 time. I'm very happy I ran a fast time." Aman is currently coached by Ethiopian national team trainer Negussie Gechamo.
In Zurich, where Ethiopian athletes ran with black armbands marking the passing of the nation's prime minister Meles Zenawi the previous week, Aman's finish equalled the time clocked in London by the bronze medalist Timothy Kitum of Kenya. The two athletes are now tied in third place on the 2012 world list and in tenth place on the list of history's fastest 800m runners. The all-time list boasts luminaries past and present like Denmark's Kenyan-born Wilson Kipketer, London 2012 Games chief Seb Coe of Great Britain, Abubaker Kaki of Sudan, Wilfred Bungei of Kenya and Yuriy Borzakovskiy of Russia.
"I was thinking that I had to win the race because it was the final Diamond League race and whoever wins it gets the trophy," said Aman, who triumphantly punched the air with his right fist repeatedly on his approach to the finish line at the Weltklasse Zurich meet. "My victory delighted me. I knew I had beaten Rudisha twice, and I had taken first place in the Diamond League."
The Diamond Trophy comes with a $40,000 prize, and as of 2012, the title also guarantees the winner entry into the subsequent world championships as a "wild card" entrant, in the same way that being a defending world champion does. A country can only enter one wild card entrant — either the defending champion or the Diamond race winner — in addition to three selected athletes, for a maximum of four in one event.
As Aman pointed out, that particular perk of the Diamond Trophy is potentially wasted on him.
"It's great for events with three athletes, to allow a fourth," he said. "Since I know I have the qualifying times, I am already confident of entry."
In both Daegu and London, Aman was the solitary Ethiopian entrant in the men's 800m, where there is a shortage of Ethiopian athletes at world class level, rather than a shortage of available slots on the championships team.
Ethiopia's Abeba Aregawi also became a 2012 Diamond Trophy winner in Zurich in the women's 1500, while in the inaugural 2010 and 2011 Diamond Leagues, Imane Merga won the 5000m title.
"It's the first time the trophy has gone to Ethiopia in the 800, so I'm happy for my country and it's a big deal for me too," said Aman, who earned two 2012 Diamond League race wins, in Stockholm and Zurich, and one runner-up finish in Eugene – the same number of podium finishes in the league as Rudisha.
Along with Ethiopia's Daegu women's semi-finalist Fantu Magiso, who was a London contender before pulling out with injury, Aman has been an 800m trail-blazer in a land of long distance runners with lesser regard for the shorter distances.
"When you talk to people, they expect you to tell them you're running 10,000m," said Aman. "But I've accomplished good things, and as better results are achieved, people's mindsets are also changing."
Aman ends on a high note the year that began with victory at the indoor world championships in Istanbul in March. "My season is finished and I will fly home tomorrow," he said in Berlin on Sunday. "I will celebrate our [Ethiopian] New Year in about 15 days."
But he has his eyes set on continued 800m success at the 2013 world championships in Moscow and beyond. "I hope to accomplish better things still," he said.
—
Related Running News
Catching Up with Tirunesh Dibaba
Ethiopian Olympic Athletes Feted