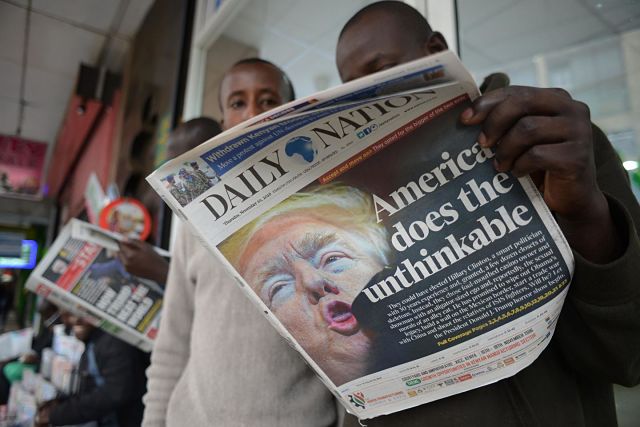 DON'T DISMISS THE DONALD TRUMP ADMINISTRATION ON AFRICA POLICY
The United States under President Donald Trump will still have an Africa policy. This goes against the popular view that an inward-looking Trump administration will ignore African countries and make it easier for African governments to pivot towards other partners, such as China and neighboring African countries.
Regardless of a lack of interest in a particular region at the presidential level, the United States' historical role as the center of global diplomacy and the day-to-day workings of the U.S. bureaucracy mandates the development of an African strategy.
The new administration would have to make decisions on whether to sustain previous executive programs—such as President Barack Obama's Power Africa initiative, aimed at doubling electricity access across sub-Saharan Africa; and the President's Emergency Plan for AIDS Relief (PEPFAR), which has provided treatment to 11.5 million people since being initiated by George W. Bush—many of which have received bipartisan support through several presidential administrations.
The administration will also need to decide on what new programs to encourage, if any. Now, therefore, is the time for those with interests in a robust U.S.-Africa policy to put forth ideas and engage with incoming officials.
Trump administration policymakers should keep three principles in mind when thinking about how to approach an agenda for Africa. First, millions of Africans, just like millions of Americans, are working hard every day to pull themselves up by their own bootstraps, so policy must ensure that those bootstraps are within reach. Second, the new administration should ensure that its policies advance American competitiveness in African markets. And third, U.S. policies should be oriented towards enabling business and investment as tools for mutually beneficial economic development.
As a Democrat who has worked with administrations of both parties over the past 12 years, I recommend the following policy proposals that build on business ties and advance U.S. interests in Africa for consideration:
Read the full article at Newsweek.com »
—
Related:
Ethiopia: US-Africa Relations in Trump Era
Join the conversation on Twitter and Facebook.