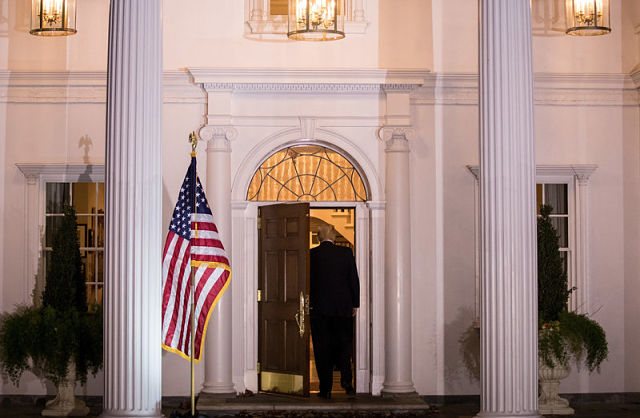 Tadias Magazine
By Tadias Staff
Published: Monday, November 21st, 2016
New York (TADIAS) — In an article entitled Trump's Foreign Policy on Africa is Likely to be Non-existent, which was published by CNN this past weekend, Peter Vale, a Professor of Humanities and the Director of the Johannesburg Institute for Advanced Study at the University of Johannesburg, argues that the African continent will be the least of the incoming administration's concerns.
At this point it's all speculation and nobody really knows what exactly the Donald Trump presidency would mean to the U.S. let alone the rest of the world. But it is worth thinking about what US-Africa relations might look like in the age of Trump.
The Brookings Institution's Witney Schneidman, who advised Clinton on Africa, also penned an article last week entitled Donald Trump and Africa , and agrees that the continent will likely be at the bottom of Trump's international agenda.
"In fact, there is every reason to expect that, under a Trump administration, the U.S. will be less engaged in Africa especially where it concerns the expenditure of taxpayer resources on economic development initiatives," Schneidman writes in a blog post on Brookings website.
"AGOA could easily be the first casualty under Trump," Schneidman states. "While its benefits have been uneven, the legislation has served as a key framework for U.S.-African relations. It has led to trade and investment being at the forefront of U.S. policy in the region. AGOA has encouraged African women in trade and led to the creation of the African Trade Hubs (rebranded as Trade and Investment Hubs under Obama) to help African companies access AGOA. More recently, the Obama administration has been working to develop a new trade architecture based on reciprocity that would ultimately replace AGOA's unilateral preference regime."
Professor Vale note that "Trump is also unlikely to have any tolerance for the idea that the African diaspora is part of the "sixth region" of Africa. In addition, I think that he is going to be intolerant and disinterested in issues around the domestic politics of African countries. That is unless — as he was very clear in his acceptance speech — they strongly impinge on American national interests. For example, I don't think he is going to be very interested in what is happening in Somalia or Ethiopia or in other parts of Africa where there may be conflict. Trump hasn't got a great capacity for detail, so at best he will live by macro assessments."
Below are links to both articles:
CNN: Trump's foreign policy on Africa is likely to be non-existent
Brookings: Donald Trump and Africa
—
Related:
Ethiopian American Hip Hop Artist Aminé Slams Trump's Immigration Stance on Tonight Show
Obama Bids Farewell to World, Hails US Democracy in Landmark Speech
Looking Beyond Trump Era: This Woman Could Become 1st Female U.S. President
Ethiopian-American Caucus Founder Rep. Mike Honda Loses Re-election
Update: Ethio-American Friend Colorado's Mike Coffman Keeps His House Seat
Join the conversation on Twitter and Facebook.