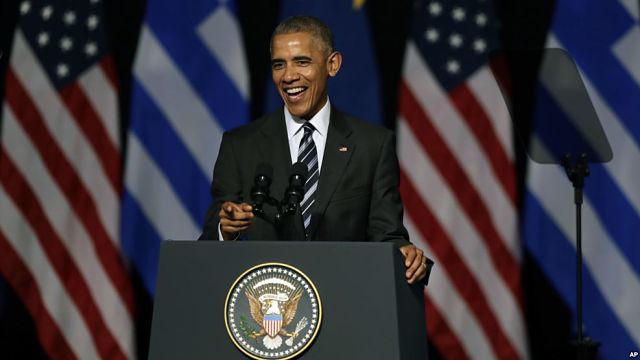 VOA News
Last Updated: November 16, 2016
Obama Hails Democracy in Landmark Speech
LONDON — U.S. President Barack Obama chose, Athens, the cradle of Western-style democracy to deliver his likely final, landmark foreign policy speech on what is his last overseas trip in office, saying the democracy that America upholds and promotes in the world is imperfect, but "better than the alternatives."
Reflecting on his eight-year presidency, the U.S. leader said his travels around the globe have shown him that while "every country travels its own path," there is "fundamental desire" for dignity and self-determination. "These flames are universal. They burn in every heart," Obama said.
The outgoing American leader bids farewell to Washington's foreign partners at a time when there are big questions on the future of U.S. relations with Europe, its new role in the world, and the image the United States, forever seen as a symbol of Western liberalism, is projecting.
The bitterness and anger displayed by candidates and demonstrators during the U.S. presidential campaign and in the days since have shocked many in Europe.
In his speech Wednesday, Obama sought to reassure the world that American-style democracy is alive, and he emphasized the importance of a peaceful transition.
"We compete hard in campaigns. But even after elections, democracy depends on a peaceful transition of power," Obama said, without mentioning President-elect Donald Trump by name. "The next American president and I could not be more different … But American democracy is bigger than any one person."
'American Democracy Is Bigger Than Any One Person,' Obama Says

President Barack Obama talked about the United States election results and the
importance of democracy during his last international tour as president. (Reuters)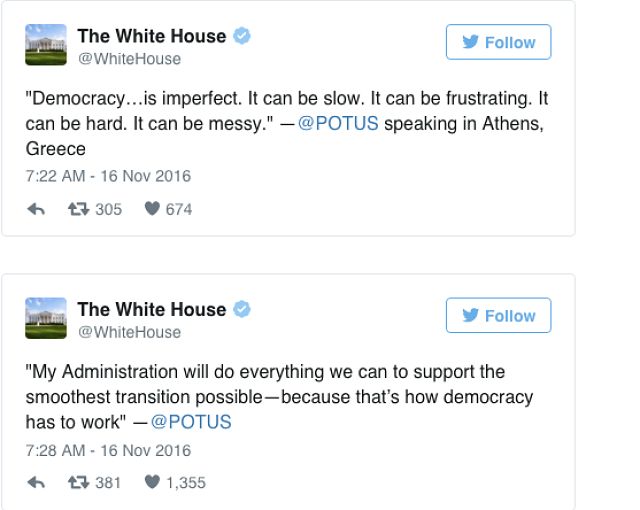 Topping every conversation of the U.S. leader on this trip are his efforts to reassure Europe the United States has no choice but to remain engaged with the region and committed to its longstanding security partnerships. He said the history of the last two centuries shows democracies are less likely to fight wars among themselves, "Our closest friends are democracies." NATO, he said, is "an alliance of democracy."
Obama is using his last foreign tour to reassure U.S. NATO partners who are nervous after President-elect Donald Trump's campaign remarks in which he called the alliance "obsolete" and suggested the United States might not automatically defend members who are not making their minimum contributions to the alliance and spend the required two percent of their GDP on defense.
"I believe it is practical for the United States to support democracy," Obama said as he was interrupted by applause. History, he said, shows countries with democratic governance tend to be "more just and more stable, and more successful" and "deliver more prosperity."
Obama gave the speech after touring Athens' ancient Acropolis, a symbol of the origins of democracy, which the president described as "the most precious of gifts" for which America is indebted to Greece.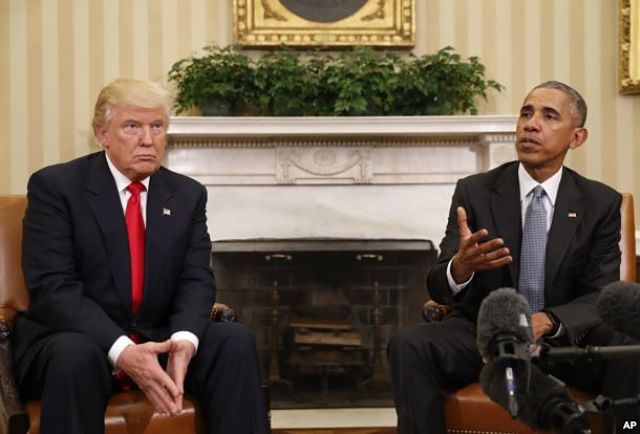 President Barack Obama meets with President-elect Donald Trump in the Oval Office at the White House, Nov. 10, 2016. (AP photo)
Close eye on Obama
Observers across Europe are following the visit closely, as E.U. governments await clarification on what the state of the U.S.-partnership will be after Inauguration Day. While President Obama has said on this trip that he is neither defending Donald Trump's campaign statements nor taking responsibility for what the President-elect says or does, he hopes to reassure partners that core American principles remain unchanged.
"In Athens, the American president poses himself as the defender of the Union," said a commentary in the Paris newspaper Le Figaro. "Obama wants to reassure Europe on the future of its relations with the United States … It was therefore appropriate to travel to Greece, the birthplace of democracy, for his farewell tour," it said.
Obama's next stop is Germany.
—
Join the conversation on Twitter and Facebook.