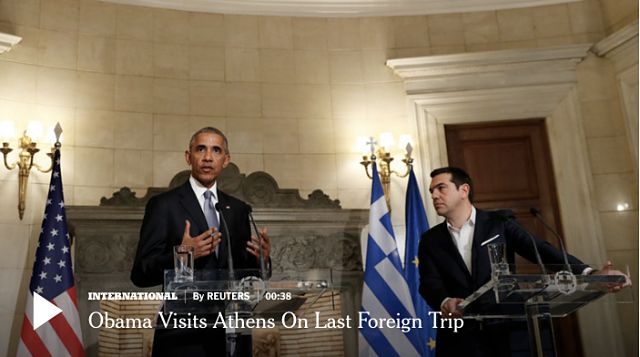 Visiting Europe, Obama Warns Against Rise of 'Crude Sort of Nationalism'
ATHENS — President Obama, in some of his strongest language since Donald J. Trump's election last week, on Tuesday warned against the rise of nationalistic tribalism, apparently a reference to Mr. Trump's decision to appoint Stephen K. Bannon, a hard-right nationalist, to a top position.
"I do believe, separate and apart from any particular election or movement, that we are going to have to guard against a rise in a crude sort of nationalism or ethnic identity or tribalism that is built around an 'us' and a 'them,'" Mr. Obama said.
Mr. Obama's remarks came in an hourlong news conference in Athens on his final trip overseas as president. He had come to Greece partly to bolster Greek hopes of further debt relief from its European partners, which will meet on Dec. 5 to consider giving this ailing nation another pass on its mountain of debt.
But Mr. Trump's election last week subverted Mr. Obama's top foreign policy priorities, and he seemed to have arrived in Athens in a reflective mood.
—
Related:
The latest: Firings and Discord Put Trump Transition Team in a State of Disarray
DC Fears Setback to Cultural Renaissance as Obama Era Comes to an End
Trump in for a wake-up call when he takes office, Obama says
Watch: SNL Comedians Pull Off the Realest 2016 US Election Night Sketch
Looking Beyond Trump Era: This Woman Could Become 1st Female U.S. President
UPDATE: Obama Meets Trump at the White House
Video: Hillary Wins Popular Vote but Loses Election, for Second Time.
U.S. Election 2016: Trump Triumphs
Ethiopian-American Caucus Founder Rep. Mike Honda Loses Re-election
Update: Ethio-American Friend Colorado's Mike Coffman Keeps His House Seat
Join the conversation on Twitter and Facebook.