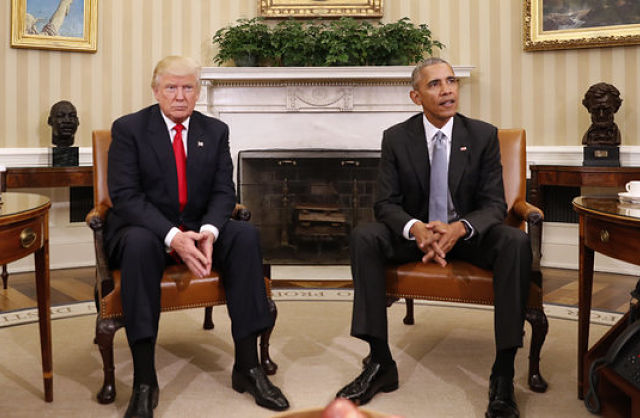 Updated: Thursday, November 10, 2016
Donald Trump entered the White House through the South Lawn entrance, avoiding news cameras and the eyes of the president's staff.
About 45 minutes after Trump's arrival, White House chief of staff Denis McDonough was seen taking Trump's son-in-law Jared Kushner and other Trump aides, including Dan Scavino, across the edge of the Rose Garden.
Donald Trump Limits Traditional Press Access On First White House Visit (Huffington Post)
President-elect Donald Trump broke with tradition on Thursday by heading to Washington, D.C., without a "protective pool" of journalists to cover his movements for the larger press corps.
The White House Correspondents Association oversees a rotating pool system so that the president is always covered while traveling, especially in the event of historically significant or life-threatening moment.
Neither Trump nor Hillary Clinton's campaign had a fully protective pool, as opposed to recent major-party nominees. However, the Democrat's system was close to the standard used in the White House. Trump didn't fly with reporters, and sometimes didn't notify them when he was leaving for events and even mocked them for being late.
Last month, WHCA President Jeff Mason urged both presidential campaigns to agree to have a "protective pool" during the transitional period between the election and inauguration. Not doing so, he wrote, would be a "serious breach of historical precedent."
Trump's team hasn't responded to the letter, Mason told The Huffington Post.
A Trump spokesperson did not immediately respond for comment.
—
Related:
Video: Hillary Wins Popular Vote but Loses Election, for Second Time.
Watch: Hillary Clinton's Concession Speech
U.S. Election 2016: Trump Triumphs
Ethiopian-American Caucus Founder Rep. Mike Honda Loses Re-election
Update: Ethio-American Friend Colorado's Mike Coffman Keeps His House Seat
Join the conversation on Twitter and Facebook.