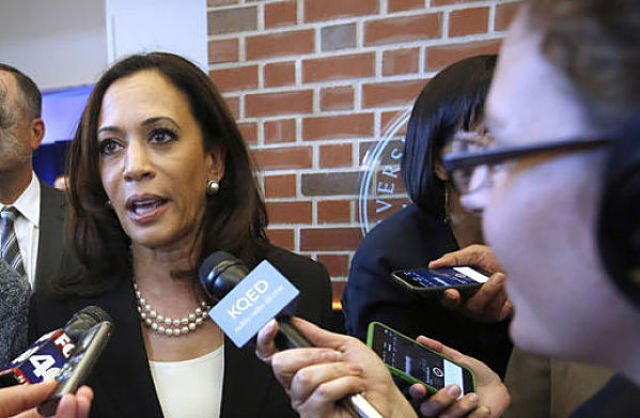 Tadias Magazine
By Tadias Staff
Published: Friday, November 11th, 2016
New York (TADIAS) — This week, here in America, we may have stunned the world and embarrassed ourselves by electing Donald Trump as our next President over Hillary Clinton, who was arguably the most qualified presidential candidate in the history of the United States. But there were other more hopeful election night victories on Tuesday, November 8th including that of Senator-elect Kamala Harris of California who is already being touted by the media as "the next best hope for shattering that glass ceiling."
"She's drawn many comparisons to President Barack Obama, who famously ran for president during his first term in the Senate," The Huffington Post points out in an article published today entitled Meet Kamala Harris, Who Could Become The First Woman President. "Her background and her polished yet personable approach to politics embody what many think the Democratic Party should aim to look like going forward. And even before her Senate win, her name was floated for roles including California Governor, Supreme Court Justice and Vice President."
Tadias first met Kamala Harris in 2003 at an event in San Francisco organized by the New America Media (NAM), then called the New California Media (NCM), where Harris had just stopped by to personally pass out fliers and introduce herself as a candidate for District Attorney of San Francisco. We were excited to see her win that election. After serving as DA of San Francisco for two terms she became California's Attorney General in 2010.
With her recent win we can't be happier that Harris will be heading to Washington DC as one of two Senators representing the country's most populous state during the looming Trump era beginning in January 2017.
Here are some things you should know about the woman who could very well challenge Trump in 2020.
—
Related:
Trump's USA: President Obama Warns Against Rise of Nationalistic Tribalism
DC Fears Setback to Cultural Renaissance as Obama Era Comes to an End
Watch: SNL Comedians Pull Off the Realest 2016 US Election Night Sketch
UPDATE: Obama Meets Trump at the White House
Video: Hillary Wins Popular Vote but Loses Election, for Second Time.
U.S. Election 2016: Trump Triumphs
Ethiopian-American Caucus Founder Rep. Mike Honda Loses Re-election
Update: Ethio-American Friend Colorado's Mike Coffman Keeps His House Seat
Join the conversation on Twitter and Facebook.