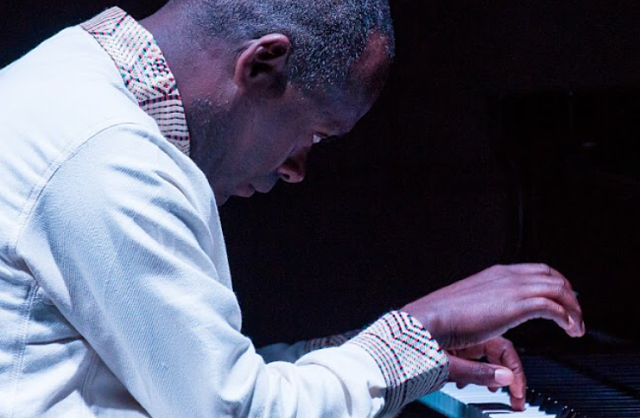 Tadias Magazine
Tadias Staff
Published: Wednesday, November 16th, 2016
New York (TADIAS) — The acclaimed Ethiopian pianist and composer Girma Yifrashewa returns to New York City this month for a Thanksgiving weekend performance at Ginny's Supper Club on Sunday, November 27th.
Girma, who was trained at Sofia State Conservatory of Music in Bulgaria, says he got started with his musical career at a very young age playing Kirar while growing up in Ethiopia's capital city before being introduced to piano as a teenager when he was accepted to the Yared School of Music in Addis Ababa.
Girma Yifrashewa "offers a rare and fascinating example of aesthetic adaptation and convergence," the New York Times declared three years ago in its review of Girma's last concert here in 2013 at Issue Project Room in Brooklyn. In an article entitled From Chopin to Ethiopia, and Partway Back Again, The Times added: "Since returning to Ethiopia in 1995, Mr. Yifrashewa has promoted awareness there of the standard classical repertory, while also writing new pieces that apply European techniques to Ethiopian musical and folkloric sources. His recital here, one of two American concerts mounted with support from the independent record label Unseen Worlds, was split between canonical works and original music."
Girma 's original compositions include Chewata, "meant to evoke an Ethiopian custom of making merry even at times of sadness," as well as Sememen, "a surging work employing a traditional mode associated with the Ethiopian Orthodox Church," Elilta, "named for the cheery ululation with which Ethiopians greet joyful occasions and filled with tingling trills that imitated that sound."
—
IF You Go:
Girma Yifrashewa: Special Dinner and Performance at Ginny's Supper Club
Sunday Nov 27, 2016
Show: 6:00 PM
$85
Ginny's Supper Club
310 Lenox Ave.
New York, NY
Click here to buy tickets
Related:
Photos Ethiopian Pianist Girma Yifrashewa's Stellar Performance in Bethesda, Maryland
Join the conversation on Twitter and Facebook.