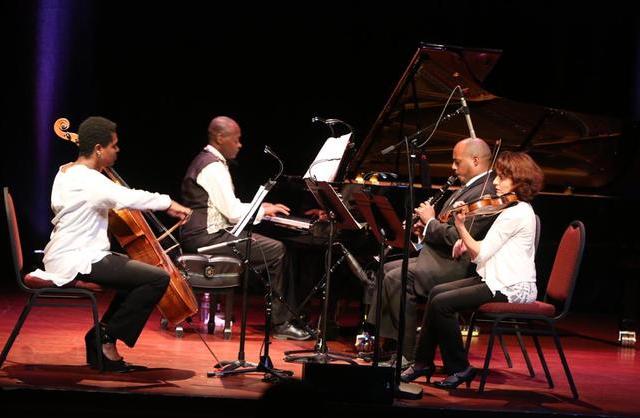 Tadias Magazine
By Matt Andrea
Published: Saturday, August 9th, 2014
Washington, D.C. (TADIAS) – On Wednesday July 30th, Ethiopian composer and pianist Girma Yifrashewa performed to a sold-out audience of more than 300 at the legendary art deco Bethesda Blues & Jazz Supper Club, close to Washington, DC. His concert coincided with the release of his new CD Love & Peace by Unseen Worlds.
The show included exquisite renditions of Yifrashewa's compositions Ambassel, Sememen, Chewata and The Shepherd With the Flute, which he performed as piano solos, as well as Elilta, Hope and My Strong Will, which he performed as ensemble pieces, accompanied by Besufekad Tadesse (Clarinet), Christein Kahrazian (Violin) and Elise Cuffy (Cello). While many describe Yifrashewa as a classical Ethiopian pianist, his music clearly defies category, as it fuses classical structure with traditional Ethiopian melodies and chromatics, in a blend that is truly sublime and transcendental.
Yifrashewa was introduced by Rick Brown, the proprietor of venue, and Tommy McCutchon, producer of Unseen Worlds. While supper clubs can often be somewhat noisy venues, the audience for this performance was very hushed and respectful. Each piece was exquisitely rendered and transported the audience to otherworldly realms. The concert concluded with standing ovations, followed by encores of classical and Ethiopian compositions.
The significance of this performance was reflected not only with the size of the audience, but also the prominence of those who attended, including Alemtsehay Wodajo, founder of the Tayitu Cultural Center; Francis Falceto, creator of the Ethiopiques series, which has brought world-wide attention to Ethiopian music; Charles Sutton, a pianist and massinko player, who served in the Peace Corps in Ethiopia during the reign of Haile Selassie; and Alemayehu Gebrehiwot, who was instrumental in publishing the late Tesfaye Lemma's book Ye Itiyopia Muziqa Tarik (The History of Ethiopian Music).
Unseen Worlds Records shares via Facebook: "With the success of this concert, Girma's CD proudly entered the Billboard Classical Music Chart at #23!"
Below are photos from the event:

—
Join the conversation on Twitter and Facebook.