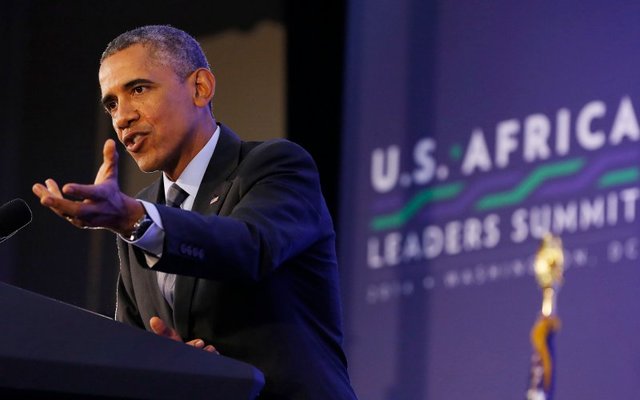 By John Prendergast
08.09.14
It was the best of times, it was the worst of times….
It was the spring of hope, it was the winter of despair.
Those words penned by Charles Dickens about the period leading up to the French Revolution seem quite applicable to Africa today on the heels of the first-ever U.S.-Africa Summit. The Summit rightly focused primarily on the "spring of hope" being experienced by many in Africa's burgeoning middle and upper classes, fueled by impressive economic growth data and lucrative trade and investment opportunities in a continent which hosts six of the ten fastest growing economies in the world. But life remains truly a "winter of despair" for the millions of hungry, impoverished, displaced, and conflict-affected people who don't fit easily into the "Africa Rising" narrative being burnished around Washington this week.
The Summit had many objectives: increasing trade and investment between the U.S. and Africa; delivering messages about the critical need for better governance; showing strong support for African civil society's contribution to state-building; the list could go on and on. And there was important progress made on a number of these goals. But underlying all this was a more general and ambitious aspiration: to change the narrative about Africa from that of a basket case to a land of opportunity.
Americans' perceptions of Africa remain rooted in troubling stereotypes of helplessness and perpetual crisis. Therefore, the Summit's focus on positive trends on the continent is crucial to beginning to re-calibrate the story of Africa to one more balanced between progress and setbacks. But addressing that "winter of despair" should not reinforce the inaccurate perceptions.
There are three ways to counter the negative stereotypes when dealing with African crises that avoid the "heart of darkness" trap of hopelessness that so many commentators fall into.
Read more at The Daily Beast »
—
Related:
After U.S.-Africa summit, 'hard work' ahead
President Obama Gives Progress Report on U.S.-Africa Leaders Summit
Media Panel Shares Recommendations at Capitol Hill During US-Africa Leaders Summit
Photos & Video: President Barack Obama's Historic U.S.- Africa Summit
Obama Announces $33B Commitment at Africa Forum
African & U.S. Scientists Hold Technology & Innovation Symposium at US-Africa Summit
Civil Society Forum Kicks Off at Historic US-Africa Summit in DC
US-Africa Summit Events Under Way in Washington
First Lady Michelle Obama Speaks on Girls' Education at YALI Presidential Summit
Bill Clinton, Michael Bloomberg at Africa Summit
Meet the Mandela Washington Fellows From Ethiopia
Obama Renames Africa Young Leaders Program For Nelson Mandela
U.S.-AFRICA SUMMIT 2014: Preview
Transport Chiefs From Five Countries to Visit Chicago Ahead of U.S.-Africa Summit
Ambassador David Shinn on the 2014 U.S.-Africa Leaders Summit
Join the conversation on Twitter and Facebook.