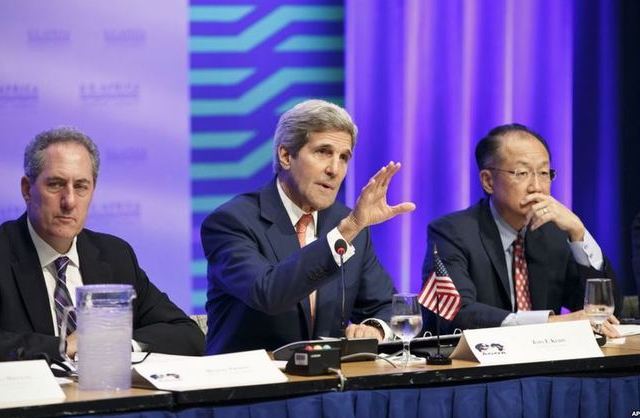 Updated: August 04, 2014
Events surrounding the summit between President Barack Obama and some 50 African heads of state have kicked off in Washington.
Secretary of State John Kerry urged African ministers to embrace free-market ideals and U.S.-African cooperation Monday at a forum focused on the African Growth and Opportunity Act. The secretary is due to meet with at least eight visiting African leaders by the end of day.
President Obama will address a U.S.-Africa Business Forum on Tuesday and take part in sessions focused on economic growth, regional security, and good governance on Wednesday.
Summit agenda
The U.S. is set to unveil nearly $1 billion in business deals, more funding for peacekeeping, and billions of dollars for food and power programs during the three-day summit.
China, Europe and Japan have all held similar events to encourage investment in Africa, but the White House denies its Africa Summit is in response to increasing investment in Africa from China.
U.S. businesses have generally been hesitant to invest in Africa despite the high growth rates seen in many countries.
Billions of dollars in new funding is expected to be announced for Power Africa during the summit. The program's goal is to add 10,000 megawatts of generation capacity and 20 million new electric customers in Africa by 2018.
Private industry has committed $7 billion to the program since it was announced last year by President Obama.
Countries have also said they will use the summit to lobby their interests in the U.S. For example, South Africa has already said its delegation will push for a 15-year extension of the African Growth and Opportunity Act.
The law gives eligible Sub-Saharan Africa countries preferential treatment in their exports to the U.S., but the program that began in 2000 is set to expire next year.
Excluded
U.S. officials say only four African leaders were excluded from the talks – the presidents of Zimbabwe, Sudan, Eritrea and the Central African Republic.
The summit convenes at the same time several West African nations are facing an Ebola virus outbreak.
President Obama said Friday the United States is closely following the situation. He said African officials from at-risk countries will be screened for the disease before entering the U.S.
The leaders of Sierra Leone and Liberia have canceled their summit trips to Washington because of the Ebola outbreak.
—
US-Africa Summit to Focus on Stability, Youth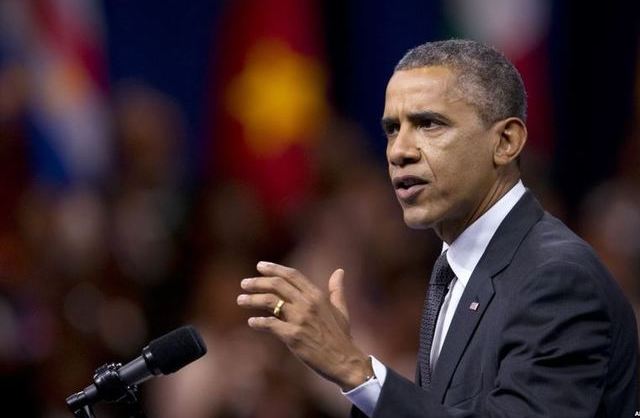 President Barack Obama speaks to participants of the Presidential Summit for the Washington Fellowship for Young African Leaders in Washington, July 28, 2014. (Photo: AP)
By William Eagle
WASHINGTON — Over 50 African heads of state are expected at the summit of U.S. and Africa leaders August 4 through 6.
Not invited are the presidents of four countries with a record of human rights violations: Eritrea, Zimbabwe, Sudan and Central African Republic.
Administration officials say it's an opportunity to discuss the future of an economically-growing continent, and address questions about how the U.S. can become a closer partner.
Themed "Investing in the Next Generation," the summit meetings will be designed to identify shared interests that will be needed if the continent is to meet the needs of its young people: health care, education, and work place opportunities.
Story continues after video report by VOA's Miriama Diallo:
At a time when armed conflict has created a humanitarian emergencies in Central African Republic and South Sudan, and East and West African countries are fighting the spread of radical Islamists, the first goal is to ensure peace and stability needed for development.
Summit participants will discuss how to end violence and ensure both regional and domestic security.
Listen to report on the U.S.-Africa summit

That effort will include reforms to national militaries, says Joseph Siegle, research director for the Africa Center for Strategic Studies at National Defense University in Washington, D.C.
"There's a recognition that part of the challenge is that Africa's police and military aren't always very professional, and this can lead to inappropriate or heavy-handed responses, especially when dealing with domestic security threats, which involve [the killings] a lot of innocent bystanders," he said. "This tends to alienate the local population and further fuel grievances."
"The challenge [for Obama and the heads of state] is how do you [separate and address] the domestic issues and then the transnational components of those threats?"
Trade, investment
On Tuesday, African leaders will meet with government officials at a business forum to address economic security. The gathering is expected to bring together 200 U.S. and African business leaders in order to find ways to strengthen financial ties by boosting trade and investment.
An important part of U.S. trade with Africa trade is the African Growth and Opportunity Act (AGOA), U.S. legislation designed to assist economies of sub-Saharan Africa and improve economic relations.
AGOA gives African countries with a good records of economic management and human rights duty-free access to U.S. markets. Today, Africa sells about seven thousand products to the U.S., worth about $27 billion.
More than 20 countries participate in AGOA, but U.S. officials say more could take part.
Experts such as Witney Schneidman, senior international advisor for Africa at the global law firm of Washington-headquartered Covington and Burling, says AGOA should be renewed for 15 years to ensure a stable investing environment.
"Another idea being considered by government officials is to enhance USAID trade hubs in Africa," he said, explaing that the hubs, or information centers, help African businesses export their goods to the U.S. market.
Schneidman also says they should be renamed trade and investment hubs that also help U.S. companies interested in the African market.
"Those trade hubs need to pull together," he said. "We need a whole of government approach so that you have our ambassadors and embassies in lockstep with our commerce and agriculture officials, along with officials from [the Export-Import Bank of the United States] and the [Organization of Petroleum Exporting Countries].
"[This way] we can present one face," he said. "A one-stop shop to U.S. companies on how the U.S. government can help them be successful in Africa."
Human rights
The summit agenad also includes a session on governance, though some activists say the current meeting schedule does not pay enough attention to human rights and democratization issues.
Civil society groups have voiced displeasure at not being invited to take part in any roundtable discussions with African leaders despite a civil society forum scheduled for Monday.
Adam Shapiro of the human rights group Front Line Defenders said U.S. emphasis on human rights and good governance is what should separate this gathering from recent Africa investment summits held by China, India, Japan and Russia.
"In those summits, there were very low expectations from Africa that any kind of issues about governance or human rights or transparency would be brought up," Shapiro said. "But when it comes to the U.S., there is an expectation that these kinds of issues would be on the table."
Shapiro, who wants civil society to be a part of all discussions — especially those on security and good governance — also wants President Obama to publicly identify leaders who've gained power through elections and transparency, such as those in Liberia, Ghana, Tanzania and Botswana.
He and other activists have been critical of summit invitations to leaders accused of human rights abuses, such as Teodoro Obian Nguema, long-serving president of Equatorial Guinea, and Abdel Fatah al-Sisi, president of Egypt.
Unlike China's recent Africa summit, the U.S.-hosted summit will have no one-on-one meetings between the president and the African leaders.
Administration officials say Obama will be spending the entire day meeting with leaders on Wednesday at the heads-of-state summit. Heads of state and business leaders will be able to meet with cabinet-level officials during some of the events.
—
Related:
First Lady Michelle Obama Speaks on Girls' Education at YALI Presidential Summit
Bill Clinton, Michael Bloomberg at Africa Summit
Meet the Mandela Washington Fellows From Ethiopia
Obama Renames Africa Young Leaders Program For Nelson Mandela
U.S.-AFRICA SUMMIT 2014: Preview
Transport Chiefs From Five Countries to Visit Chicago Ahead of U.S.-Africa Summit
Ambassador David Shinn on the 2014 U.S.-Africa Leaders Summit
Join the conversation on Twitter and Facebook.