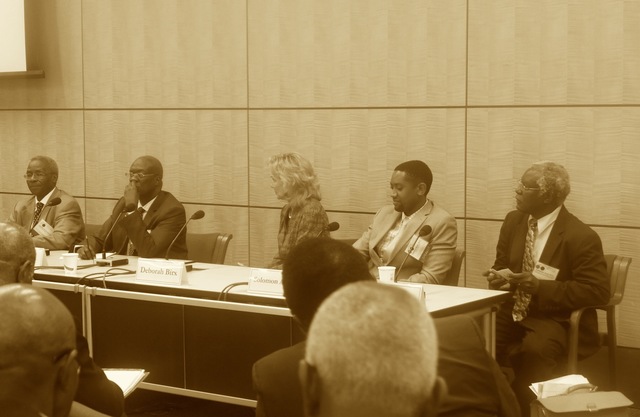 Tadias Magazine
By Tadias Staff
Published: Tuesday, August 5th, 2014
Washington, D.C. (TADIAS) – When Ethiopian-American IBM scientist and World Economic Forum Young Global Leader, Solomon Assefa, took the podium to make his presentation on private sector contributions to science & technology in Africa he reiterated that the focus needs to be on fostering local innovation by Africans for Africa. "Mobile money is a prime example," he told the audience gathered at the Symposium on Science, Technology & Innovation for Economic Growth & Development in Africa held at the Keck Center of the National Academies today in conjunction with the US-Africa Summit. "By 2015, mobile money is expected to generate a $160 billion industry."
Solomon also drew attention to shifting African demographics. "52 cities in Africa have a population of over a million people," Solomon said. "And by 2035 the labor force in Africa could be as big as China or India." Calling for long-term research development, innovation and investment in skills development, Solomon cited IBM's efforts to expand its presence from 4 countries to 24 countries in Africa in the past decade alone while also building the first commercial research and development lab in Africa. Bringing entrepreneurs and local partners together to work with IBM Solomon notes that efforts range from working on cutting-edge nanotechnology to creating plant innovation centers across the continent.
The Science & Technology symposium brought together delegates of African Academies of Science, policymakers, scientists, and executives from the private sector to assess innovative approaches to improve infrastructure for advances in science and technology in African countries.
The morning program started with introductory remarks from Foreign Secretary of the National Academies of Sciences John Hildebrand and President of the National Academy of Engineering C. D. Mote. South African Minister of Science & Technology Grace Pandor addressed the need to strengthen local institutions of higher education and in particular institutions of science and technology. Minister Pandor noted that four out of ten African scientists currently live and work in high income countries away from their home countries. "So we are losing our human capital," she stated. In order to retain African scholars and scientists to work in their respective nations "we need to invest in local institutions," she added. Developing a skilled workforce, a strong research base, and making Africa a fertile environment for innovation are some of the suggestions that Minister Pandor shared with the audience to foster a "vibrant, active higher education sector."
Geneva-based Under Secretary for the UN International Strategy for Disaster Risk, Margareta Wahlstrom, highlighted disaster risk reduction, post 2015 sustainable development goals and the climate change agenda as three key global issues to contend with. Wahlstrom emphasized focusing on data and interdisciplinary as well as multi-stake holder research as the most critical calls for action.
Panelist Wole Soboyejo, President of Africa University of Science & Technology shared how the US/Africa Materials Institute was launched at Princeton in collaboration with the National Science Foundation. Soboyejo traveled to over 35 African countries in an effort to establish collaborations between universities in the United States and those in Africa. "Our vision is to be a meritocracy..to replace brain drain with brain circulation, work towards transparency in governance, and build links across the world to diffuse innovation across Africa," he stated.
Farid Fezoua, CEO & President of GE Healthcare Africa noted how Africa is a young continent in the sense that 60% of the current population is under the age of 20. He noted that General Electric's first overseas branch was established in South Africa, and GE remains a key stakeholder in encouraging innovation in Africa. Fezoua gave several examples of  what he called 'reverse innovation' developed in Africa including the creation of solar-powered surgery kits, and hand-held ultrasounds.
"At the end of the day sustainability is what matters," added Fezoua. "As an ex-banker converted to healthcare with a passion for Africa I have seen that financial investment alone cannot solve Africa's challenges. We need the expertise and knowledge of scientists."
Director of the US Global Development Lab, Dave Ferguson, moderated the second panel and shared the announcement of a $100 million pledge in collaboration with the Rockefeller Foundation to jumpstart a 'Resilience Partnership.'
Ambassador & Global AIDS Coordinator at the US Department of State, Deborah Birx, highlighted progress in several African countries including Malawi whose HIV/AIDS prevention programs were effective and successfully scaled up at the national level. However, she urged more efforts need to be made to reduce the rates of infection, especially among young women who make up the largest proportion of affected populations.
Harvard Professor Calestous Juma wrapped up the morning session by highlighting the accomplishments of Arthur Zang, a youth entrepreneur from Cameroon who created the continent's first tablet and who won the 2014 Rolex Award for inventing a mobile cardiac test device. "Every two years there is more knowledge than has ever existed in the entire history of technology," Calestous stated. " This type of thinking moves us away from the scarcity of knowledge to understanding how to harness abundance of information. The lesson of many of the presentations today is to look at technology in the context of problem solving."
—
Related:
Obama Announces $33B Commitment at Africa Forum
Civil Society Forum Kicks Off at Historic US-Africa Summit in DC
US-Africa Summit Events Under Way in Washington
First Lady Michelle Obama Speaks on Girls' Education at YALI Presidential Summit
Bill Clinton, Michael Bloomberg at Africa Summit
Meet the Mandela Washington Fellows From Ethiopia
Obama Renames Africa Young Leaders Program For Nelson Mandela
U.S.-AFRICA SUMMIT 2014: Preview
Transport Chiefs From Five Countries to Visit Chicago Ahead of U.S.-Africa Summit
Ambassador David Shinn on the 2014 U.S.-Africa Leaders Summit
Join the conversation on Twitter and Facebook.