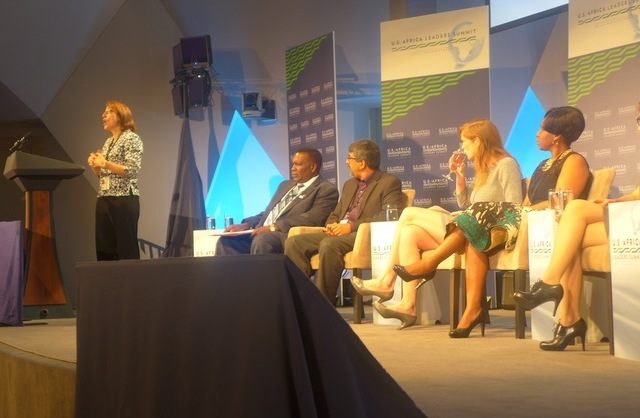 Tadias Magazine
By Tadias Staff
Published: Monday, August 4th, 2014
Washington, D.C. (TADIAS) — The Civil Society Forum, one of six U.S. Government-sponsored "Signature Events" at the historic U.S.-Africa Leaders Summit in Washington, D.C., commenced today at the National Academy of Sciences setting the stage for the high-level discussions that President Obama will chair during the subsequent Summit leader meetings.
Themes at the Civil Society Forum included building momentum towards open government in Africa, the role of civil society, and translating ideas into action. Featuring civil society leaders from Malawi, South Africa, Tanzania and Tunisia the forum started with an introduction from Sarah Sewall, Under Secretary of State for Civilian Security, Democracy and Human Rights. Ms. Sewall noted two main goals of the forum — fighting corruption and working with civil society organizations and the private sector to advance open government and to enhance transparency. The Open Government Partnership (OGP) was launched by the U.S., South Africa, Tanzania and five other countries who issued national action plans and made commitments to greater transparency. Today there are 8 African countries and a total of 64 nations worldwide participating in OGP.
Sewall quoted Obama's support of OGP stating that "openness will strengthen our democracy and increase our efficiency. OGP is a new way of doing business."
The Civil Society Forum panel was moderated by United States Ambassador to the United Nations Samantha Power who called for the reduction of paperwork and other government bureaucracies in pushing the efficacy of the Open Government Partnership. "We want to bring domestic reformers and those fighting corruption together so they can be talking to one another," she stated. The OGP aims to include both civil society organizations and the private sector in collaborating with governments participating in the initiative.
Amira Yahyaoui, Civil Society Leader and panelist from Tunisia shared that her country joined OGP a week after they voted on a new constitution in January 2014, which was also the second anniversary of their revolution. Coming from the anti-censorship movement she is a strong advocate of access to information. Describing Tunisia's involvement in OGP Ms. Yahyaoui noted that "Three years ago when you reported on corruption you could get five years jail time. Today we have language that supports whistle blowers." Yahyaoui emphasized that "The commitment is really good, but the question remaining is one of implementation.. OGP should be a results-oriented process."
Civil Society Leader Rakesh Rajani from Tanzania discussed the importance of citizen participation to hold governments accountable. "One of the things that we inherited from our colonial history is that we have to be afraid of the people," he said. "But one of the things to realize is that people are your assets and they can share the burden" in building society.  He drew from his own personal story where he was initially viewed by his government as a staunch critic. "But now we share ideas on how we can unlock two or three bottlenecks that we have in this open government initiative," he added. Rajani acknowledged that OGP "is government-led, but it is very collaborative and includes both civil society and the private sector. This engenders trust. When governments open up and build credibility..you don't have to spend so much money on security. Instead you can spend it on making lives better."
Deputy Minister & President's Lead for OGP in South Africa gave examples of how the South African government is participating by simplifying the way information is disseminated. "We have established a department that deals specifically with ICT and outreach, she shared. And the information provided to citizens is tailored to their needs and in a language that is easy to understand.
During the Global Town Hall session of the forum the Coordinator of the Open Government Partnership in Sierra Leone, Amadu Massally, spoke first and called for a moment of silence for the victims of the Ebola virus in his country and in several West African nations. Massally also shared with the audience that Sierra Leone would like to host the regional open government partnership initiative in 2015. Massally had a strong message for all African leaders: "If you are not open to open government partnership you will become obsolete."
From the private sector, Microsoft pledged its commitment to OGP by asking to partner with two countries by the end of 2014 and offered to host 100 Young African Leaders Initiative (YALI) fellows in Microsoft offices across Africa. A representative from IBM also shared that they are engaging with 10 countries in Africa and glad to be part of the Open Government Partnership. "We're not just talking about open data, we're publishing it ourselves and understanding the challenges involved," he said. IBM is scheduled to host an Africa open data jam session tomorrow.
A representative from the Kenyan government highlighted their 1-stop shop for services that is currently available in 16 counties, which they hope to expand to over 45 counties and also make it accessible via mobile phones for their citizens.
Discussing the inclusion of media in OGP, Rakesh Rajani asserted that "media is absolutely crucial to open government partnership" and that "countries which clamp down on media do the wrong thing."
Elected Chair of the Refugee Council in Washington addressed the audience and reminded African leaders to acknowledge the voices of refugees and vulnerable populations as part of open government initiatives. Mandela Washington Fellow Fouzia Dahir from Kenya likewise told the panelists and audience that it's time for the youth to be included in initiatives such as Open Government. "We as young people want to sit with government and work alongside you," she stated.
Hundreds of individuals from Ethiopia and several from the Democratic Republic of Congo protested outside the National Academy of Sciences calling for accountability for human rights violations in their countries.
Below are photos from the Civil Society Forum:
—
Related:
African & U.S. Scientists Hold Technology & Innovation Symposium at US-Africa Summit
Obama Announces $33B Commitment at Africa Forum
First Lady Michelle Obama Speaks on Girls' Education at YALI Presidential Summit
Bill Clinton, Michael Bloomberg at Africa Summit
Meet the Mandela Washington Fellows From Ethiopia
Obama Renames Africa Young Leaders Program For Nelson Mandela
U.S.-AFRICA SUMMIT 2014: Preview
Transport Chiefs From Five Countries to Visit Chicago Ahead of U.S.-Africa Summit
Ambassador David Shinn on the 2014 U.S.-Africa Leaders Summit
Join the conversation on Twitter and Facebook.