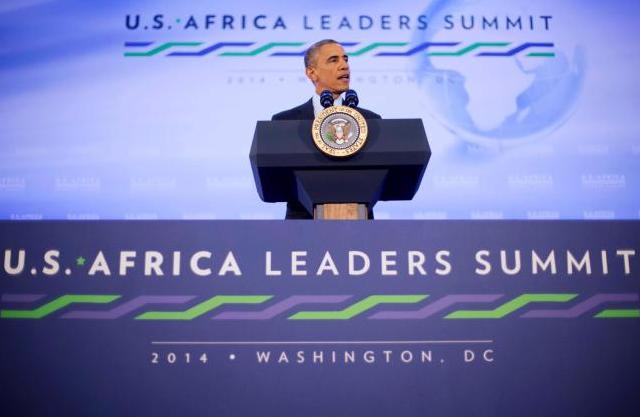 By Juliet Eilperin
President Obama wrapped up a three-day summit with African leaders Wednesday, making a rare foreign policy advance even as his administration continues to face daunting challenges abroad.
The massive gathering of nearly 50 African heads of state and government in Washington allowed top U.S. officials to broker deals between American companies and African dignitaries, as well as press privately for action on security and human rights concerns. And at a time when Europe and major economies such as China are expanding their foothold in Africa, the conference gave the United States a chance to reinforce its long-standing connection to the continent.
While the summit yielded a handful of high-profile announcements — including new public and private investments in economic, agricultural and health development totaling $37 billion — it also featured the kind of behind-the scenes diplomatic interactions that could produce meaningful benefits later on. Elected U.S. officials and their African counterparts discussed issues ranging from tensions within the Great Lakes region to the ongoing conflict in South Sudan.
Read more at The Washington Post »
Video: President Obama Post U.S.-Africa Summit Press Conference

—
Related:
Media Panel Shares Recommendations at Capitol Hill During US-Africa Leaders Summit
Photos & Video: President Barack Obama's Historic U.S.- Africa Summit
Obama Announces $33B Commitment at Africa Forum
African & U.S. Scientists Hold Technology & Innovation Symposium at US-Africa Summit
Civil Society Forum Kicks Off at Historic US-Africa Summit in DC
US-Africa Summit Events Under Way in Washington
First Lady Michelle Obama Speaks on Girls' Education at YALI Presidential Summit
Bill Clinton, Michael Bloomberg at Africa Summit
Meet the Mandela Washington Fellows From Ethiopia
Obama Renames Africa Young Leaders Program For Nelson Mandela
U.S.-AFRICA SUMMIT 2014: Preview
Transport Chiefs From Five Countries to Visit Chicago Ahead of U.S.-Africa Summit
Ambassador David Shinn on the 2014 U.S.-Africa Leaders Summit
Join the conversation on Twitter and Facebook.