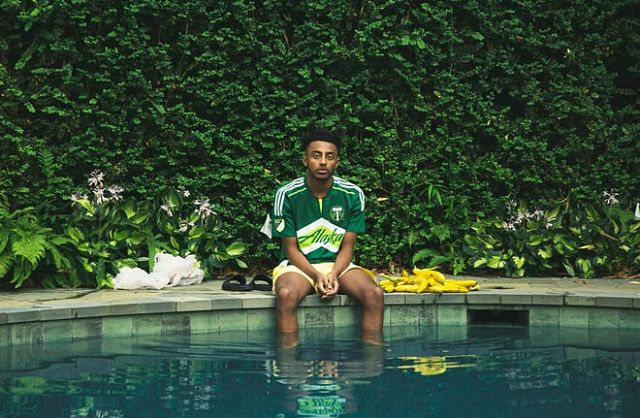 Why You Should Pay Attention: Adam Aminé Daniel has scored an unlikely hit with the wavy love rap "Caroline" – currently at 34 million YouTube views and counting. The Portland rapper is inspired by Kanye West's 808s & Heartbreak and Outkast's The Love Below, and taught himself to make beats with YouTube tutorials. He also studied business, advertising and marketing at Portland State University (he recently dropped out with 15 credits left towards his degree), and creates his own cover artwork.
Last year, he piqued interest among some influential blogs and websites with his 2015 mixtape Calling Brio, a diverse blend of house, bass drops, African pop and smooth-but-steady flows. When he posted "Caroline" to SoundCloud in June, he generated a fierce bidding war that resulted a deal with Republic Records. By September, Republic pushed the track onto streaming services, and it has soared into the Top 20 of the Billboard Hot 100. He's recorded over 60 songs for his next project, but he's unsure if that will be an album or a mixtape. However, he knows that he wants to continue to make feel-good music that's colorful and bright.
He Says: Aminé has no shortage of opinions on the anti-immigration policy that president-elect Donald Trump used in his recent campaign. "My parents are immigrants to this country," says the Ethiopian-American artist. "They came to this country for a better opportunity just like everyone else. So if anyone else, whether they're running for president or whatever they're trying to do, if they're bashing the people who are just working hard and just trying to make a better life for themselves by coming to America, I believe that's completely wrong. To see someone like that do something like that and become president is just a testimony to where we are at culturally in America right now."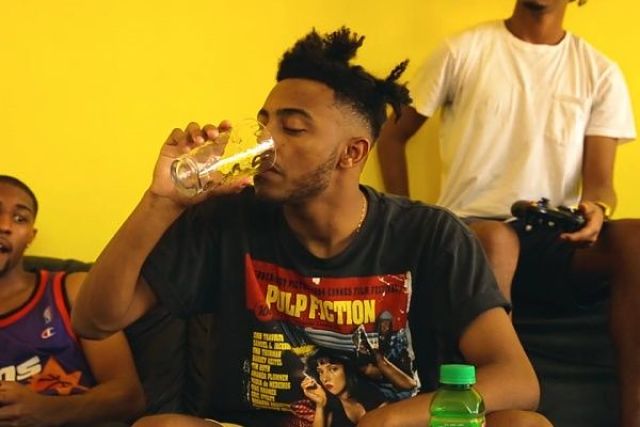 Amine – "Caroline"
Read more at Rollingstone.com »
—
Related:
A YOUNG RAPPER'S BOLD ANTI-TRUMP MESSAGE ON "THE TONIGHT SHOW STARRING JIMMY FALLON
Ethiopian American Hip Hop Artist Aminé Slams Trump on Tonight Show starring Jimmy Fallon
Aminé: 'You can never make America great again, all you ever did was make this country hate again'
Among this year's uncommonly vibrant cohort of breakout rappers, Aminé, a wild-haired twenty-two-year-old from Portland, Oregon, stands out for his warm, restless energy. His single "Caroline"—which has been slowly gaining momentum since its release, in March—finds a sweet spot between theatre-geek sincerity and cool-kid braggadocio, between neo-soul and ringtone rap, between romance and vulgarity. Melodically simple and texturally adventurous, it's a near-perfect dollop of populist rap joy—the kind of song that cuts across listening audiences, for better or worse. The song has racked up some hundred and fifty million streams in recent months and reached No. 18 on the Billboard Hot 100 chart this week.
So Aminé's television début, on Tuesday night, on "The Tonight Show Starring Jimmy Fallon," seemed like a straightforward proposition: a promising young artist performs his best single, and, if all goes according to plan, endears himself to a mainstream late-night viewing audience. What actually happened was slightly different. When Aminé took the stage, he initially played the part of the whimsical Portland rapper, tinkering on a piano adorned with bananas, one of his signature motifs. He then offered a stripped-down rendition of "Caroline," accompanied by an orchestra and a row of backup singers. But when he arrived at the song's final chorus the room shifted. The camera focussed on Aminé's face, and he stood still in front of the microphone. The wands of light behind him turned from a dusty yellow to red, white, and blue, as over the beat of "Caroline" he delivered a piercing new verse:
9/11, a day that we never forgettin'
11/9, a day that we always regrettin'
If my President is Trump then it's relevant enough
To talk 'bout it on TV and not give a fuck
I'm black and I'm proud
My skin is brown and I'm loud
Everybody love it when a rapper tells some lies
But that ain't me, homie, I guess that's a surprise
America want to act all happy and holy
But deep down inside they like Brad and Jolie
Caroline divine, and I won't get specific
Club Banana, the illest and it's too terrific
You can never make America great again
All you ever did was make this country hate again
—
Related:
Rapper Aminé slams Donald Trump in moving Tonight Show debut
Join the conversation on Twitter and Facebook.