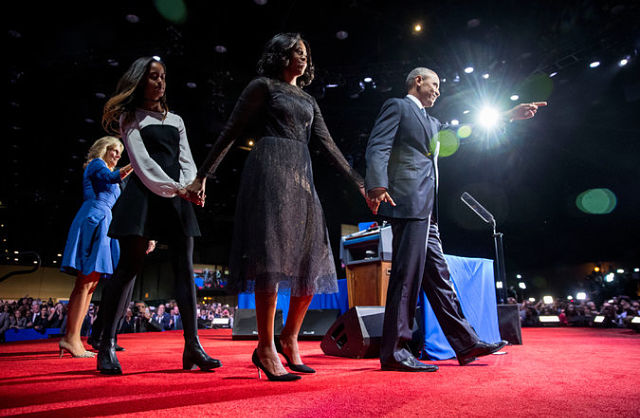 UPDATED: JAN. 10, 2017
CHICAGO — President Obama delivered a nostalgic and hopeful farewell address to the nation on Tuesday evening, but warned both the divided country he led for eight years and his successor not to shrink from the challenges of economic inequality, racial strife, political isolation and voter apathy that still threaten its ideal of democracy.
Mr. Obama returned to the city that nurtured his political career and his improbable journey from Hyde Park to Pennsylvania Avenue, just 10 days before he will leave the White House to Donald J. Trump. In his final speech to the nation, the president expressed his belief that even the deepest ideological divides can be bridged by an active, engaged populace.
"After eight years as your president, I still believe that," Mr. Obama told a large crowd at McCormick Place, the cavernous lakeside convention center where he thanked supporters after his re-election in 2012. "And it's not just my belief. It's the beating heart of our American idea — our bold experiment in self-government."
Tearing up as he concluded the final speech of a remarkable political career, Mr. Obama thanked his wife, his daughters, his vice president ("the scrappy kid from Scranton") and the army of supporters who helped sweep the first African-American into the White House.
Watch: President Barack Obama's farewell address (full speech)
—
President Obama to Give His Farewell Address to Americans From Hometown Chicago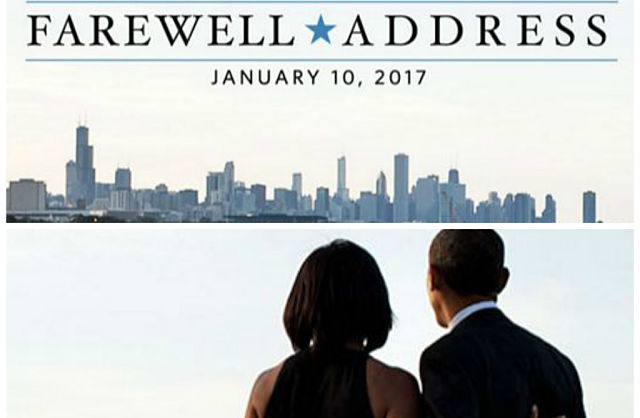 President Obama will deliver a farewell address to the American people on the evening of January 10, 2017 in his hometown of Chicago, the president announced in an email to supporters on Monday. (Photo: WH)
Comments by President Obama
Washington – In 1796, as George Washington set the precedent for a peaceful, democratic transfer of power, he also set a precedent by penning a farewell address to the American people. And over the 220 years since, many American presidents have followed his lead.
On Tuesday, January 10, I'll go home to Chicago to say my grateful farewell to you, even if you can't be there in person.
I'm just beginning to write my remarks. But I'm thinking about them as a chance to say thank you for this amazing journey, to celebrate the ways you've changed this country for the better these past eight years, and to offer some thoughts on where we all go from here.
Since 2009, we've faced our fair share of challenges, and come through them stronger. That's because we have never let go of a belief that has guided us ever since our founding — our conviction that, together, we can change this country for the better.
So I hope you'll join me one last time.
Because, for me, it's always been about you.
President Barack Obama

—-
Related
Tadias Interview with Yohannes Abraham: Reflections on Civic Engagement and the White House
Join the conversation on Twitter and Facebook.