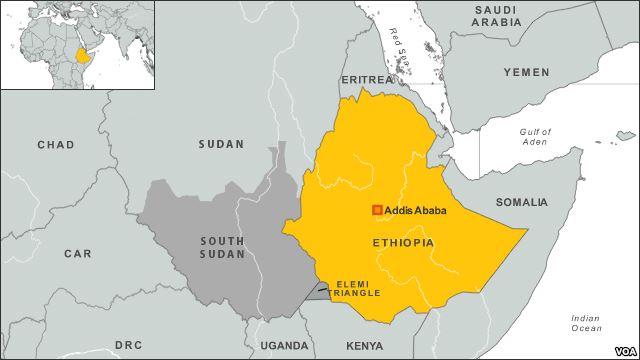 The United States has urged Ethiopia to free all journalists detained by the state and stop using its controversial anti-terror law to silence dissent.
National Security Council spokesman Ned Price said Wednesday the U.S. is "deeply concerned by the recent arrests of other journalists in Ethiopia." He urged "the Ethiopian government to release journalists and all others imprisoned for exercising their right to free expression."
In October, Washington welcomed the release of a group of dissident bloggers and journalists, but on Wednesday the White House warned Ethiopia against new arrests.
Price said Washington "has consistently applauded Ethiopia for being a model and a voice for development in Africa." But he cautioned Addis Ababa that "such gains must rest on a foundation of democratic governance and respect for human rights if they are to be sustainable."
Price did not name the reporters the United States is concerned about, but he spoke amid a harsh Ethiopian crackdown on dissent.
On Saturday, Human Rights Watch reported that Ethiopian security forces had killed at least 75 demonstrators during weeks of regional anti-government protests.
—
Related:
US urges Ethiopia to free jailed journalists (Daily Mail)
White House says concerned by arrest of journalists in Ethiopia (Reuters)
In Ethiopia a Second Journalist is Arrested in a Week, Zone 9 Bloggers Summoned (BSN)
Professor Bekele Gerba Arrested Over Land Protests in Ethiopia
Ethiopian opposition figures arrested over land protests (Reuters)
Ethiopia Opposition: 80 Killed in Protests Against Land Plan (AP)
U.S. State Department, Human Rights Organizations Address Crackdown on Protestors in Ethiopia
Crackdown Turns Deadly In Ethiopia As Government Turns Against Protesters (NPR)
US Concerned About Protester Deaths in Ethiopia (VOA)
At least 75 killed in Ethiopia protests: HRW (AFP)
'Unprecedented' Protests in Ethiopia Against Capital Expansion Plan (VOA News)
Ethiopians on Edge as Infrastructure Plan Stirs Protests (The New York Times)
Opposition: More Than 40 Killed in Ethiopia Protests (VOA News)
Violent clashes in Ethiopia over 'master plan' to expand Addis (The Guardian)
Protests in Ethiopia leave at least five dead, possibly many more (Reuters)
Why Are Students in Ethiopia Protesting Against a Capital City Expansion Plan? (Global Voices)
Yet Again, a Bloody Crackdown on Protesters in Ethiopia (Human Rights Watch)
Anger Over 'Violent Crackdown' at Protest in Oromia, Ethiopia (BBC Video)
Ethiopian mother's anger at murdered son in student protests (BBC News)
Minnesota Senate Condemns Recent Violence in Ethiopia's Oromia State
The Brutal Crackdown on Ethiopia Protesters (Human Rights Watch)
Deadly Ethiopia Protest: At Least 17 Ambo Students Killed in Oromia State (VOA)
Ethiopia protest: Ambo students killed in Oromia state (BBC)
Students killed in violent confrontations with police in Ethiopia's largest state (AP)
Ethiopia: Oromia State Clashes Leave At Least 11 Students Dead (International Business Times)
Ethiopia: Discussing Ethnic Politics in Social Media (TADIAS)
Join the conversation on Twitter and Facebook.