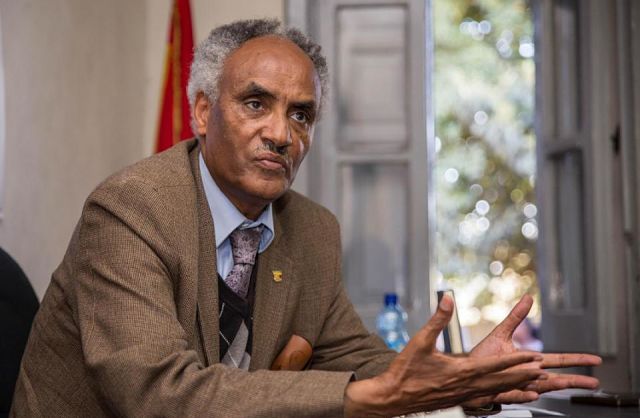 The Associated Press
By ELIAS MESERET
ADDIS ABABA, Ethiopia — Ethiopian government forces have killed more than 80 people in the past four weeks in protests in the country's Oromia region, an Ethiopian opposition party charged Wednesday.
"Trigger-happy government forces have killed more than 80 peaceful protesters in Ethiopia during the past four weeks," Beyene Petros, president of the party told reporters, adding that hundreds of others were wounded and arrested. "We are still discovering disfigured bodies in various locations. The government has continued its brutal killings so we call on the international community and donors to step in and force the government to stop these inhumane actions."
Party officials provided names of the alleged victims to The Associated Press.
The government has rejected, for the second time, the opposition party's request to hold a public demonstration on Dec. 27 to protest the controversial Addis Ababa Master Plan, the opposition leader said.
The opposition party's charge comes after a report last week by Human Rights Watch that said government forces killed at least 75 people protesting the government plan to incorporate some rural areas into the capital city, Addis Ababa.
An Ethiopian opposition party said more than 80 people have been killed by government forces during massive protests in the past four weeks in the country's Oromia region, the biggest of the country's federal states. The Ethiopian Federal Democratic Unity Forum, a coalition of four opposition parties, has blamed the government on Sunday for the killings and has called for a criminal investigation.
—
Related:
U.S. State Department, Human Rights Organizations Address Crackdown on Protestors in Ethiopia
Crackdown Turns Deadly In Ethiopia As Government Turns Against Protesters (NPR)
US Concerned About Protester Deaths in Ethiopia (VOA)
At least 75 killed in Ethiopia protests: HRW (AFP)
'Unprecedented' Protests in Ethiopia Against Capital Expansion Plan (VOA News)
Ethiopians on Edge as Infrastructure Plan Stirs Protests (The New York Times)
Opposition: More Than 40 Killed in Ethiopia Protests (VOA News)
Violent clashes in Ethiopia over 'master plan' to expand Addis (The Guardian)
Protests in Ethiopia leave at least five dead, possibly many more (Reuters)
Why Are Students in Ethiopia Protesting Against a Capital City Expansion Plan? (Global Voices)
Yet Again, a Bloody Crackdown on Protesters in Ethiopia (Human Rights Watch)
Anger Over 'Violent Crackdown' at Protest in Oromia, Ethiopia (BBC Video)
Ethiopian mother's anger at murdered son in student protests (BBC News)
Minnesota Senate Condemns Recent Violence in Ethiopia's Oromia State
The Brutal Crackdown on Ethiopia Protesters (Human Rights Watch)
Deadly Ethiopia Protest: At Least 17 Ambo Students Killed in Oromia State (VOA)
Ethiopia protest: Ambo students killed in Oromia state (BBC)
Students killed in violent confrontations with police in Ethiopia's largest state (AP)
Ethiopia: Oromia State Clashes Leave At Least 11 Students Dead (International Business Times)
Ethiopia: Discussing Ethnic Politics in Social Media (TADIAS)
Join the conversation on Twitter and Facebook.