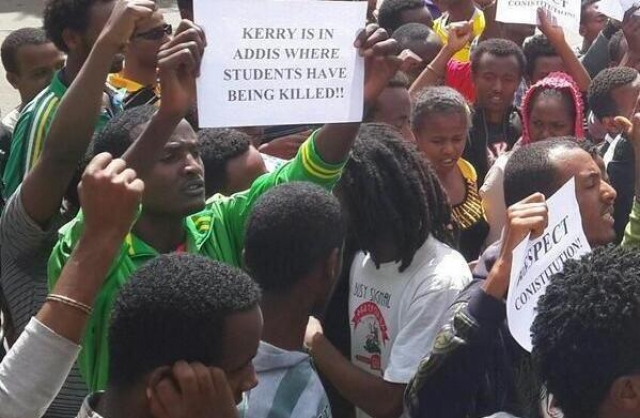 VOA News
May 01, 2014
Witnesses say Ethiopian police have killed at least 17 protesters during demonstrations in Ethiopia's Oromia region against plans to annex territory to expand the capital, Addis Ababa.
Authorities put the protest-related death toll at 11 and have not said how the demonstrators were killed. The main opposition party says 17 people were killed while witnesses and residents say the death toll is much higher.
Residents say that an elite government security force opened fire on protesters at three university campuses.
The demonstrations erupted last week against plans by the Ethiopian government to incorporate part of Oromia into the capital. Oromia is Ethiopia's largest region and Oromos are the country's largest ethnic group.
Oromos say the government wants to weaken their political power. They say expanding the capital threatens the local language, which is not taught in Addis Ababa schools.
Ethiopian officials say the master plan for expansion was publicized long ago and would bring city services to remote areas.
They accuse those they call "anti-peace forces" of trying to destroy Ethiopia's ethnic harmony.

—
Related:
Ethiopia protest: Ambo students killed in Oromia state (BBC)
Students killed in violent confrontations with police in Ethiopia's largest state (AP)
Ethiopia: Oromia State Clashes Leave At Least 11 Students Dead (International Business Times)
Reports from #Ethiopia say security forces opened fire on students protesting in Oromia region – killing & wounding some of them.

— BBC Africa (@BBCAfrica) May 1, 2014

—
Join the conversation on Twitter and Facebook.