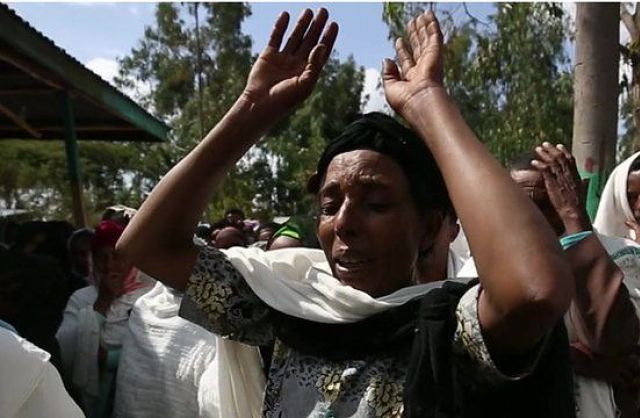 Tadias Magazine
By Tadias Staff
Updated: Saturday, December 19th, 2015
New York (TADIAS) — As protests in Ethiopia continue to grow over land administration and urban expansion issues in Oromia region, so are the procession of mourners at the burial services for those killed by Federal police in the last three weeks.
Human Rights Watch said on Friday that "Ethiopian security forces have killed dozens of protesters since November 12, 2015 in Oromia regional state, according to reports from the region. The security forces should stop using excessive lethal force against protesters."
At least 75 killed
HRW added: "Police and military forces have fired on demonstrations, killing at least 75 protesters and wounding many others, according to activists. Government officials have acknowledged only five deaths and said that an undisclosed number of security force members have also been killed. On December 15, the government announced that protesters had a "direct connection with forces that have taken missions from foreign terrorist groups" and that Ethiopia's Anti-Terrorism Task Force will lead the response."
Samantha Power, the U.S. Ambassador to the United Nations, took to social media to weigh in. She tweeted "Ethiopian Prime Minister's concerning rhetoric could portend violent crackdown against #OromoProtests." Ambassador Power pointed her followers to an Amnesty International warning that "Anti-terror rhetoric by Ethiopia's government could escalate into a brutal crackdown on protesters."
US Concerned
The U.S. State department also released a statement on Friday, December 18th noting that "The United States is deeply concerned by the recent clashes in the Oromia region of Ethiopia that reportedly have resulted in the deaths of numerous protestors. We greatly regret the deaths that have occurred and express our condolences to the families of those who have lost their lives. We urge the government of Ethiopia to permit peaceful protest and commit to a constructive dialogue to address legitimate grievances. We also urge those protesting to refrain from violence and to be open to dialogue. The government of Ethiopia has stated publicly that the disputed development plans will not be implemented without further public consultation. We support the government of Ethiopia's stated commitment to those consultations and urge it to convene stakeholders to engage in dialogue as soon as possible."
"Protests by students began in Ginchi, a small town 80 kilometers southwest of Ethiopia's capital, Addis Ababa, when authorities sought to clear a forest for an investment project," HRW said: "Protests quickly spread throughout the Oromia region, home of Ethiopia's estimated 35 million Oromo, the country's largest ethnic group. The report added: "They evolved into larger demonstrations against the proposed expansion of the Addis Ababa municipal boundary, known as the "Addis Ababa Integrated Development Master Plan. Approximately 2 million people live in the area of the proposed boundary expansion and many protesters fear the plan could displace Oromo farmers and residents living near the city."
—
Related:
Crackdown Turns Deadly In Ethiopia As Government Turns Against Protesters (NPR)
US Concerned About Protester Deaths in Ethiopia (VOA)
At least 75 killed in Ethiopia protests: HRW (AFP)
'Unprecedented' Protests in Ethiopia Against Capital Expansion Plan (VOA News)
Ethiopians on Edge as Infrastructure Plan Stirs Protests (The New York Times)
Opposition: More Than 40 Killed in Ethiopia Protests (VOA News)
Violent clashes in Ethiopia over 'master plan' to expand Addis (The Guardian)
Protests in Ethiopia leave at least five dead, possibly many more (Reuters)
Why Are Students in Ethiopia Protesting Against a Capital City Expansion Plan? (Global Voices)
Yet Again, a Bloody Crackdown on Protesters in Ethiopia (Human Rights Watch)
Anger Over 'Violent Crackdown' at Protest in Oromia, Ethiopia (BBC Video)
Ethiopian mother's anger at murdered son in student protests (BBC News)
Minnesota Senate Condemns Recent Violence in Ethiopia's Oromia State
The Brutal Crackdown on Ethiopia Protesters (Human Rights Watch)
Deadly Ethiopia Protest: At Least 17 Ambo Students Killed in Oromia State (VOA)
Ethiopia protest: Ambo students killed in Oromia state (BBC)
Students killed in violent confrontations with police in Ethiopia's largest state (AP)
Ethiopia: Oromia State Clashes Leave At Least 11 Students Dead (International Business Times)
Ethiopia: Discussing Ethnic Politics in Social Media (TADIAS)
Join the conversation on Twitter and Facebook.