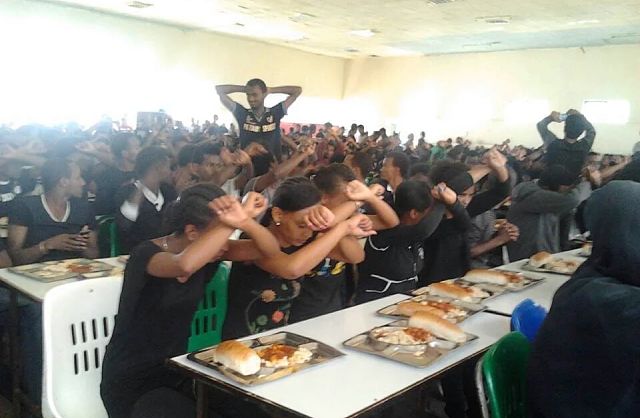 By Marthe van der Wolf
December 17, 2015
ADDIS ABABA — Students from the Oromo ethnic group in Ethiopia have been protesting for three weeks against an urban expansion plan around the capital that they fear will lead to land grabs without proper compensation. Security forces have clashed with demonstrators, killing at least five people this week.
The student protests have spread quickly through the Oromo region that surrounds the capital. Farmers and other citizens have been joining the demonstrations.
The government accuses some of the protesters of trying to destabilize the country.
Restricted access
One resident, who wished to remain anonymous out of concern for his safety, said security forces deployed to the region are controlling many access points to stop more people from joining the movement.
"Most of the protesters are farmers," said one resident. "They came from the rural village into the town. The defense forces, already some of them left to the local areas, to the rural village. The police is also arresting some of those participants."
The Ethiopian government says it can confirm five deaths from clashes with security forces, while opposition groups say 60 people have been killed so far.
Amnesty International said Wednesday the protests are being "violently suppressed."
Protests against the "Addis Ababa Integrated Regional Development Plan" also erupted in April 2014, resulting in mass arrests and several dozen deaths during clashes with security forces.
Expansion plan
The master plan is an expansion blueprint for the capital. Citizens in the surrounding Oromia federal regional state say they are concerned the proposed infrastructure will gobble up their land and endanger their cultural heritage. Oromos are the largest ethnic group in Ethiopia, making up about a third of the population.
The government promised to hold inclusive consultations on the master plan after the 2014 protests. Opposition leader Merera Gudina of the Oromo People's Congress said those discussions were never held.
"We try several times, they refused. Then we tried to organize open public meetings, again they refused, they blocked us," said Gudina. "Then what we got is this. People are really fed up of this government, their life, especially the young people are fed up of everything."
Merera is calling for the scrapping of the master plan and transformation of the regional government. The government says the master plan has not been implemented yet, though opposition groups allege that farmers already are being evicted.
Stress points
Protests in Ethiopia are rare. The ruling party has been in power since 1991 and won all seats in parliament during the last national elections in May.
Tensions are there, however, said Hallelujah Lulie of the Institute of Security Studies.
"I think what we are witnessing is an unprecedented level of protests. And I don't think the security forces and the government was prepared for such level of movement," said Lulie. "And also I believe, it showed us the ill-preparedness of the state to handle such kind of demands."
Ethiopia is one of Africa's fastest growing economies. Still, almost a third of its population lives below the poverty line, and millions of people are being affected by an ongoing drought this year.
—
Related:
Ethiopians on Edge as Infrastructure Plan Stirs Protests (The New York Times)
Opposition: More Than 40 Killed in Ethiopia Protests (VOA News)
Violent clashes in Ethiopia over 'master plan' to expand Addis (The Guardian)
Protests in Ethiopia leave at least five dead, possibly many more (Reuters)
Why Are Students in Ethiopia Protesting Against a Capital City Expansion Plan? (Global Voices)
Yet Again, a Bloody Crackdown on Protesters in Ethiopia (Human Rights Watch)
Anger Over 'Violent Crackdown' at Protest in Oromia, Ethiopia (BBC Video)
Ethiopian mother's anger at murdered son in student protests (BBC News)
Minnesota Senate Condemns Recent Violence in Ethiopia's Oromia State
The Brutal Crackdown on Ethiopia Protesters (Human Rights Watch)
Deadly Ethiopia Protest: At Least 17 Ambo Students Killed in Oromia State (VOA)
Ethiopia protest: Ambo students killed in Oromia state (BBC)
Students killed in violent confrontations with police in Ethiopia's largest state (AP)
Ethiopia: Oromia State Clashes Leave At Least 11 Students Dead (International Business Times)
Ethiopia: Discussing Ethnic Politics in Social Media (TADIAS)
Join the conversation on Twitter and Facebook.