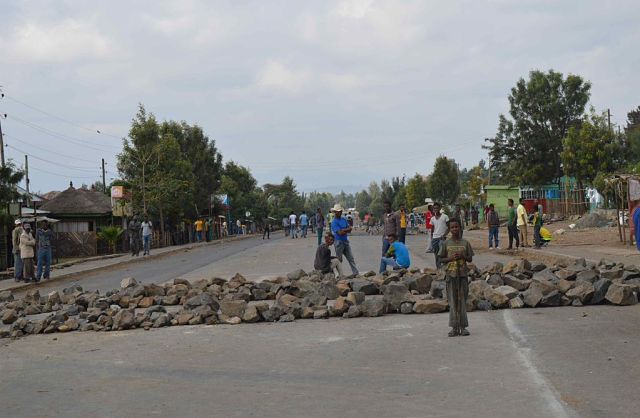 By JACEY FORTIN
BURAYU, Ethiopia — There are creeping signs of tension in this small town on the outskirts of Addis Ababa, the capital. Small groups of federal police officers prowl the streets, eyeing taxi stands and coffee shops. On a side road near the town center, a rectangle of black soot and a single burst tire mark the site where a bus recently went up in flames.
One resident, who asked that his identity not be revealed because he feared persecution for speaking openly, said this whole town had been on edge, especially after the security forces quickly quelled a protest this week.
"There are rumors that two students died, but we don't know their names because the government uses different ways to keep its actions secret," he said.
Since late November, dozens of violent confrontations have erupted in towns across Ethiopia's central Oromia Region, home to the country's largest ethnic group, the Oromo. Merera Gudina, chairman of the Oromo Federalist Congress opposition party, estimates that at least 50 people have been killed in clashes with security personnel over the past few weeks, affecting dozens of towns across Oromia.
This protest movement is "far, far bigger" than anything the country has experienced since the governing party came to power in 1991, Mr. Merera contended. In towns outside the capital, witnesses have reported fatalities, ransacked buildings, and gunfire.
Protesters and opposition party members say they are fighting against an urban plan — commonly referred to as the master plan — that would link infrastructure development in Addis Ababa with that of surrounding towns in Oromia, including Burayu. Critics say the plan threatens the sovereignty of Oromo communities.
Read more at NY Times »
—
Related:
Opposition: More Than 40 Killed in Ethiopia Protests (VOA News)
Violent clashes in Ethiopia over 'master plan' to expand Addis (The Guardian)
Protests in Ethiopia leave at least five dead, possibly many more (Reuters)
Why Are Students in Ethiopia Protesting Against a Capital City Expansion Plan? (Global Voices)
Yet Again, a Bloody Crackdown on Protesters in Ethiopia (Human Rights Watch)
Anger Over 'Violent Crackdown' at Protest in Oromia, Ethiopia (BBC Video)
Ethiopian mother's anger at murdered son in student protests (BBC News)
Minnesota Senate Condemns Recent Violence in Ethiopia's Oromia State
The Brutal Crackdown on Ethiopia Protesters (Human Rights Watch)
Deadly Ethiopia Protest: At Least 17 Ambo Students Killed in Oromia State (VOA)
Ethiopia protest: Ambo students killed in Oromia state (BBC)
Students killed in violent confrontations with police in Ethiopia's largest state (AP)
Ethiopia: Oromia State Clashes Leave At Least 11 Students Dead (International Business Times)
Ethiopia: Discussing Ethnic Politics in Social Media (TADIAS)
Join the conversation on Twitter and Facebook.