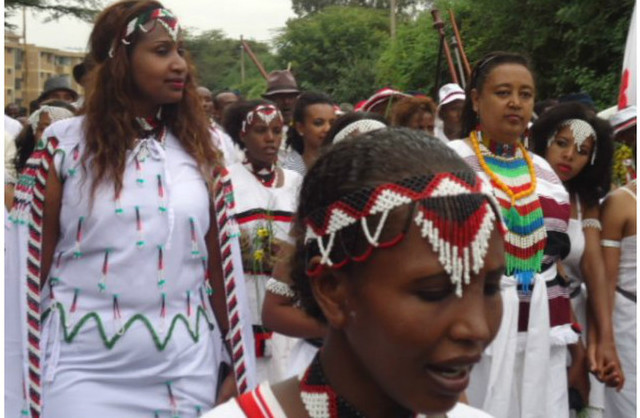 Tadias Magazine
News Update
Published: Saturday, May 17th, 2014
New York (TADIAS) — The legislature of the state of Minnesota, which is home to the largest Oromo population in the United States, has condemned the recent police violence directed against student protesters in Ethiopia's Oromia state. In a resolution signed earlier this week the Minnesota State Senate urged the Obama administration to pressure the Ethiopian authorities to respect human rights.
"Whereas, Oromo students in Ethiopia started protesting on April 25th, 2014, to stand against the government's plan to substantially expand the municipal boundaries of Addis Ababa because, according to students, the expansion would threaten communities under regional jurisdiction," the resolution stated. "Whereas, under this proposed Addis Ababa Integrated Development Master plan, the boundaries would include 15 more communities in Oromia; it would take the authority of Oromia Regional State on the Oromo farmers and give it to Addis Ababa city; and the students are concerned that the displacement of Oromo farmers and students will have a negative effect on the land and citizens."
The lawmakers noted: "The Oromo people make up nearly one-half of Ethiopia's population; and whereas, the government has reported that there are at least nine students dead, but other estimates have reached 47, witnesses report that at least 70 people are wounded; and whereas, on May 9th, 2014, an Oromo rally to protest the killings and imprisonment of peaceful Oromo protesters in Ethiopia and to demand the perpetrators be brought to justice was held at the Minnesota State Capitol."
"Now, therefore, be it resolved by the Senate of the State of Minnesota that it supports the Oromo community and condemns the violence against them, and urges the United States government to pressure the Ethiopian authorities to respect human rights and democratic process."
Below is copy of the resolution: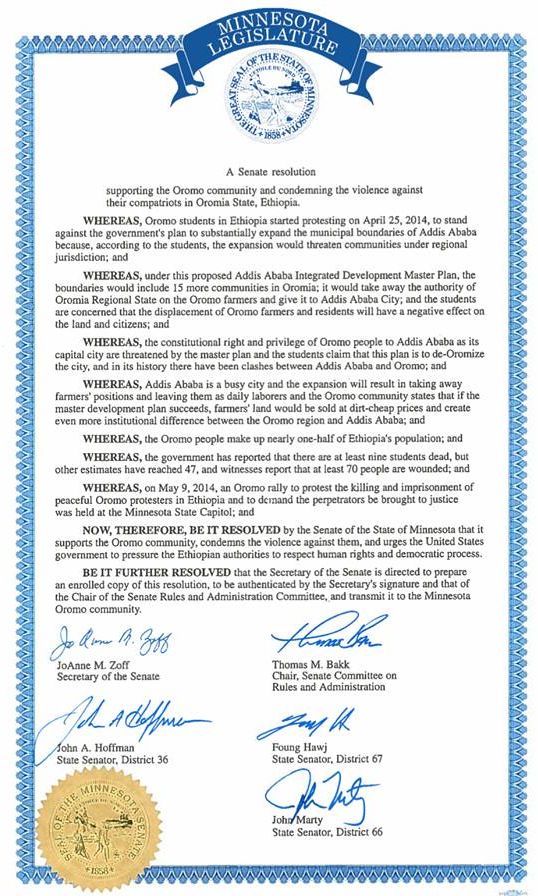 —
Related:
The Brutal Crackdown on Ethiopia Protesters (Human Rights Watch)
Deadly Ethiopia Protest: At Least 17 Ambo Students Killed in Oromia State (VOA)
Ethiopia protest: Ambo students killed in Oromia state (BBC)
Students killed in violent confrontations with police in Ethiopia's largest state (AP)
Ethiopia: Oromia State Clashes Leave At Least 11 Students Dead (International Business Times)
Ethiopia: Discussing Ethnic Politics in Social Media (TADIAS)
Join the conversation on Twitter and Facebook.