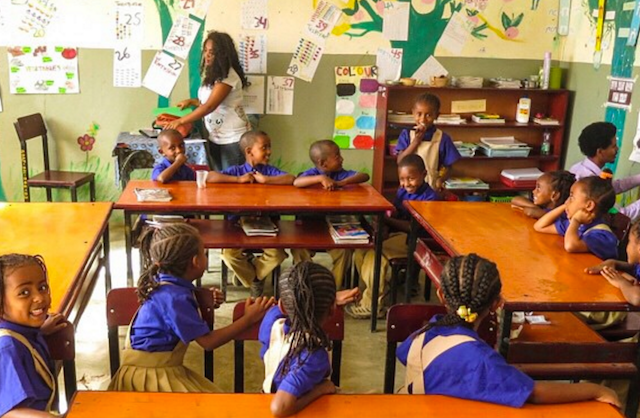 Tadias Magazine
By Tadias Staff
Published: Thursday, December 31st, 2015
New York (TADIAS) – In our end-of-the-year spotlight Tadias features five Ethiopian-led grassroots Diaspora initiatives that focus on leadership & service, education, environment & social entrepreneurship, philanthropy and the arts.
Leadership & Service: Ethiopian Diaspora Fellowship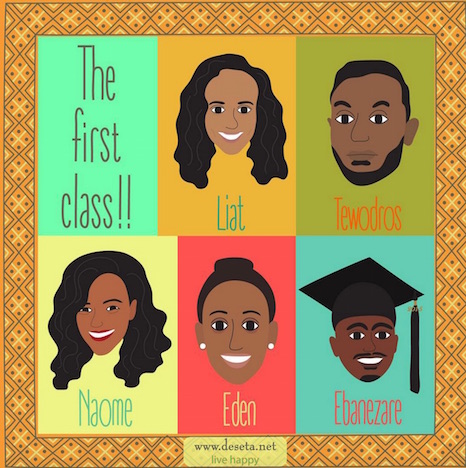 (The first class of Ethiopian Diaspora Fellows. Image: Deseta Design).
When two Ethiopian Americans, Rediate Tekeste and Meseret Hailu, sent out a survey via social media in early 2015 to assess their millennial peer's views and interests regarding their sense of cultural heritage and connection to Ethiopia they were surprised with the 400 enthusiastic responses they received to their queries. They took the feedback and launched the first Ethiopian Diaspora Fellowship, which provides youth with leadership, service and creative storytelling skills while participating in a 6-month program in collaboration with local-led partner organizations in Ethiopia. The first class of Fellows just completed their service and recently shared their experiences with Tadias. Fellow Tewodros Ayele worked with the International Leadership Academy of Ethiopia focusing on the intersection of education and leadership. "Ethiopia welcomed me with open arms from the day I arrived, and for the past six months has shown me how much a part of her I am" he shares. As Tewodros plans to pursue a PhD in Education in the coming year he says "I look forward to what the future holds for me and I know whatever comes into my life will be led by the desire I have to give back to Ethiopia." Fellow Liat Desta adds "I have learned that as an Ethiopian Diaspora member, I have a duty to help this country, that I call home, grow." Fellow Ebanezere Tadele likewise was captivated by the unique experience to lead and serve in Ethiopia. "Being in Ethiopia has been such a blessing," he states. "The beautiful country always makes me reconsider and re-prioritize my beliefs and perspective. It forces me to open up my eyes, mind, and heart to what I hold dear. This experience has truly changed my life, directed me and pushed me to grow in ways I couldn't have expected." For Naome Seifu her trip as a Fellow was the first she ever took to Ethiopia. "Not only have I taken a step into my future, but I've learned more about myself" she says. Having completed the fellowship Naome has decided to stay for two more years with a full-time job as a Creatives Coordinator for a new channel launched in Addis. The fellowship experience is equally "one of the best decisions of my life" says Eden Mesfin. "Watching my deep connection to Ethiopia, how I have invested myself in the people and groups I spent time with each day has been the most enriching experience." Eden has also received job offers and plans to stay for another year. "It's an honor to dedicate your work and life to seeing change in Ethiopia. Ethiopia is my heart, and I am proud to continue my life here" she tells Tadias. We congratulate the first class of 2015, and look forward to many more young leaders participating in programs developed by the Ethiopian Diaspora Fellowship. Learn more at Ethiopian Diaspora Fellowship.
Environment & Social Entrepreneurship: Dir Biyabir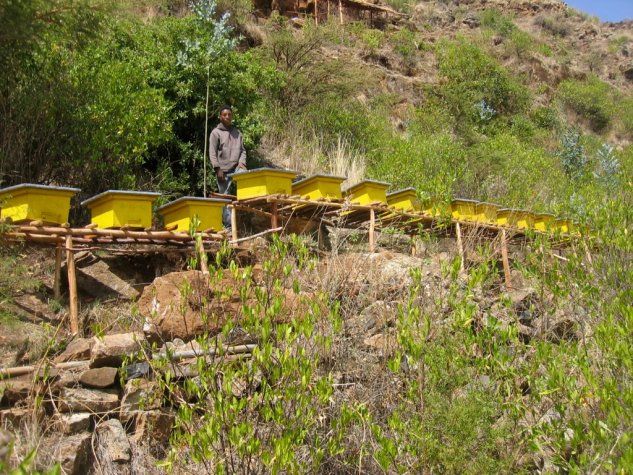 (Bee Keeping program, Sebeta Nunnery, Ethiopia. Photo: Dir Biyabir).
Dir Biyabir Anbessa Yasir (when spider webs unite, they can tie up a lion) is a popular Ethiopian proverb that captures the significance of collaboration for success. Haeran Fisseha, a graduate of Stanford and Michigan State University with degrees in Industrial and Electrical Engineering, founded the non-profit Dir Biyabir and developed a network to mobilize resources for the reduction of extreme poverty by investing in people and building their capacity to help themselves. While most NGOs spend a certain percentage of their capital on overhead, the leadership team of Dir Biyabir covers their own expenses so that 100% of the proceeds go directly to fund local initiatives in Ethiopia. Dir Biyabir focuses on impact, accountability, efficiency, transparency, and the empowerment of individuals through various programs including environmental rehabilitation, academic sponsorship of students, building of infrastructure, and the provision of vocational training and social entrepreneurship training for women in various communities such as: bee keeping and dairy farming skills for Ethiopian orthodox nuns at Sebeta; handicraft made from doum palm leaves to generate income for Afar women; poultry farming business training for rural school girls; and support of a hand-made cotton textile enterprise for survivors of leprosy in Addis Ababa. Dir Biyabir's non-existent overhead as well as comprehensive social entrepreneurship and environmental rehabilitation programs offer a unique, local-driven and effective way to promote long-term, positive change in rural communities across Ethiopia. Learn more at Dir Biyabir.
Education: Seeds of Africa Foundation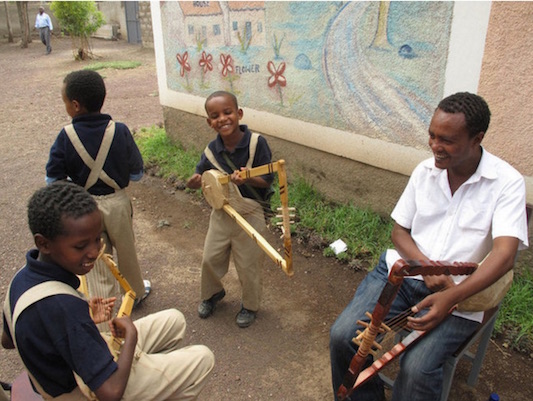 (School children in Nazret/Adama, Ethiopia. Photo: Seeds of Africa Foundation).
This past August Former Miss Ethiopia, Atti Worku, received the 2015 Diaspora Youth Excellence Award in recognition of her work with Seeds of Africa — a non-profit focused on providing Pre-K to 12th grade education for youth in Nazret/Adama while incorporating a holistic community development program including adult literacy, health education and small business funding to their families. An Adama native, Atti Worku, created Seeds of Africa in 2006 launching educational programs in her mother's backyard. Following her studies in sustainable development, education and social movements at Columbia University Atti launched the Dream School Initiative in 2014 to fundraise for a state-of-the-art education facility and has already raised $1.3 million of its $2.2 million goal. "It will meet the most rigorous international academic standards and prepare its students to succeed in high school, college and beyond" Atti says. "Our goal is to move beyond traditional aid models, providing more than just short-term relief efforts by giving our community the skills they need to support themselves and rise above poverty." Learn more at Seeds of Africa.
Arts: Kenna's One-for-One Artist Platform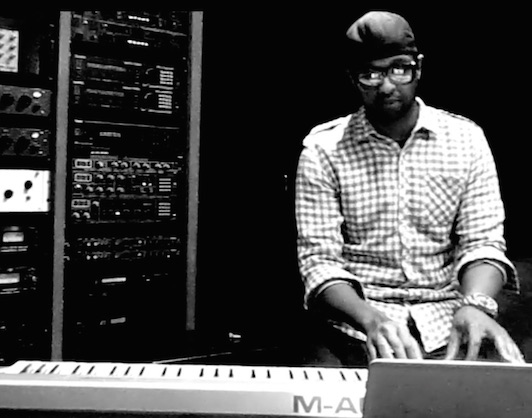 (Musician Kenna Zemedkun. Image: Songs for Flight Campaign Video).
Shortly following his Grammy nomination Ethiopian-born musician and social activist Kenna (Née Kenna Zemedkun) set off with friends on a mission to climb Mount Kilimanjaro, Africa's highest peak, in an initiative called "Summit on the Summit" — an effort to raise awareness about the global clean water crisis. Born in Addis and raised in the United States, the issue of access to clean water was a personal one for the artist whose father had suffered from waterborne diseases as a child in Ethiopia. "If he hadn't survived, I wouldn't be here" Kenna told Tadias. "That is what resonates with me." His climb not only raised awareness but also helped prevent cuts in congressional funding for clean water initiatives. In 2015, Kenna has taken his social activism to another level as he independently produces his new LP entitled Songs for Flight, which he launched on the world's first One-For-One Artist platform. Seeking a sustainable, social entrepreneurship slant that includes donating 50% of the profits to international causes that the artist and his fans care about Kenna states "My inheritance is my driver for the causes I have chosen. Water (human right) for my father and his struggle as a child and the continued struggle of so many to have access to clean, safe drinking water. Women's rights because of my mother and sister. And the Arts because it has been the vehicle for me to be able to focus on the causes my family and I care about." Watch Kenna's video on One-for-One Artist platform and learn more at Kenna.com.
Grassroots Organizations & Philanthropy: Africans in the Diaspora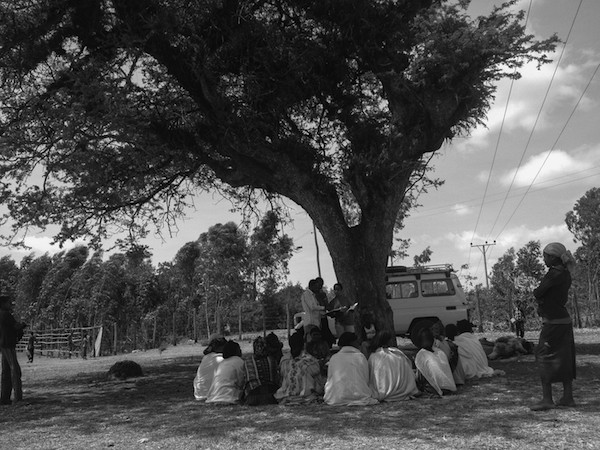 (Siiqqee Women's Development Association in Ethiopia. Photo: Africans in the Diaspora).
While working in the non-profit world with multilateral organizations such as UNDP and Human Rights Watch, and managing the Africa portfolio in more than 20 countries through the Global Fund for Children, Solome Lemma says she "saw first hand the ways that African were moving, shaking and transforming their communities — from Egypt to Zambia to Senegal to Ethiopia." It got her thinking about how "African ideas, innovations, skills and resources exist, and yet we continue to be painted as a continent of need and dependency. This needed to change," she said. After meeting a like-minded colleague from Zimbabwe, Zanele Sibanda, Solome co-founded and launched Africans in the Diaspora (AiD) to "consolidate the financial, intellectual, and social capital of Diaspora Africans and advance change on the continent." Her organization follows a three-pronged approach to development that includes: a funding platform that Diaspora Africans can utilize to support local, grassroots organizations in African countries; development of an expertise network to facilitate collaborations between Diaspora and Continental Africans; and amplifying the voices of people committed to contributing to the continent's progress. "The idea of giving back is something I have carried for a while," Solome says. "As someone who has dedicated all of my studies and work to Africa, I often asked myself, what's the best role for me as an African? How do I give back responsibly? How do I use the access and privilege that I have had and transfer it back home?" To date AiD has collaborated with 13 organizations on the ground in 7 African nations. AiD has partnered with International Development Exchange (IDEX) and plans to work with four women's organizations in Ethiopia, Senegal, Zimbabwe and Kenya in the coming year. Learn more at Africans in the Diaspora.
—
Related:
Tadias Year in Review: 2015 in Pictures
Ten Arts & Culture Stories of 2015
Join the conversation on Twitter and Facebook.